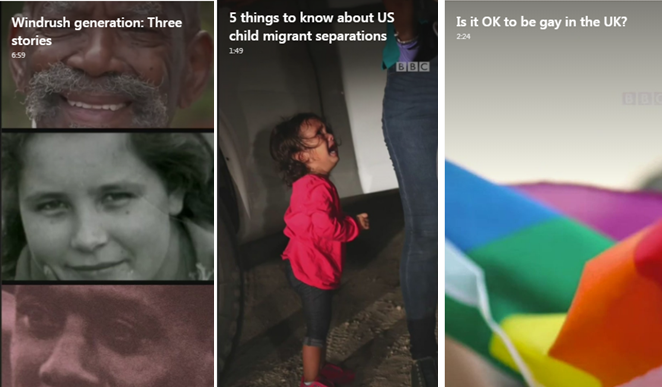 Instagram's new video platform, Instagram TV, has been quickly adopted by news brands such as the BBC as they seek to capture a younger audience.
The new video sharing platform was announced on 20 June and allows for longer programmes, of up to 60 minutes to be broadcast to followers on the app.
Early adopters to Instagram TV include broadcasters such as BBC News, ITV News and Sky News and magazines such as Vice, The Economist, Vogue, Fact Magazine, NME, Esquire and Exposed Magazine.
All are seeking to capture a portion of the social media sites billion users, the majority of which are in the 18-29 age demographic.
Ciara Riordan, deputy social news editor BBC News said to Press Gazette: "We're looking to give our followers a longer, more immersive version of stories we know have appeal on Instagram already.
"Stories that cover human interest, diversity, people helping each other out, first person story-telling, big news stories and exclusive BBC News interviews and features."
So far the BBC has posted several videos to their channels, including accounts of Windrush generation migrants, facts on Donald Trump's child migrant separations and a report titled: "Is it OK to be gay in the UK?".
One video from BBC Stories, which follows a woman's struggle with polycystic ovary syndrome, has had around 60,000 views and 60 comments after a week on the IGTV platform.
This compares to the 1,000 views that videos posted on the BBC Stories Instagram feed normally get.
"We're not looking to reinvent the wheel as we want to test the platform and see if it works for us," said Riordan.
"It's in its early days so we're in an experimental phase and need to assess audience appetite for longer, vertical video on Instagram in the weeks and months ahead."
Instagram TV breaks the normal rules for filming video with content on the channel having to be recorded vertically to suit how people "actually use their phone", according to Instagram.
Traditional journalism teaching has been to shoot online video in landscape for broadcasting on websites such as Youtube.
Videos on IGTV can also be any length, unlike the one minute limit set for videos posted elsewhere on the image sharing site.
Riordan said: "As video on IGTV needs to be vertical the 'action' in the video needs to be able to fit into this template so we have to consider this.
"An interview with two people sitting across from each other may not work but we can edit around this.
She added: "Until now we have published 60 second square videos on Instagram but sometimes a story can't be cut down as it would lose its meaning.
"On IGTV you are free to tell your story in the length that it naturally takes, videos we would have ruled out for being too long on the Instagram feed now have somewhere to go."
In the 2018 Reuters digital news report, social media was found to be used more often than print media for news with 6 per cent of UK adults surveyed saying they had used Instagram for news in the past week.
With the number of people using Facebook declining and as its algorithms are weighted against news, the report noted that publishers are moving to other platforms "in a bid to become less dependent on Facebook".
Stephen Hull, head of digital for ITV News said: "Our core focus for digital is to reach new audiences, on new platforms with new types of content, so when products like IGTV launch, we're in a good position to fit our content around the platform.
"We're very much in the testing phase, and so far we see this as a place to build on the original long form work we've started with our 'ITV News Originals' series; Young, British and Muslim with Rageh Omaar and Now What? with our political editor Robert Peston."
ITV are looking to repurpose current programmes to fit the new format but are also planning to produce original content specially filmed for the new format. "This could include longer daily news briefings," said Hull.
The Economist is also looking to produce "bespoke" films and documentaries for IGTV which have so far included a ten-minute short on eco-tourism and protecting the ocean as well as a news story on the first female drivers in Saudi Arabia.
Ria Jones, Economist social media editor, said: "As a visual platform, it enables us to showcase the breadth of our journalism beyond what we are traditionally known for, which is our print content."
She added: "This year we've really focused on creating compelling Instagram Stories, and these have proven to be a strong traffic driver to the website."
All three media companies said they were looking to capture the younger audience that uses the platform.
The BBC's biggest audience on Instagram is 18-34 year olds and is a "key demographic" for the broadcaster.
They are now waiting to see whether the initial buzz surrounding the launch of IGTV will help them reach a greater share of Instagram's one billion users.
BBC head of news Fran Unsworth has told staff that attracting younger audiences was the BBC's "biggest challenge".
Email pged@pressgazette.co.uk to point out mistakes, provide story tips or send in a letter for publication on our "Letters Page" blog