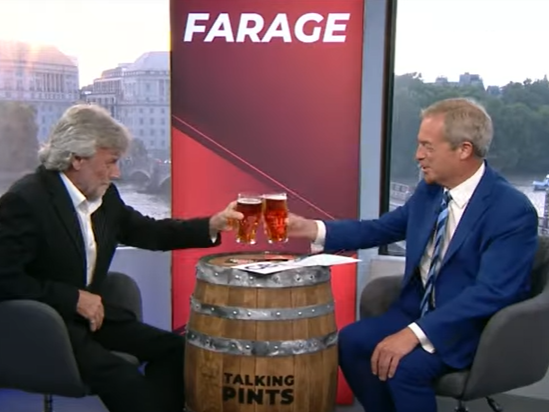 GB News parent company All Perspectives Ltd has published the full list of its shareholders to business registry Companies House following its decision to issue some staff with shares.
They show that Nigel Farage is the non-executive staffer with the most shares in GB News, followed by suspended presenter Dan Wootton.
Which GB News presenters have received shares in the channel?
Very few of the 28 staff awarded shares enjoy any rights over the company. Only Farage, weekday daytime presenter Michelle Dewberry and comedy presenter Andrew Doyle have received shares with voting rights, and they collectively own less than 1% of the company's voting stock. In contrast, GB News chief executive Angelos Frangopoulos alone owns 3.7% of the GB News voting shares and 4.8% of the total shares. The group of 28 staff given shares together own just over 3.33% of the total outstanding shares.
What do the shares give the staff?
Private companies in the UK are obliged to identify all of their shareholders in a filing to Companies House at least once a year.
The Financial Times reported last week that GB News staff were awarded their shares as part of an incentive scheme. Most are "growth" shares which do not carry voting rights or qualify for dividend payments.
The value of growth shares is typically based on a company reaching a certain value or financial threshold and are seen as a tax efficient way of incentivising staff.
The company has however clarified certain rights associated with the shares. Series A convertible preference shares, most of which are held by Marshall and Legatum, entitle their owner to voting rights and priority in case dividends are issued or the company is wound up and capital is distributed. Ordinary shares, held by some other early investors as well as Dewberry, Farage and Dolan, carry voting rights and secondary priority for dividends and distributions. Growth shares entitle their holders to last-place rights to the company's capital.
It appears the GB News growth shares can also be taken away: although former presenter Laurence Fox was awarded shares by the company in the company's original 24 September filing to Companies House, the FT reported that his shares "have been cancelled since his exit" from the channel after he made misogynistic comments about Joe.co.uk journalist Ava Evans.
GB News declined to comment to Press Gazette on whether Dan Wootton, who was suspended from the channel for the same incident, retains his shares.
The staff given shares in GB News are:
Suspended presenter Dan Wootton
Former UKIP leader Nigel Farage
Head of technology and operations Stephen Willmott
Editorial director Mick Booker
Chief analytics officer Frank Gosch
Presenter Michelle Dewberry
Presenter Andrew Doyle
Commercial director Nicole O'Shea
Presenter Nana Akua
Executive editor Nicole O'Shea
Presenter Patrick Christys
Presenter Ellie Costello
Presenter Stephen Dixon
Presenter Mark Dolan
Economics and business editor Liam Halligan
Deputy political editor Tom Harwood
Presenter Eamonn Holmes
Presenter Neil Oliver
Director of corporate affairs Lucinda Duckett
Presenter Isabel Webster
Home and security editor Mark White
Former first minister of Northern Ireland Arlene Foster
Presenter Mark Longhurst
Former leader of the House of Commons Jacob Rees-Mogg
Presenter and Telegraph associate editor Camilla Tominey
Archie Brooks
Kate Leaman
A James Schneider is also named as a Series A shareholder for All Perspectives Limited, and has held shares in the company since before the most recent shares were issued. Although there is a political organiser and writer named James Schneider who has previously appeared on GB News, that Schneider told Press Gazette he does not own any shares in GB News. Similarly, although a Christopher Williams is identified among the shareholders, the Telegraph business editor of the same name told Press Gazette he does not own any shares in GB News.
Email pged@pressgazette.co.uk to point out mistakes, provide story tips or send in a letter for publication on our "Letters Page" blog