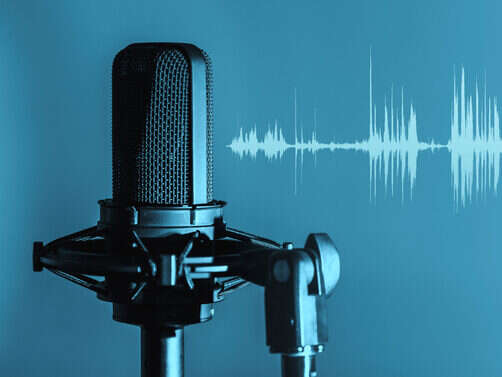 People who listen to news podcasts are more likely to listen frequently than people who use podcasts in many other genres, according to a listenership survey by Ofcom.
Almost half (46%) of news podcast listeners said they listened at least weekly, compared to 37% for politics and 34% for football. Only comedy (47%) and entertainment (46%) had more listeners who said they caught up with their regular shows weekly.
The research, which surveyed 1,884 UK adults in March, found that BBC Sounds was the most-used platform among regular podcast users with 46% of weekly listeners saying they tended to use it as their platform of choice.
Andrew Harrison, co-founder and group editor of Podmasters, recently told Press Gazette that the wide reach of BBC Sounds gives the broadcaster an "unfair advantage" over private podcast producers who are not able to distribute their material on the platform. Harrison called for Sounds to be "opened up" to more privately-produced podcasts.
BBC Sounds was followed by Spotify (43%) and Youtube (35%) for popularity among regular listeners.
When it comes to whose podcasts are most listened to frequently, the survey found that podcasts made by independent producers had the most loyal audiences with 58% of people who said they listened to podcasts weekly saying they listened to podcasts made by independent creators. Catch-up podcasts for BBC TV and radio shows were also popular with 43% of regular listeners saying they accessed these.
Almost a third (32%) of regular listeners said they listened to podcasts made by newspaper and magazine publishers, and 60% have listened to them at some point.
The survey also found that half of people never listen to podcasts, while 25% of people listen to them weekly, and a further 25% less frequently.
Nic Newman of the Reuters Institute told Press Gazette earlier this year that podcasts and email newsletters, which are both often hosted by real people and create meaningful engagement with smaller audiences, are an "absolutely critical part" of publisher's strategies.
According to Ofcom, men were more likely to listen to podcasts, with 31% of men compared to 19% of women saying that they listened to podcasts weekly.
Younger people aged 25 to 34 were also more likely to be a regular podcast audience. Just under half (45%) said they listened to podcasts weekly, compared to 29% of 18 to 24 year olds and just 11% of people aged over 55.
Majority-women news audiences remain relatively rare, although Tortoise has said that audiences for some of its investigations and news podcasts skew female.
People from the wealthier socio-economic group (classed by the government and marketers as ABC1) were also more likely to regularly tune into a podcast (30%) compared to respondents from lower socio-economic groups (20%).
The survey found that people are also listening to more podcasts. This year, the mean number of podcasts listened to per week was 5.4, up from 5.1 in 2022.
A quarter (24%) of people said they were subscribed to one to two podcasts while a further 24% of people said they were subscribed to three to five. 11% of people said they were subscribed to more than ten.
When it comes to how listeners find podcasts, a third of people said that friends and family (32%) and social media (32%) were the main sources of discovery. Social media was particularly popular as a way of hearing about new podcasts among the youngest group surveyed with 53% of 18 to 24 year olds saying they found new shows this way. Word of mouth was also popular (46%) among this age group.
Older respondents were most likely to say they did not hear about new podcasts with 45% saying they did not know about new shows.
Four in ten people (41%) thought there were too many advertisements on podcasts. Just 30% disagreed. Podcasts have seen an increase in profitability, with advertising revenue a key income source for many podcast producers.
Email pged@pressgazette.co.uk to point out mistakes, provide story tips or send in a letter for publication on our "Letters Page" blog