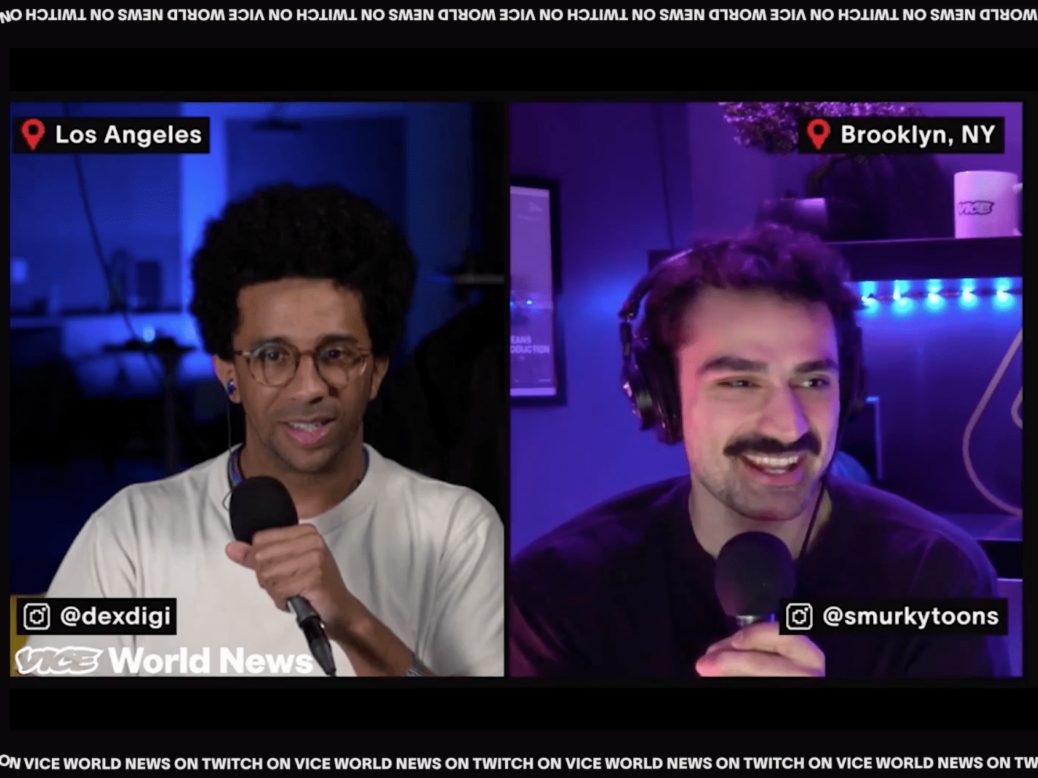 To most news executives, Twitch is either an interest they're vaguely aware their children have or something they've been meaning for months to get checked at the doctor.
But the Amazon-owned streaming site is one of the engines of internet culture – and so, perhaps unsurprisingly, youth-focused publisher Vice has set up shop there.
Few news publishers have tried to publish to Twitch – and most attempts so far seem to have failed.
But two staffers overseeing the effort at Vice tell Press Gazette the publisher is "beyond just the 'let's give it a try' phase" on Twitch. Having established an audience, its next move is to figure out monetisation.
[This article is part of Press Gazette's Platform Profile series. See also: Reddit, Factiva, Instagram, NewsNow, Substack, Shutterstock, Upday, Pocket, LinkedIn, Apple News/Apple News+, Twitter, Acast, Authory, Youtube, Twitter Spaces and Tiktok].
What is Twitch and which news publishers are on it?
Twitch is a video platform principally built around live streaming video games. In a typical Twitch broadcast the audience watches along as a streamer shares their screen and a live video feed of themselves gaming. Viewers can post in a shared chat box, leading to interactions between both streamer and audience as well as between audience members themselves.
That live social aspect is what sets Twitch apart from rival video platform Youtube, which otherwise dominates the user-generated on-demand video market.
Twitch says it gets an average of 31 million visitors a day, 70% of whom are between 18 and 34 years old.
Press Gazette asked Erica Matson, the executive producer of Vice's Twitch show, whether the media brand's audience on the gaming site differs from what it saw on Youtube. "I'm laughing because I'm like – yes. Hardcore yes."
[Read more: Youtube for publishers – Sun and Guardian explain how to succeed on video platform]
But that difference is more to do with the platform dynamics on Twitch than the people using the service. 
"I think it's because there's not necessarily the same accountability as you have on Twitch for the community… There's definitely people [on Youtube] who follow certain channels, but I don't think that that community who follows a channel on Youtube has the same relationship to each other as a community that follows a channel on Twitch."
Katie Drummond, Vice's senior vice president for news and entertainment, said Vice's commentators "really develop a relationship amongst themselves – they ask smart questions". While the stream chats do have moderators, "by and large they are not overwhelmed with moderation-related issues".
Although it grew up as a gaming-focused platform, Twitch has been trying to diversify, and has sections for streams about art, music and "just chatting".
Vice joined Twitch in August last year, where it publishes to the "just chatting" section twice a week. It was not the first news publisher to arrive on Twitch – but Vice appears to be the only one still actively investing in the platform.
Sky News gave a go at Twitch back in 2019 – but it appears it only ever did four streams, none of which have received more than 400 views. The Washington Post managed to rack up nearly 42,000 followers in its attempt, but hasn't streamed for the past three months. Buzzfeed's Complex hasn't gone live for six months; The Recount in over a year.
Vice has attained fewer followers than the Post – 6,400 at time of writing – but its videos routinely get more views. Most of its videos over the past month have had thousands of views, and three videos published since the start of March have been viewed more than 200,000 times.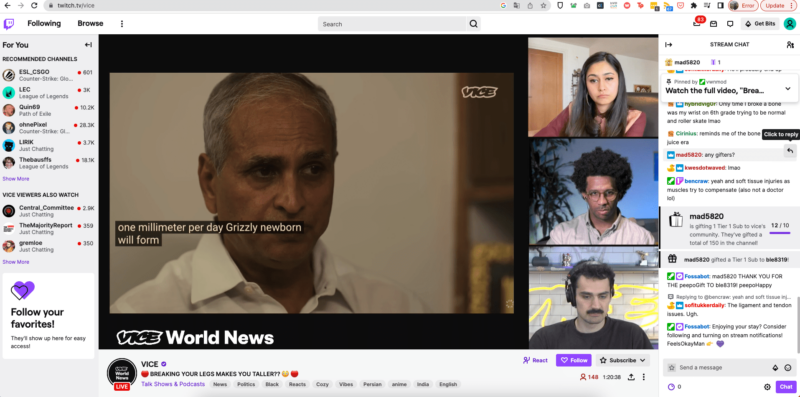 Getting started on Twitch
Like Youtube or Tiktok, it's free to set up a Twitch account and start streaming. Monetisation, however, generally comes from having an affiliate or partner status on the platform.
Streamers gain affiliate status automatically by satisfying a set of conditions: they must get at least 50 followers and, within a 30-day period, stream on at least seven different days, stream for eight hours at least once and average three viewers across the month.
Partner status, which comes with various additional video and monetisation tools and a verified tick, has tighter audience requirements and needs an application. Both partners and affiliates get a share of the ad revenue Twitch generates from their streams. Viewers are also able to subscribe to affiliates and partner accounts, paying them a direct fee of at least $4.99 a month.
Vice's show on Twitch streams at the same time each week at 11am EST on Tuesdays and Thursdays. Hosted by Vice journalists Dexter Thomas and Samir Ferdowsi, streams can vary between one and eight hours, and typically see Thomas and Ferdowsi ask their colleagues about their reporting – in a manner not dissimilar to conventional broadcast news.
Drummond told Press Gazette: "We came into the platform with a really specific plan. We had put a lot of thought into every little detail – into the graphics, into the set design, into the interstitial – every little piece of it, we had planned out, which I think was the right approach. And I think that we came into it with the idea that we would have a very conversational approach, but a very structured programming schedule, with block A; interstitial; block B; interstitial; block C."
But, she said, Vice had found the platform encouraged them to be "much looser than that". Whereas their scheduling had had a "rigidity to it", it worked better when they allowed the audience to direct the flow of discussion.
Matson said viewer questions might range from "'Can you break this down a little bit more? I was interested in that' to 'Actually just curious, how did you end the story?' and 'What was your experience when you were going through this?'
"They [audience members] become a bit of a journalist, I guess, themselves."
And in places, the show has very much adapted to its environment. Matson said: "I don't think when we launched we thought we would be talking about classified Pentagon documents while one of our hosts was playing Minecraft."
Show me the money
Matson estimated Vice had a dedicated team of "six or seven people" working on the Twitch show. But despite Vice's well-publicised financial troubles, the publisher has not yet monetised the effort.
Drummond said Vice had been "very focused on growing our audience, [and] I think we've been very happy with how that growth is tracking. And then we've been very focused on building trust among that audience.
"I think the worst thing you can do, coming into a new platform, is to go really aggressively after monetisation when you haven't built that foundation of trust."
She said Vice is looking at advertising models, sponsorship and custom content built for the platform, which "our sales team is really excited about". The brand is also exploring "less conventional approaches to monetisation" like merchandise sales.
In any case, Drummond said: "I think we're very much seeing this as a long-term commitment that we're making at this point. It's beyond just the 'let's give it a try' phase."
What works and what doesn't on Twitch?
Asked what advice she'd give a news publisher arriving on Twitch, Drummond said: "First of all – good luck.
"Second of all, I think it's just really important for any publisher to show up in an authentic way. I think that we are on that platform in a way that makes sense for us. It doesn't feel like we are contorting ourselves or forcing ourselves to fit into a box that we don't fit into."
If your authentic presence is traditional linear broadcast news, however, that may not work either.
"We've seen in the streaming news space in the last year or so publishers coming in and taking a very conventional TV approach to digital," Drummond said. "And I find that to just be really stressful as a viewer. It's really sort of ignorant, I think, of the evolution of news and publishing and I would simply say: this is not a broadcast news programme and do not treat it as such."
For her part, Matson said that to stream successfully on Twitch: "​​You have to have a split brain. You have to be talking like we're talking right now while also monitoring a chat and taking time to say, 'Oh, TK47 actually had a question, I want to go back there'…
"If they weren't doing that, this wouldn't work. You have to be watching what people are saying or reacting to while also interviewing people, while also being out in the field. I wouldn't be able to do it."
And she advised that journalists on Twitch should "be open to change your format – you may have a good idea at the beginning, but be flexible with experimentation".
The most successful Twitch streamers often have a "parasocial" relationship with their audience: viewers come to feel or act as though they have familiarity verging on friendship with the streamer. This is a key way content creators on Twitch and across the internet build loyalty among audiences, but may result in backlash should the entertainer attempt to introduce boundaries.
Drummond said Vice is not exactly doing this, however: "I wouldn't describe it as parasocial in the way that I would think of what parasocial means. I think it's about creating a direct connection between the audience and the hosts, and creating a rapport of familiarity, [of] trust. I mean, trust is a really big thing for any news organisation."
Vice continues to experiment with its format on Twitch: Matson said they want to do collaborations with other streamers and more streams featuring hosts in the field. The show has had some success already with that approach, sending Ferdowsi and two other Vice journalists to downtown Manhattan to cover Donald Trump's arraignment earlier this month from the ground.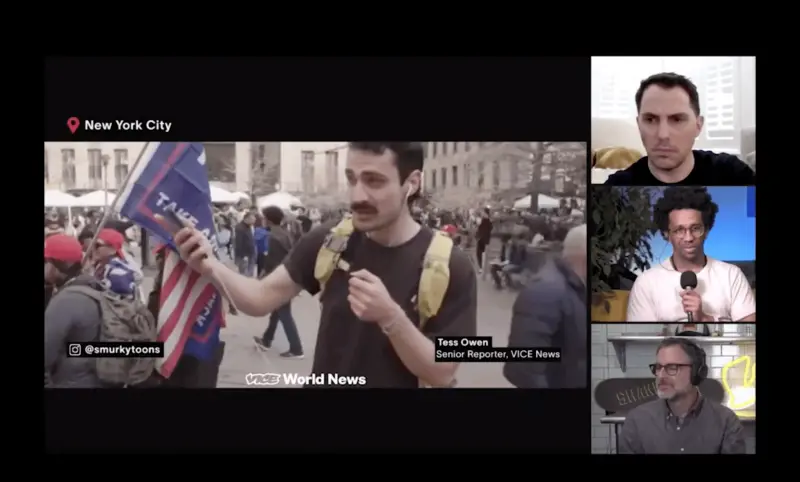 The stream proved popular, running to seven hours in part because of audience interest and part because "there were people who were in the newsroom who wanted to come back and report on what had happened during the day," Matson said.
And even further into the future?
"The only thing that would change is if we decided to up our cadence or something like that," Matson said. "We'd need to be able to relieve the team if we started going five days a week, 24 hours a day. We'd probably need to bring on an extra person or two."
Email pged@pressgazette.co.uk to point out mistakes, provide story tips or send in a letter for publication on our "Letters Page" blog