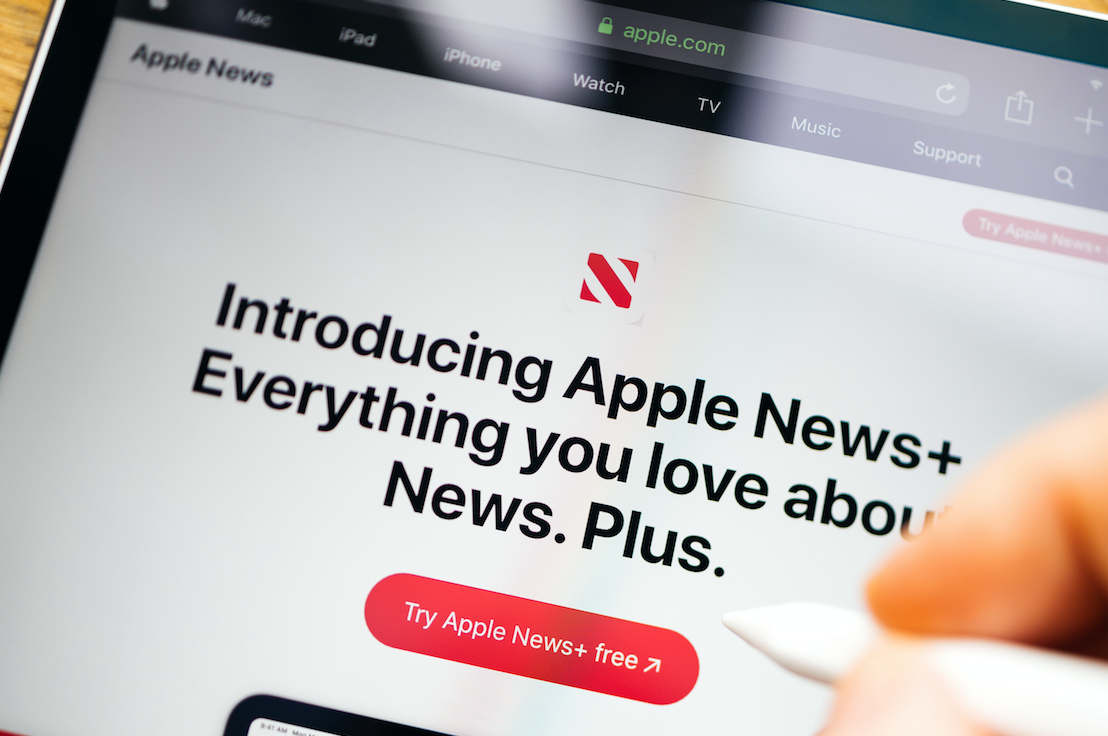 The Guardian has decided to return to Apple News in the UK to enhance its reach and revenues.
The publisher was one of the first news outlets to sign up to Apple News when it launched in the UK in 2015 but chose to withdraw its content in 2017. In the US, The New York Times ditched Apple News in 2020. The Guardian has been on Apple News in the US since 2020 and Australia since 2021.
Press Gazette understands The Guardian has chosen to rejoin Apple News in the UK in part because the platform now allows it to sell subscriptions and accept reader donations through the app.
Additionally, because The Guardian is on Apple News in all four of the app's home nations – the UK, US, Canada and Australia – it qualifies for a discounted commission rate.
A title that is solely on Apple News in one territory is liable to be charged a 30% commission on any subscription sales made through the app. Because The Guardian is in all four countries, its commission rate for subscriptions and reader contributions falls to 15%.
Apple News is a free app that comes installed on all Apple devices. As of the end of December, it was estimated to be the UK's most popular news app, with an audience of 14.1 million, above BBC News in second place with 13 million. Most major UK news sources make some of their content available on the app. The free platform offers publishers reach, a share of advertising revenue and an option for selling subscriptions.
Apple News+, the premium version, offers a limited number of publications payment in exchange for sharing a larger share of their content. Most of Apple News+'s partners are magazines, which make their editions available through the app. The Times and Sunday Times are the only UK newspapers to make their content available through Apple News+ as part of a wider News Corp deal.
In an email to staff on Wednesday afternoon, chief executive Anna Bateson told staff that The Guardian would return to Apple News in the UK after experiencing success on the platform in the US since 2020 and Australia since 2021.
She said The Guardian had left the app in 2017 to focus on "developing our then-nascent reader revenue proposition on our own platform.
"Since then we have continued to build our own platforms in the UK, US, Australia and globally as strong destinations, but we can also see significant opportunities to reach a wider audience for our journalism and associated commercial benefits through partnership with Apple News – who have now made it easier for publishers to generate supporter and advertising revenue from their platforms."
A Guardian News & Media spokesperson said: "The carefully considered decision to rejoin Apple News in the US and Australia helped the Guardian to find new audiences for its journalism, and delivered meaningful supporter growth and revenue. By rejoining Apple News in the UK, we aim to engage Apple News readers to support Guardian journalism on an ongoing basis. We will closely monitor the impact of rejoining Apple News on our wider strategy."
In July The Guardian became one of the UK's last big publishers to join Google News Showcase, another aggregator that offers news outlets cash for content.
Email pged@pressgazette.co.uk to point out mistakes, provide story tips or send in a letter for publication on our "Letters Page" blog