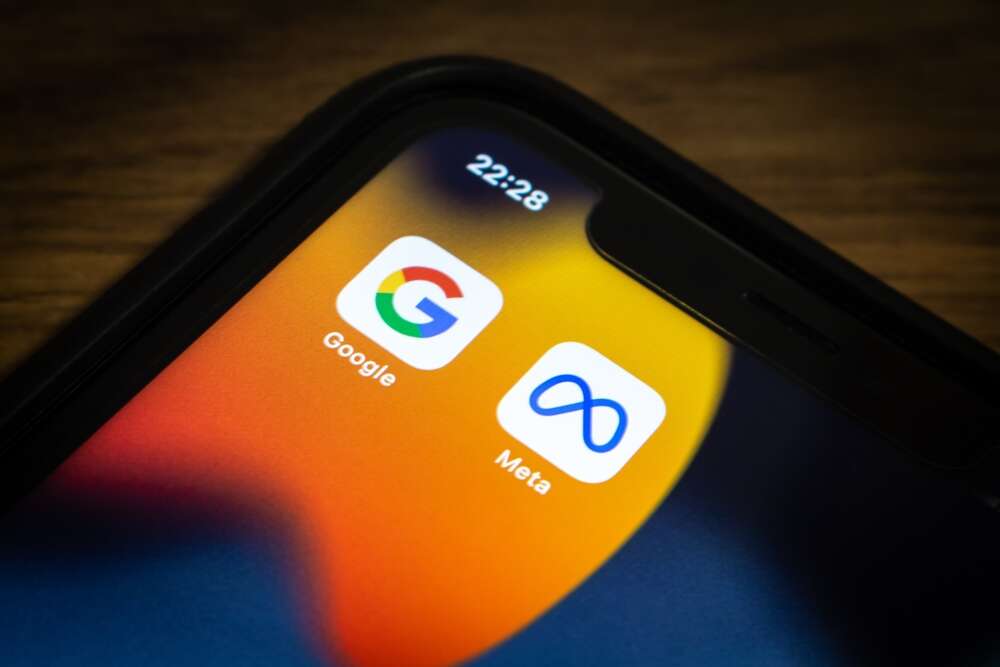 US news publishers could be owed between $11.9bn and $13.9bn a year by Google and Meta if new legislation forcing big tech payments goes ahead, a research paper has claimed.
However the tech companies strongly dispute the claims, with Google accusing the researchers of using flawed data to reach a "biased" conclusion.
The research used a "conservative" estimate to suggest that Google could owe US news publishers between $10bn and $12bn per year under the proposed Journalism and Competition Preservation Act (JCPA).
Meanwhile Facebook owner Meta could owe $1.9bn, the research paper, written by academics from consulting firm The Brattle Group, the University of Houston and Columbia University, added.
It argued that previous and existing deals between publishers and big tech for products like Google News Showcase and Facebook News (now winding down) "do not capture the full value generated by news content on the platforms" and are "much lower than they should have been".
It claimed that a "fair" revenue split would give news publishers 50% of news-related revenue earned by Google and Facebook.
As a percentage of the total, it therefore estimated that 6.6% of Facebook ad revenues and 17.5% of Google search ad revenues should be paid to news publishers each year – although both companies have stated news-related searches and posts make up a small single-figure percentage of the total.
A report commissioned by Meta earlier this year argued the company "derives little economic value from the sharing of news content" and claimed that links to news stories make up less than 3% of what Facebook users globally see in their feeds. The social media company has been pulling back from paying publishers for their content, winding down deals for the Facebook News tab in the UK, France and Germany this year after doing so in the US.
Meta has also taken all news off Facebook and Instagram in Canada in response to the country's Online News Act, which passed this summer and forces payment for news content on the big platforms. The disappearance of news from the platform had almost no impact on Canadians' use of Facebook, according to Reuters.
Disputing the new findings, a Google spokesperson said: "This white paper is based on inaccurate assumptions, debunked data, and basic errors, in support of a biased conclusion. In reality, less than 2% of all searches are news related and we don't run ads or make money on the vast majority of them.
"What the white paper fails to recognise is that we do however drive tremendous value to news publishers by sending more than 24 billion visits each month to their sites – at no cost to them – which they can monetise."
However the UK's News Media Association has accused Google earlier this year of exaggerating how much revenue news publishers are able to generate through the platform at present.
The JCPA in the US is designed to allow news providers to jointly negotiate for fair payment from major tech companies that profit from their content. The legislation advanced from the Senate Judiciary Committee to the full Senate in June and is awaiting the next stage of debate.
Democrat senator Dick Durbin said at the time the bill will help "reverse" the trend of advertising revenue being siphoned off by "large online gatekeepers" like Google and Facebook "by allowing news publishers… to band together and enter into structured negotiations with the biggest online platforms over access to news content".
Despite the arguments for billions in compensation, the new research stressed that "platform remuneration alone will not 'save journalism'", noting that legislation introduced in Australia and Canada forcing payments from big tech to news publishers also included other measures to support publishers. As well as the US, the UK is also examining similar laws with the Digital Markets, Competition and Consumers Bill currently passing through the House of Commons.
Rod Sims, the former chairman of the Australian Competition and Consumer Commission who led the introduction of legislation in the country, told Semafor the new research is "clear on its assumptions and methodology, and so can promote a well informed debate on what Google and Meta owe publishers for their news media content.
"Their approach is logical. The debate is no longer over whether the platforms should pay, but about how much. This paper is an extremely thoughtful contribution to this debate."
['Oh, yeah. It's a big deal': Meet the man who forced Google and Meta to start paying for news]
How did the research paper calculate how much Google and Meta owe news publishers?
The methodology involved an estimate of the platforms' revenue from user impressions to news content sourced from US news publishers and a projection of the share of searches seeking news content in Google search and of the amount of time users spend consuming news on Facebook.
It then used "insights from the economics of bargaining to determine the most likely split of the economic 'surplus' (the additional economic value) generated from online news content between the platform and the publishers" and "historical benchmarks" to explain why a 50/50 revenue split "is the most reasonable starting point".
The paper estimated that about $3.8bn of advertising revenues are generated through news content in the US on Facebook, after an analysis of Meta's $114bn total global advertising revenues in 2022 and time spent with news on the platform.
It said that this would create $1.9bn in advertising revenue owed to publishers on a 50/50 revenue split, or $1.5bn on a 40/60 split and $1.2bn on a 30/70 split.
For Google, the paper suggested $21bn is made from information searches using publisher content in the US. This would create $10bn to $12bn due to publishers on a 50/50 revenue split, between $8bn and $9.5bn on a 40/60 split and between $6bn to $7bn on a 30/70 split.
Read the research paper here to see the full methodology.
Email pged@pressgazette.co.uk to point out mistakes, provide story tips or send in a letter for publication on our "Letters Page" blog