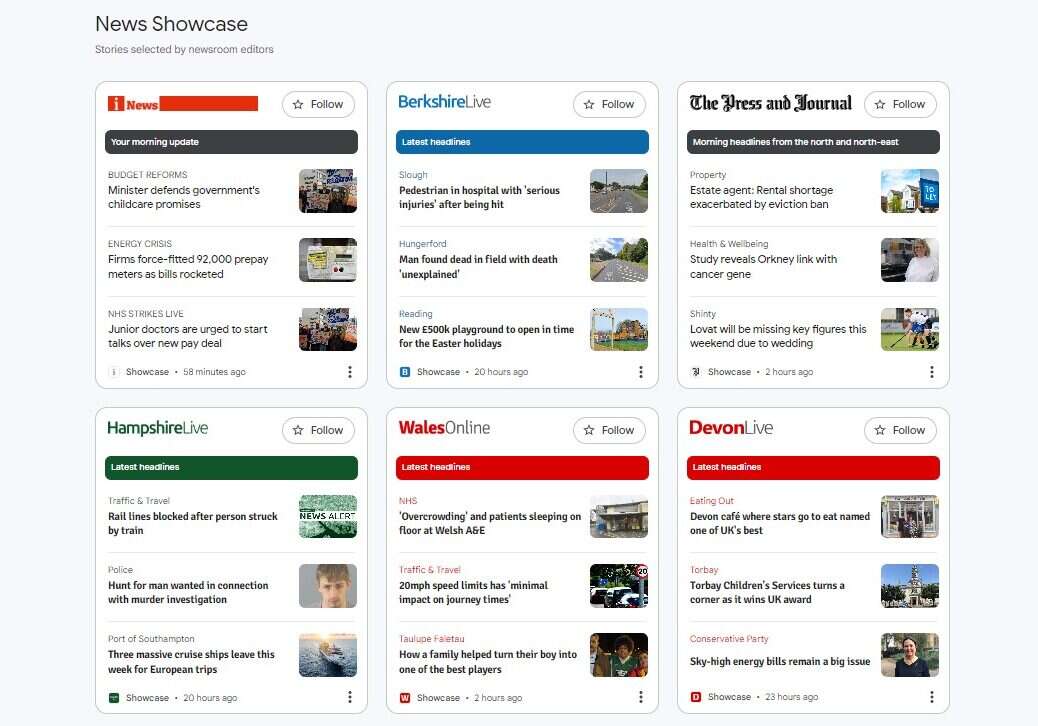 Google has persuaded the publisher of the Daily Mail to sign up as a partner of its News Showcase aggregator in the UK and Australia.
The tech giant announced on Friday morning that content from Daily Mail and General Trust (DMGT) titles, including Mail Online, Metro, New Scientist and the i, will now be available on Showcase.
The deal means that Google has signed up every national newspaper publisher in the UK to the scheme, under which it pays for content.
Most large British newspaper publishers signed up for Showcase upon launch in February 2021. The two largest publishers to hold out were The Guardian and DMGT. The Guardian signed up for Showcase in the UK in July.
The Guardian had already signed up for Showcase in Australia, while DMGT had until today resisted making Mail Online a partner in Australia. Both publishers have sizeable newsrooms down under.
DMG Media chief executive Rich Caccappolo said: "We are pleased to join News Showcase, which Google has created to connect readers with great content from trusted news publishers.
"We appreciate Google's support of high-quality journalism and we welcome the opportunity to work with them in order to give readers choice, help new readers find our content and enable us to strengthen our relationship with our existing readers across their products."
Google also announced today that the Independent Community News Network (ICNN), which represents a number of independent local news publishers, had agreed a Showcase deal. Through a deal with Ping News, a "public interest news gateway" set up by ICNN that from May will allow national and regional publishers to pay for the use of aggregated local stories, Showcase will now feature content from 45 new local news titles.
Google said that more than 240 individual titles have now signed up as partners of News Showcase in the UK. It said that 93% of them are local newspapers.
Matt Abbott, ICNN's deputy director, said today's deal marked a "watershed moment for independent journalism in the UK".
He added: "By partnering with Ping News, Google is not only helping the independent sector become more sustainable but is lending credibility to it. Google's support of the Ping platform… means regional and national publishers will soon be able to access rich multimedia content from every region of the UK on demand, from hundreds of professional independent community journalists."
---
Analysis: Why has the Mail fallen into line?
This looks like a win for Google. The Mail was the last big British newspaper publisher to hold out on agreeing a deal to join News Showcase.
As Press Gazette reported in 2021, News Showcase agreements come with strict confidentiality agreements attached, so we don't know how much most publishers are paid. But DMGT will certainly have struck a deal worth millions of pounds a year.
The additions of Mail Online, Metro, the i and New Scientist will enhance News Showcase's appeal as an aggregator, which should please Google.
Behind the scenes, many news industry leaders believe Google only launched News Showcase (and promised to pay news publishers across the world $1bn over three years) to stave off the threat of legislation that would force the technology company to pay for news.
In this regard, the deal also looks like a win for Google. The UK government appears set on following Australia by passing laws that would force Google and Facebook to pay for news.
But Google will feel its case against such legislation is strengthened by it having already struck deals with all major titles on Fleet Street.
Why has the Mail, having previously rejected Google's offers to join News Showcase in the UK and Australia, fallen into line? At a time when the British journalism industry is enduring tough financial conditions (DMGT has recently announced major cuts at the Mail and Metro titles), the answer is likely to be: money.
Like many other Fleet Street publishers, DMGT will believe that taking Google's cash now should not stand in the way of the UK government passing laws similar to Australia's News Media Bargaining Code. As a result of that code, Australian publishers are thought to have been offered more generous Showcase-related deals than peers in countries (like the UK) without such legislation.
If and when the UK passes similar legislation, therefore, DMGT and other publishers will expect to sign larger content deals with Google.
Email pged@pressgazette.co.uk to point out mistakes, provide story tips or send in a letter for publication on our "Letters Page" blog