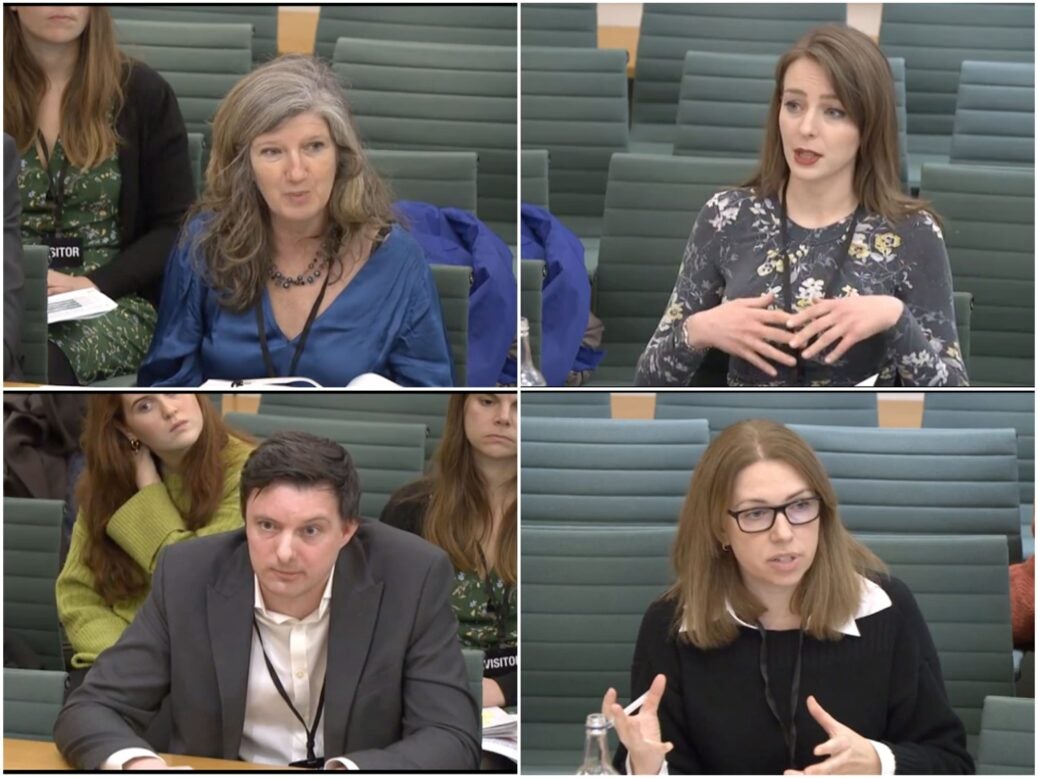 Fact-checkers need to "learn from the disinformation merchants" in how they present their debunks, the BBC's disinformation editor has told Parliament.
Rebecca Skippage was among four fact-checking and science communications experts appearing before the DCMS subcommittee on online harms and disinformation on Tuesday.
They told MPs that essay-length debunks are likely not reaching the people they need to, and they warned that big tech's appetite for fact-checks may create a market for "low-quality, high-volume" commercial fact-checking.
Skippage warned: "According to the latest Ofcom survey, a third of people who are online don't recognise that there is any potential misinformation out there."
Asked how disinformation on social media might be curbed, Skippage suggested a combination of media literacy training, particularly for children, and for the media to be where people encounter misinformation.
"Very often, the people who are most affected by disinformation are not necessarily the people who seek out the answers, who come to the BBC website, who go to Full Fact and ask the question 'What is right and what is wrong?' So we need to be in those spaces. We need to be on Tiktok, on Telegram, on Instagram giving good information.
"And one of the things that I've said before is that we need to learn from the disinformation merchants, because they are extremely good at getting people's attention. They are really, really good communicators. And so we need to be using the same sorts of techniques."
[Read more: Why Tiktok is one of the 'main priorities' at BBC News for 2023]
Skippage said this type of disinformation content is "very human-centred. It's people who are directly affected by certain situations. They use fantastic graphics. It's very simple, it's very eye-catching. So [when] you're scrolling through, that's what you go to.
"And with the best will in the world, a 2000-word article on a publisher's website, which can contravene something that you're really going to be drawn to, is not a brilliant corrective."
During a discussion of what constitutes high-quality fact-checking, Full Fact chief executive Will Moy drew a contrast between the fact-checkers represented on the panel (BBC News, Channel 4 News and Full Fact) and "untrustworthy so-called fact-checking [which] will often be political parties just making an argument.
"But what we're also seeing… are commercial organisations that are providing fact-checking services largely for the internet companies.
"And they are in a very difficult market because you have a few powerful buyers and many essentially treated as interchangeable suppliers. And the only way that is going to go is lower quality, lower price.
"So we are concerned that actually there will be an emerging breed of fact-checking online, which is high-volume, low-quality, and actually breaks down the reputation of fact-checking.
"That's one of the reasons why Full Fact has supported the emergence of something called the European fact-checking standards network, which is a new code practice across Council of Europe countries trying to agree high quality standards for fact-checking, including methodology and transparency."
Moy did not identify any commercial fact-checkers of concern.
Asked to comment, Gordon Crovitz, the co-chief executive of for-profit news rating company Newsguard (for which the author of this article, Bron Maher, used to work), told Press Gazette Moy was "right that the platforms – at least until recently, as part of their general refusal to take responsibility for what's on their platforms – were not willing to spend very much on fact-checkers or any other positive enhancements to their products… But I would say we've recently seen a change in attitude from some of the platforms.
"But I would say they're not looking so much for commoditised fact-checks. What they're really looking for is detailed analysis of false narratives, explanations of the debunkings based on authoritative sources, and the ability to have this work be read both by humans and machines."
Similarly, the Baybars Örsek, vice president of fact-checking at AI-driven commercial fact-checker Logically said: "According to the latest 'state of the fact-checkers report' published by the International Fact-Checking Network (IFCN) in 2021, 44.2% of the fact-checkers committed to IFCN's standards are commercial/for-profit organisations. Just last year, Maria Ressa, chief executive of the Filipino for-profit media outlet Rappler, was awarded the Nobel Peace Prize. 
"All certified fact-checking organisations commit to the highest standards on transparency and accountability to fight against mis-and-disinformation. Commercial and non-profit organisations alike play a vital role in this global effort to tackle the growing threat of mis- and dis-information."
Despite their fact-checking concerns the panel spoke positively of the way media coverage of certain science issues, in particular the Covid-19 pandemic, had been handled in recent years.
Fiona Fox, the chief executive of the Science Media Centre which connects media with scientific experts relevant to their stories, praised journalists across the media for their work: "Something is going right here. Fact-checkers are part of the media, but also let's give credit to the science, health and environment journalists who work for The Sun and the Mirror and the Daily Mail and Sky News and 5 Live and the mass media – which absolutely, our surveys show, is where the public still go to for a lot of their information – those science journalists are very trustworthy.
"They're good journalists, they try to get it right, and they are conveying a lot of information from these trusted sources."
Email pged@pressgazette.co.uk to point out mistakes, provide story tips or send in a letter for publication on our "Letters Page" blog