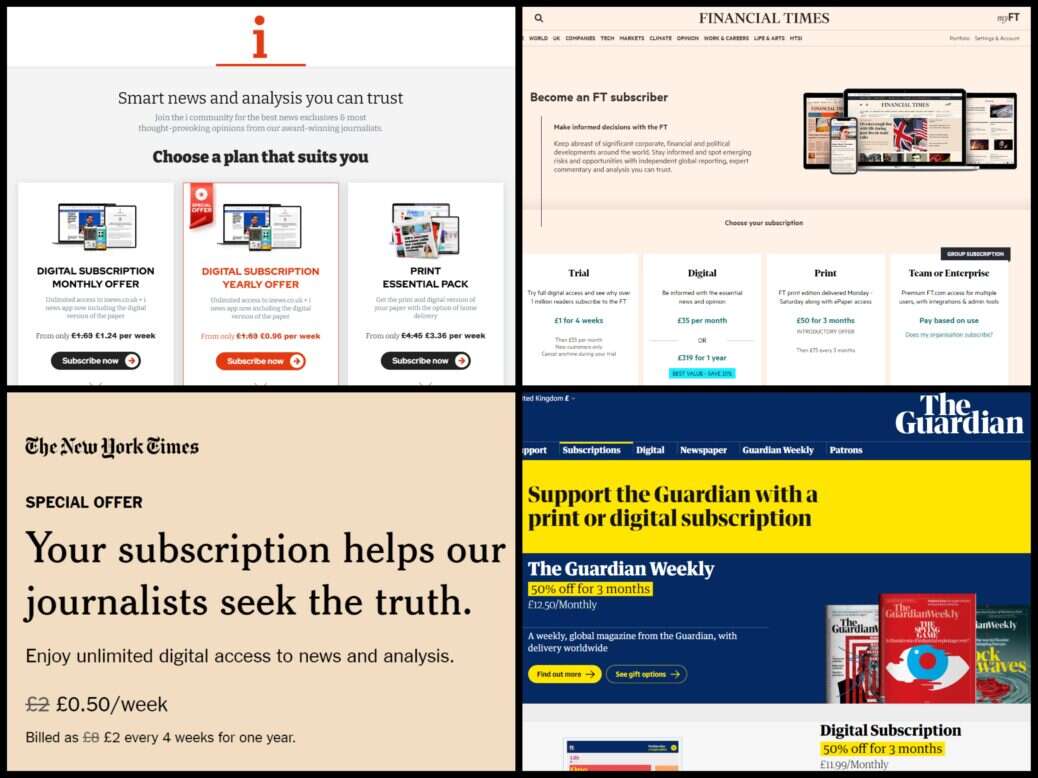 A new Press Gazette ranking reveals the leading subscription newsbrands with the highest ratio of digital subscribers to online audience.
Among the brands included in our list, sports news site The Athletic, which was bought by the New York Times in 2022, had the highest number of website visitors who are digital subscribers (16%) as per its December 2022 data on both metrics.
It was followed by two News Corp business-focused brands – Barron's, which also converted almost 16% of visitors, and the Wall Street Journal (10%).
At the other end of our table were the Financial Times' Japanese owner Nikkei (0.2%) (excluding the FT, which is ranked separately) and the Weather Channel (0.4%).
To draw up our list we took the single newsbrands (i.e. we excluded publishing houses) about which we collect data as part of our 100k Club digital subscriptions ranking. We also looked at seven additional local and international newsbrands with significant digital subscriber bases or brand recognition – such as Spain's El Pais and France's Le Monde.
We took the latest number of digital subscribers that these brands have either shared with Press Gazette or reported publicly and looked at this as a share of the number of unique global visitors to their mobile and desktop website in the same month, based on Similarweb data.
As our list is based on newsbrands known for their successful digital subscriptions programmes, our list is likely to capture strong performers with a relatively high ratio of digital subscribers to the number of monthly visitors. According to an International News Media Association (INMA) study of 166 publishers in 33 countries at the end of last year, the median was 0.6%, while the 25% of brands who performed best had a rate of at least 1.4%.
Note on workings: As publishers are not tied to one standard as to how they report digital subscribers (some may include subscribers with access to other products such as print products or e-paper subscriptions), our figures should be taken as a ballpark. Some publishers may also report subscribers on free trials or deeply discounted rates. Our ranking is designed to give a snapshot of how some of the biggest names in reader revenue are faring in converting their audiences to paying consumers.
There's no one set way to calculate the ratio of subscribers to online reach - often called the "conversion rate". Some publishers look at conversion of unique visitors to their digital properties; others prefer to look at conversion as a percentage of the sessions they have on their site, while some also take into account the percentage of the population in their region, which is how newspapers had traditionally approached this. Similarly, website traffic can fluctuate month to month and figures can vary between measurement standards such as Google Analytics, Similarweb and other providers.
What sets apart newsbrands with higher conversion rates?
One factor that could affect the conversion rate is how long the publisher has had a paywall in place - those that have had longer to build up their paywalls will likely have a better ratio.
Business-focused The Wall Street Journal bucked the trend in the early years of the internet and began charging for its content as early as 1995, while The New York Times, which set up a metered paywall in 2011, was also an early mover.
"People who have been at it longer have been doing a better job and I think that will continue," says Ken Herts, chief operating officer of the Lenfest Institute which supports local journalism in the US, and a former executive at Dow Jones.
National titles also have added advantages over local brands.
"They have a larger potential audience and they have more money for technology and marketing than local papers do," he says.
He adds: "Different news organisations have different capabilities from market to market, but it's also how much of their focus is on digital subscriptions. The Boston Globe decided some five, six or seven years ago that it was going to focus solely on digital subscriptions as its primary growth driver, and that its goal was to become, in its words, not 'print trapped' so that it could live off digital subscriptions and support its newsroom that way.
"Some other publications are trying to balance and reach for digital advertising with subscriptions and it's harder to do as well with subscriptions if it's one of many things you're trying to do."
According to Greg Piechota, a researcher at INMA, newsbrands are getting better at converting readers.
"Brands that grew the fastest in the past three years asked more people to pay for online news such as by tightening their paywalls while making subscriptions more affordable and easier to buy such as by lowering introductory prices, extending trial lengths and improving check-out experiences," he says.
Hard paywall or soft paywall?
The data, says Piechota, suggests it does not necessarily matter whether a publisher uses a hard or soft paywall. INMA's research shows that brands with different paywall models saw similar growth rates in their digital-only subscriptions.
Allowing non-subscribers to opt into newsletters or offering time-limited free openings to hard paywalled sites are two ways newsbrands without a metered or freemium model can allow users to see the kind of content they could be getting without always having to give articles away for free.
How much room is there for publishers to grow their subscribers?
After several years of growth many publishers saw a slowdown in global subscriptions at the end of last year, which, says Piechota, was due to the cost of living crisis and growing news avoidance.
Despite this, he says publishers continue to see the higher levels of subscription sales that started with the pandemic. INMA predicts that by the third quarter of this year digital subscription volume will be up 52% in comparison to the first three months of 2021, while revenue from digital subscriptions will be up 47%.
"Digital news enjoys far lower penetration than streaming in most markets. It also enjoys lower penetration than, for example, print newspapers 20 years ago at the peak of their circulation before the digital disruption," says Piechota.
Herts is similarly optimistic that current conversion rates suggest that publishers still have room to grow their subscriber bases.
"Those other things [such as the higher cost of living] may limit your headroom and may limit what your total potential is, but most publishers aren't anywhere near that. Their total potential is measured by the ones who are doing it best in their markets," says Herts.
News publishers, says Piechota, are also doing better at keeping down churn - the share of readers that sign up and later cancel or do not renew their subscriptions - compared to both other types of subscription businesses such as video streaming platforms and the news industry's own track record.
The challenge however for publishers is how to convert readers who are less wealthy or who might read the news less, says Piechota.
Studies suggest, says Herts, that the number of people willing to pay for news has been creeping up over time. A Reuters Institute study found that about 20% of people are willing to pay for news.
"I don't know that the ones who were doing it really well whether that's Boston Globe or the New York Times or [Nordic publisher] Schibsted have a lot of headroom for growth but there's a lot of room for growth at the other news organisations that are just catching up now," says Herts.
Email pged@pressgazette.co.uk to point out mistakes, provide story tips or send in a letter for publication on our "Letters Page" blog