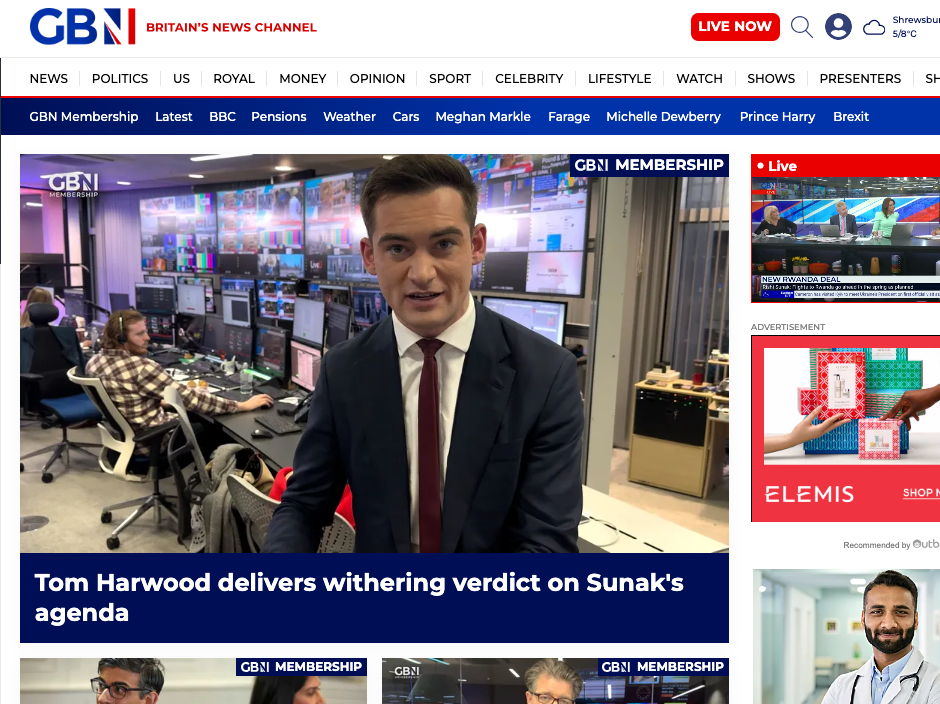 GB News has introduced a paid membership scheme offering access to paywalled content and in-person events with the channel's presenters.
The opinion-led broadcaster, which has previously distributed all of its content free of charge, began publishing some opinion and analysis articles and videos behind a paywall last week.
GB News, which launched in June 2021, made losses almost ten times greater than its revenue of £3.6m in its first year on air although the company directors said they were "satisfied with the results for the year and expect growth in the future performance of the company". It relies largely on ads but has suffered from a "massive advertising boycott" since launch.
What does the GB News membership scheme involve?
The new membership scheme has three tiers, charged at £5, £10 or £20 monthly (or £54, £108 or £216 annually).
The lowest tier grants access to "exclusive analysis and opinion from your favourite presenters", as well as "the Great British Daily Crossword" and "Great British weekly quiz". The higher tiers offer access to perks including members-only events and a newsletter. The £10/£108 middle tier is advertised as the "best value" option.
One listed example of events members may access is "election debates", which may indicate the broadcaster hopes to host a prime ministerial debate during the forthcoming general election, events with other politicians, or perhaps party leadership debates afterward. The GB News membership rules page notes however that the benefits described are things "we intend to, but are not obliged to, provide to you".
On Wednesday the GB News X/Twitter account began regularly promoting the GB News membership scheme, which is also heavily featured on the website's front page.
The new paywall does not appear immediately on member-only articles, most of which are write-ups of exclusive videos. Instead, clicking play on those videos triggers the paywall, and it also appears if a user lingers on the associated article for a few seconds.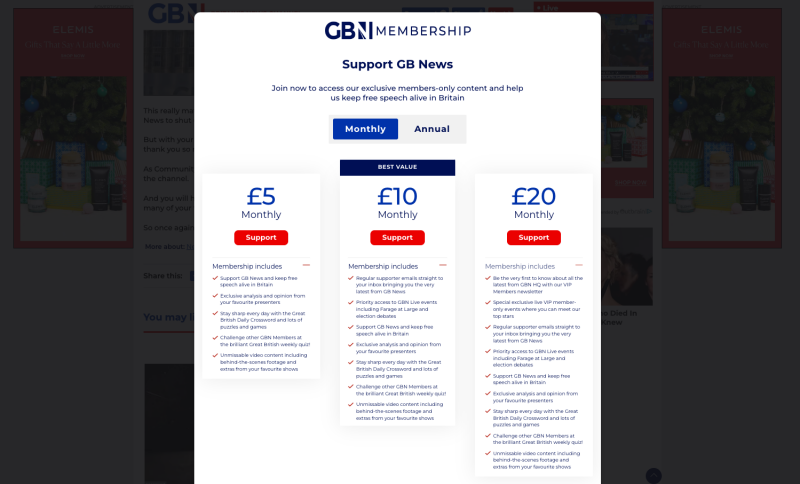 GB News community editor and former Brexit Party local politician Michael Heaver welcomed new members in an article published on Friday 10 November, saying: "As Community Editor I'll be reading your comments and representing your views and thoughts here on the channel." The member-only section features several interviews Heaver has conducted with other GB News staff about why they work for the channel.
Programming and personnel shake-ups announced behind new GB News paywall
Paywalled content on GB News in the first week has run under headlines such as "Sunak should have listened to Braverman - Reform are now surging", "Humiliated Sunak must resign and call snap election NOW - Furious Richard Tice lets rip" and "GB News plugs mainstream gap: Olivia Utley on exactly why she joined Britain's news channel".
It also included a clip in which presenter Esther McVey resigned from GB News in order to join Rishi Sunak's cabinet. Her husband, fellow Conservative MP Philip Davies, appears to be remaining at the channel to continue presenting their programme.
Another member-only article announced three new shows on the channel. Patrick Christys, who previously hosted afternoons from 3pm to 6pm, takes over the 9pm slot previously occupied by Dan Wootton, who has been suspended from GB News. Political reporters Tom Harwood and Emily Carver take over Christys' slot with "Good Afternoon Britain", which will be presented out of a new Westminster studio beginning in December, and comedian Mark Dolan takes over the Friday night slot lost by Laurence Fox after he made misogynistic remarks about journalist Ava Evans.
GB News airs for free on television, Youtube and its own ad-supported streaming apps, and the channel does not appear to be diminishing its free output. Similar membership schemes are already in use by news outlets such as Tortoise and The Bristol Cable.
The Guardian also solicits reader support, but does not put any content behind a paywall. The liberal-leaning newspaper's messaging around its reader funding is somewhat similar to GB News's, however: whereas it encourages readers to "support quality journalism you can trust, free from political ties and open to all to read", GB News says that by becoming a member its audiences can "support GB News and keep free speech alive in Britain".
Games and puzzles have become a popular way for news publishers to add additional value to digital subscribers. New York Times head of games Jonathan Knight told Press Gazette earlier this year that its puzzle offering, which includes both its long-running crossword and viral hit Wordle, had helped the business to build an engaged community less prone to churn.
[Read more: Membership funding for journalism - Exclusive ranking of the top brands]
Email pged@pressgazette.co.uk to point out mistakes, provide story tips or send in a letter for publication on our "Letters Page" blog