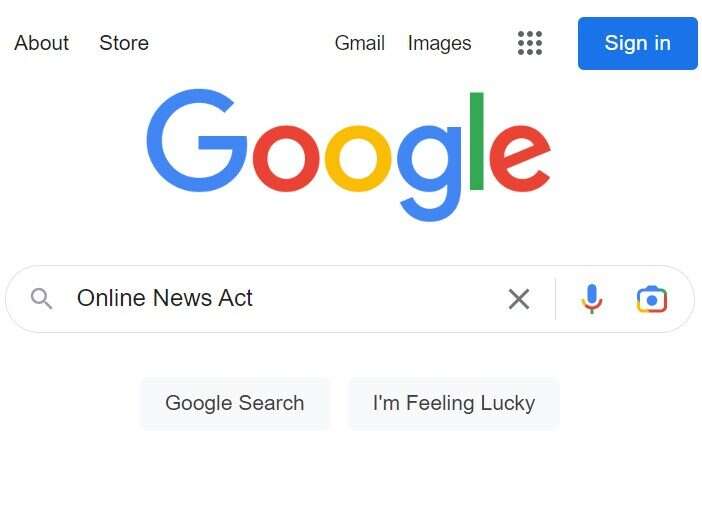 Google has stepped up its campaign against Canada's Online News Act, which would force it to pay publishers for their content, by blocking certain users from accessing news.
The technology giant said its experiments would affect fewer than 4% of Canadian users – likely to mean more than one million people – and run for around five weeks. Reuters reported that Google would "limit the visibility of Canadian and international news to varying degrees".
Meta, the owner of Facebook, which would also be forced to pay for news under the Online News Act, formally known as C-18, has also threatened to block content in Canada.
Both technology giants made similar statements in Australia ahead of the implementation of Canberra's News Media Bargaining Code. Facebook briefly followed through, blocking Australians' access to news and other content – The Wall Street Journal alleged in a report that it had "deliberately caused havoc" by taking down pages of hospitals, emergency services and charities  – before backing down. Ultimately, both Google and Facebook agreed to cash-for-content deals, thought to be worth in excess of AU$200m (£113m/$136m) a year, in Australia.
Responding to Google's news-block experiment, Laura Scaffidi, a spokeswoman for Canadian Heritage Minister Pablo Rodriguez, said: "It's disappointing to hear that Google seems to be borrowing from Facebook's playbook.
"This didn't work in Australia, and it won't work here because Canadians won't be intimidated. At the end of the day, all we're asking the tech giants to do is compensate journalists when they use their work."
Paul Deegan, the head of News Media Canada, which represents publishers across the country, told Press Gazette: "For a leading global company, that's an 'interesting' approach to Canadian customer, community and government relations.
"While they are denying access to fact-based Canadian information, we are focused on creating the rigorous journalistic content Canadians rely upon. We are working with parliamentarians to strengthen the news media ecosystem, through C-18 and other measures, including dedicating a great share of federal government advertising toward trusted news sources. Canadian taxpayer dollars should be spent directly through Canadian news publishers rather than US-based tech platforms who deny or threaten to deny services." 
Canada's Office of the Parliamentary Budget Officer has estimated that the Online News Act will lead to the tech duo paying out CA$329.2m (£202m/$243m) a year to news publishers.
Inspired by Australia's News Media Bargaining Code, similar pieces of legislation have also been drawn up in the UK, United States and several other countries.
Shay Purdy, a Google spokesperson, said: "We're briefly testing potential product responses to Bill C-18 that impact a very small percentage of Canadian users. We run thousands of tests each year to assess any potential changes to Search. We've been fully transparent about our concern that C-18 is overly broad and, if unchanged, could impact products Canadians use and rely on every day. We remain committed to supporting a sustainable future for news in Canada and offering solutions that fix Bill C-18."
Email pged@pressgazette.co.uk to point out mistakes, provide story tips or send in a letter for publication on our "Letters Page" blog