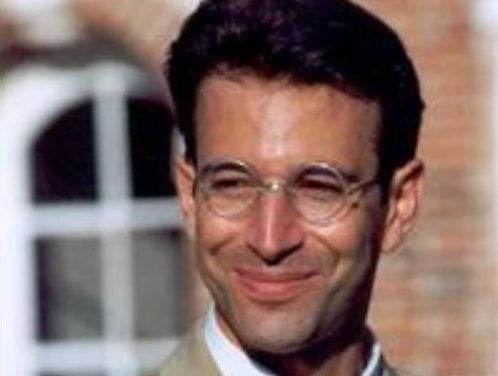 The Guardian's Edward Snowden revelations were widely condemned by those involved in secret intelligence for undermining spies' safety.
But a new study, by City University's Paul Lashmar, has warned that western intelligence agencies themselves have put journalists in danger by using the profession as cover whilst operating covertly.
In "Tinker, tailor, journalist, spy…" Lashmar notes that in March 2014, Nils Horner, a 51-year-old British-Swedish radio reporter, was assassinated in Kabul by a Taliban splinter group which accused him of being a spy.
ISIS accused American journalist James Foley of being a spy when he was murdered by the group in 2014. Wall Street Journal journalist Daniel Pearl (pictured above) was also accused of being a spy when he was kidnapped and murdered by terrorists in Pakistan in 2002.
Observer journalist Farzad Bazoft was executed by Saddam Hussein in Iraq in 1990 after being accused of spying for Israel.
Lashmar writes: "In the author's experience, whenever journalists discussed this issue, it was considered an absolute that journalists should not work for intelligence nor should intelligence officers use journalistic cover."
But Jon Lee Anderson, foreign correspondent of the New Yorker, told Lashmar: "In the 1980s I did run across American journos whom I suspected were close to the Agency (CIA), in that old boy network sort of way, but only in a very few cases did I run across spooks posing as journos (including one very specific time I can recount in El Salvador)."
Journalist Benjamin Hall was more emphatic in his evidence to Lashmar.
He said: "I spoke to a former SIS officer, who admitted it and laughed. Claimed he'd done it a few times, including Homs at the start of the uprising."
Lashmar interviewed a variety of journalists for his research and said: "Respondents pointed to cases relating not only to the United States and United Kingdom but also to Germany (both East and West), Italy, Russia, China, France, South Africa and Israel. One respondent was concerned about the 'widespread' use of journalistic cover by corporate intelligence agencies."
He wrote that during 'The Troubles' in Northern Ireland in the early 1970s, extensive use was made of forged NUJ press cards and international press identity cards by undercover intelligence officers in their campaign against the IRA.
In 1999, Lashmar said he investigated the use of forged NUJ press cards by UK Secret Intelligence Service officers in the field and wrote an article in The Independent citing sources who said that the SIS used journalistic cover.
Citing sources close to the intelligence services Lashmar said SIS officers had long posed as reporters, a disguise more popular than that of businessmen or academics
He said: "Given the frequency of the justification by terrorist groups, militias and authoritarian regimes that they have arrested, kidnapped, deported, tortured or murdered journalists because they were 'spies', the abuse of journalism by intelligence agencies is a significant factor in endangering the lives of journalists who operate in hostile environments."
Email pged@pressgazette.co.uk to point out mistakes, provide story tips or send in a letter for publication on our "Letters Page" blog