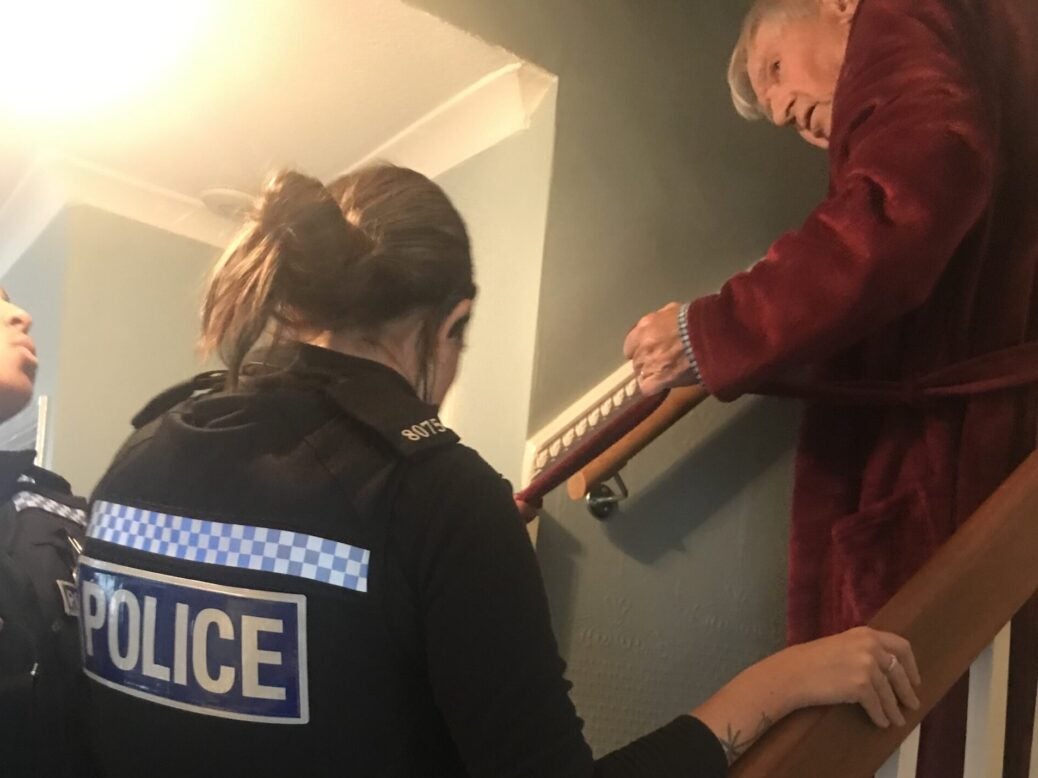 An 86-year-old journalist claims to have been arrested and de-arrested in an "extremely aggressive" visit from police at his home which he believes was the result of a story he was writing.
Brian Radford, who spent 13 years on the Western Mail in Cardiff before moving to the Mirror Group and ultimately becoming an investigative reporter for the Sunday People, has made a formal complaint to Thames Valley Police over the incident.
On Wednesday 20 September Radford was woken at his home in a village near Newbury, Berkshire at around 9am by two police officers "hammering" on his front door and, he said, shouting "get down here".
Once Radford and his wife let the officers inside, Radford was told he was under arrest but was not given any reason.
Radford, who was still wearing pyjamas and a dressing gown, said that if they did not offer an explanation, he would go back upstairs.
Both officers began to follow him, he said, but the male officer allegedly grabbed his arm and pulled his dressing gown cord, which Radford had just loosened at the front meaning it fell away rather than pulling him backwards.
"If it had remained tight, he probably would have got me back down," Radford said, adding that he feared he could have been seriously hurt.
The officers followed him upstairs to his bedroom, but the situation was defused by his wife offering to drive him to Newbury police station for an interview the next day.
The police officers accepted this and said he had been de-arrested.
At the police station the next day, Radford said, he was questioned by the same officers who had in front of them a story he had written about an alleged fraudster. The article had not been published but had been shared with a national newsdesk journalist, and with the charitable organisation named in the story as having given money to a conman.
"I wonder whether that might have been the motivating factor," Radford, who retired in 1992 but has continued to pitch investigative work to national newspapers, said.
Radford, who ultimately left the police station after three hours and has had no further action taken against him, added: "It was terrifying. My wife was traumatised. What frightened her in particular right from the start was the hammering on the door. It was horrendous.
"I suppose I am lucky in a sense – I have been investigating probably for 50 years. It does toughen you to some extent, but I tell you what, I have never come across anything like this. It was brutal, really, to grab somebody by the arm and drag them backwards down the stairs."
Radford has made a complaint which is now being investigated by Thames Valley Police's professional standards department.
The Office of the Police and Crime Commissioner, to which Radford initially complained, and Thames Valley Police both said it would be inappropriate to comment about an ongoing investigation when contacted by Press Gazette.
Radford said he has begun encountering a greater propensity for police to take seriously complaints from subjects of investigative stories in recent years.
He has previously been accused of harassment for contacting the subjects of stories in the usual right of reply manner – and Radford believes this may have also been the case on this occasion, although he was never told.
"They are changing the name of the game," he said. "If you're ringing a crook… and they go to police, they are picking it up as a harassment complaint. It's nonsense."
In 2014 then-Croydon Advertiser chief reporter Gareth Davies was served with a "prevention of harassment" notice by three police officers at his office after doorstepping a convicted fraudster once and emailing her twice.
[Read more: Press photographer charged after altercation with police officer at scene of fatal car fire]
Email pged@pressgazette.co.uk to point out mistakes, provide story tips or send in a letter for publication on our "Letters Page" blog