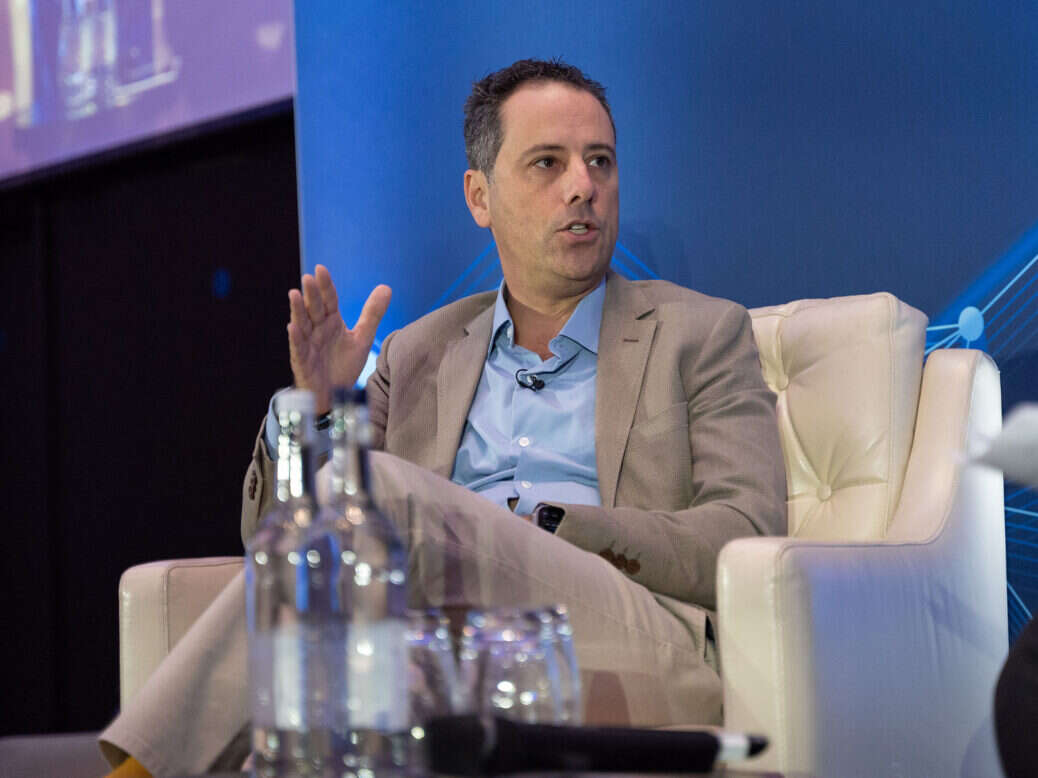 Five months on from taking as CEO of Future, Jon Steinberg still has a mountain to climb in terms of restoring the company's market value to anything near its former heights. At its peak three years ago Future was valued at more than £4bn, today the share price gives it a market cap of around £885m. That's less than what Future paid for GoCo (£594m) and Dennis (£300m) in 2021.
I began my discussion with the American former president of Buzzfeed and former CEO of Daily Mail US at Press Gazette's Future of Media Technology Conference by asking why investors are still so down on media and if there are any signs of, well, the future looking brighter for Future?
The full discussion can be heard on the latest edition of Press Gazette's Future of Media Explained podcast.
Steinberg said: "I'm a big fan of this book called The Score Takes Care of itself by Bill Walsh, who is the coach of the San Francisco 49ers American football team. His basic philosophy is if you put your uniform on the right way, if you do the work, if you show up at practice on time, if you answer the phone a certain way, the score takes care of itself. And ultimately, you know, that is my view.
"If we do the things that we need to do, if we operate the business effectively, if we innovate, if we grow, everything else will take care of itself and the stock price will take care of itself."
The company behind brands such as Tech Radar, The Week and Go Compare has fallen out of favour with investors because of a dip in profits in the first half of this year and a warning that full-year results would be at the bottom end of expectations. Future's revenue (like for like) and profit were both down year-on-year in the first half at £405m and £66.4m respectively.
The dip in media share prices is not confined to Future. Talking about the general picture, Steinberg said: "I think traffic and generative AI is a big question right now. How will publishers get visitors to their articles and their videos over time? That part is in flux.
"I think that the overall performance of our business and the underlying financials are incredibly strong, with the half-year we threw off £130m operating profit of which all converted into cash flow. So the business is remarkably strong. At a time when we had traffic declines, we also had the average revenue per user up double-digit percentages so advertisers were flocking to the inventory.
"At this time of traffic and AI uncertainty, advertisers are flocking to high-intent audiences, people that are decision-makers and the like.
"I like to call it high-intent media. Everybody who goes to one of our magazines, one of our sites, is passionate about a topic they want to read about, or they're passionate about a product they want to research and study.
"They spend hours on Tom's Hardware, researching graphics cards and cooling engines and the like, and make purchase decisions off of our affiliate network on that. So I think that differs a lot from what I term low-intent media, which I think is where there's a lot of pressure right now in the media ecosystem."
[Read more: Jon Steinberg and other media leaders share insights into how generative AI is used at their companies]
Why affiliate marketing revenues will hold up
Affiliate marketing (through which commission is made when readers click on links to buy products) makes up a third of Future's revenue, a third is digital advertising and a third is a mix of print (both cover price sales and advertising).
That affiliate advertising fell by just over £5m year-on-year to £133.3m in the first half of 2023.
I asked Steinberg whether affiliates were particularly vulnerable to Google algorithm changes and what other revenue streams Future was developing.
"I am confident that when people are researching a $500 graphics card, a $700 dress to wear for the spring on one of our fashion sites, like Marie Claire or Who What Wear, they're going to want to read product guides and reviews and not just rely on a bunch of Google boxes. I mean, yeah, maybe for a £5 lipstick, that will be adequate. But from what our users tell us and from what we see, people want to do deep research.
"I don't know about you, but I've never seen a Google Shopping result for anything of a substantive price and just clicked 'buy'. People want to read multiple reviews. So I think that our affiliate business is surprisingly resilient."
Steinberg noted that financial services comparison sites Go Compare and Mozo were up 4% in the first half
"I think that comparative shopping engines and affiliate review guides and the like are unbelievably resilient, especially at a time when the consumer is pressured, and every pound has to go further than it went before."
'What would Zillah do?' versus 'to thine own self be true'
Steinberg's predecessor Byng-Thorne stepped down after nine years in charge in April of this year.
Asked how he has handled the challenge of putting his own mark on the business, he said: "First of all, Zillah's shoes are unbelievably large to fill. And what she built over nine years is nothing short of miraculous, in terms of taking a company that was so tiny and building it into a multi-billion pound enterprise. So I do sometimes think, what would Zillah do? But most of the time, I like the Shakespeare line 'to thine own self be true' and I try to adhere to that.
"My preferred way for working is to be in the soil, working in the garden, side by side on products and efforts that require a great deal of innovation, and then hand it off to the individual that's responsible for it.
"Be a partner to them initially during times of great innovation, and then allow them the autonomy to go forward and do it.
"And also, I believe in what I call a thousand flowers blooming, which is I really want our senior leadership team and our executive leadership team to be part of the decision and the creation of ideas so that they can push it forward.
"People are bought into things when they're part of making the decision. They're not part of things as much when they're just told what to do. And you also don't really know if they bought into it if you've just dictated or mandated it."
Digital subscriptions: Future at start of journey
Asked how digital subscriptions fit into Future's revenue strategy, Steinberg admitted that the company is still at an early stage.
"We've done a brilliant job of cultivating print subscriptions. Print subscriptions are a sixth of our revenue. We need now to begin the journey that has been pioneered by the likes of The New York Times, the FT and others and start on that journey of developing paid digital subscription products.
"I don't know right now as I sit here today how long it will take for it to be significant, but I know that it's a journey that we must get started on and we are started on that journey.
"We have our own technology at Future called Kiosk which is our own paywall technology. We've rolled it out in small order on a few sites. The numbers are very tiny right now. But it is one of a handful of strategic initiatives that is very top of mind for me."
Full disclosure: The author of this piece owns some Future shares.
Email pged@pressgazette.co.uk to point out mistakes, provide story tips or send in a letter for publication on our "Letters Page" blog