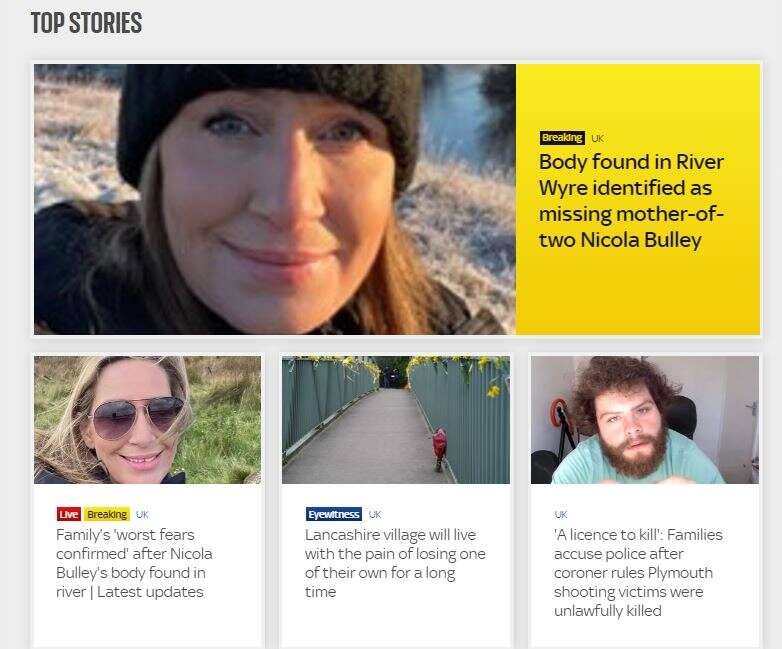 The family of Nicola Bulley have released a statement attacking the media following the identification of her body.
The 45-year-old went missing while walking her dog in the village of St Michael's on Wyre in Lancashire on 27 January and her body was identified on Monday after being found in the river Wyre on Sunday.
The case has prompted huge media interest.
The family have claimed that Paul Ansell, Bulley's husband, was "vilified" in the press.
And they particularly singled out ITV and Sky News for allegedly contacting them despite their request for privacy.
On Sunday, when Bulley's body had been found but not yet identified, much of the media carried quotes from Ansell about the family's agony that were attributed to Sky News.
He was quoted as saying: "No words right now, just agony. We're all together, we have to be strong," in a text to Sky News correspondent Inzamam Rashid, who the broadcaster said had been in contact with the family throughout the three-week search.
Press Gazette understands that ITV News contacted Bulley's family on Monday morning, after the quote to Sky News had been broadcast and led them to believe the family was willing to speak. The family declined to say anything further and ITV News journalists have not contacted them again since.
The family statement on Monday said: "We will never be able to comprehend what Nikki had gone through in her last moments and that will never leave us.
"We will never forget Nikki, how could we, she was the centre of our world, she was the one who made our lives so special and nothing will cast a shadow over that.
"Our girls will get the support they need from the people who love them the most.
"And it saddens us to think that one day we will have to explain to them that the press and members of the public accused their dad of wrongdoing, misquoted and vilified friends and family. This is absolutely appalling, they have to be held accountable this cannot happen to another family.
"We tried last night to take in what we had been told in the day, only to have Sky News and ITV making contact with us directly when we expressly asked for privacy. They again, have taken it upon themselves to run stories about us to sell papers and increase their own profiles. It is shameful they have acted in this way. Leave us alone now.
"Do the press and other media channels and so called professionals not know when to stop? These are our lives and our children's lives.
"To those who genuinely helped and supported us, privately, we thank you. The community support in St Michael's, friends', neighbours and strangers has been nothing short of comforting and heart-warming. Friends you know who you are. Thank you.
"Our hearts truly break for others who have missing loved ones. Keep that hope alive.
"Finally, Nikki, you are no longer a missing person, you have been found, we can let you rest now.
"We love you, always have and always will, we'll take it from here."
Email pged@pressgazette.co.uk to point out mistakes, provide story tips or send in a letter for publication on our "Letters Page" blog