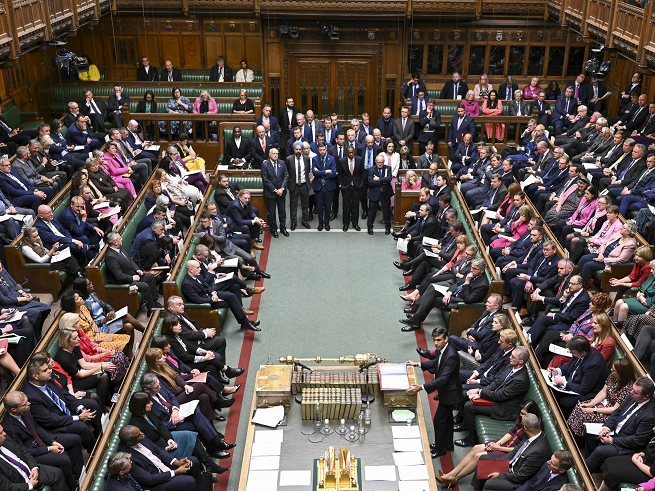 There are 437 journalists with passes that allow them into the Palace of Westminster to cover politics and 121 of them are either employed by the BBC or receive cash from the BBC for on-air commentary. Put another way, 28% of all journalists with access to parliament have financial links to the BBC.
The BBC currently has 79 passes, according to the House of Commons register of journalists' interests for October. A further 42 journalists with passes at other media brands take money from the BBC on a freelance basis.
The numbers go up and down as reporters change jobs. In September, for instance, the BBC's dominance of the Lobby was even more pronounced: the corporation had 90 passes and made payments to a further 42 for commentary.
The passes are either "Lobby passes", which allow journalists to approach MPs for reporting purposes in the House of Commons, or parliamentary passes, which simply allow people into the building.
Reporters with access to Westminster are required to disclose any employment or business interest that nets them more than £860 in a year, which includes appearance fees from the BBC. Seventy-six journalists reported a financial interest other than their direct employer. The most common outside interest was fees from the BBC, which 42 non-BBC journalists reported.
The BBC's pass holders include household names like presenter Laura Kuenssberg and Nick Robinson, a regular presenter of Today on Radio 4. The BBC also has a large number of passes for camera operators and engineers. According to the BBC, 34 of its passes are Lobby passes used by reporters and the remainder are parliamentary passes for technical and production staff.
The BBC says it needs this number of parliamentary passes because "a key part of the BBC delivering on its mission and purpose is to cover the democratic process and help the public to engage with all aspects of it. In order to do this BBC journalists and editorial staff need access to Westminster," a spokesperson told Press Gazette.
"The BBC runs a seven-day Westminster operation and the journalists serve all regions and nations of the UK — across radio, online, TV news, rolling news, news and current affairs programmes, and podcasts."
ITV, in second place, has 35 passes (covering national and regional news). Sky News has 30.
Among broadcasters there is a big drop after ITV, with Channel 4 holding nine passes, GB News on six and TalkTV and 5 News on three each.
For ITN journalists, where possible we have attributed them to the brand they work for (ITV News, Channel 4 News or 5 News) but four remain listed under the overall ITN umbrella.
Among print titles:
Please let us know if you think there is a way this data can be improved by emailing pged@pressgazette.co.uk.
Email pged@pressgazette.co.uk to point out mistakes, provide story tips or send in a letter for publication on our "Letters Page" blog