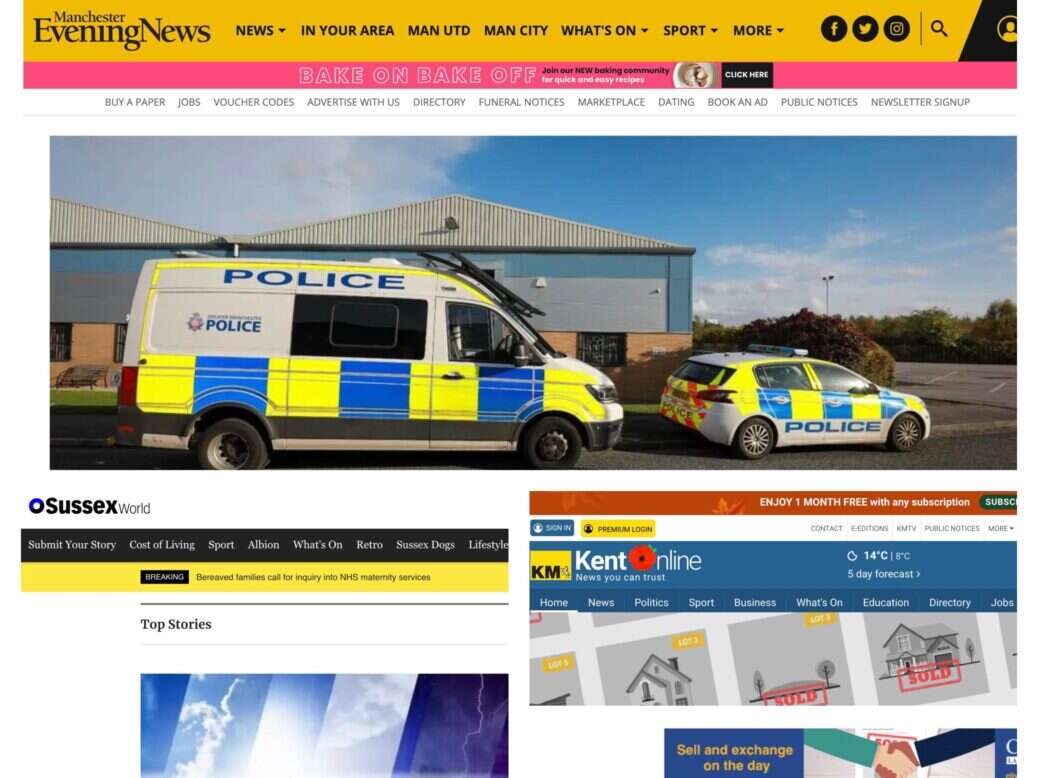 Twenty-two of the UK's 50 biggest regional and local news websites saw year-on-year growth in audience in September, according to Press Gazette's latest ranking.
Fastest-growing was Iliffe Media's Kent Online whose audience was up 610% year-on-year to 2.4 million people, according to data from Ipsos iris. A significant part of this growth will however, be due to the fact that Kent Online moved to tagged reporting data in August 2023. The website was previously reported based on observed panel behaviour, which means audience figures can vary significantly month to month.
Reach's Devon Live led the brands with double-digit audience growth, with unique visitors up 59% year-on-year to 2.2 million.
It was followed by Reach stablemate Cambridgeshire Live (up 51%, audience of 1.5 million) and Newsquest's Bradford title The Telegraph and Argus (640,931, 47%).
Two other Reach titles – Bristol Live (audience of 4.7 million, up 41%) and Gloucestershire Live (1.7 million, up 39%) – completed the list of the top five fastest-growing brands.
Biggest local news websites: Reach brands take the ten top spots
Reach also dominated the top of the table when ranked by audience size, taking all of the top ten places.
Manchester Evening News (the MEN) was the UK's largest regional newsbrand reaching 11 million people in September – 22% of the UK online population over 15.
Second-ranked was Birmingham Live (10.3 million people, 21% reach), overtaking Liverpool Echo (7.8 million people, 16% reach) which fell to third place from second, where it sat in April for Press Gazette's last ranking of this data.
These three regional news websites regularly feature alongside national and international brands in Press Gazette's monthly ranking of the biggest 50 news websites in the UK by audience size.
The trio were among five regional newsbrands that reached more than one in ten UK online adults in September - along with Reach's local news aggregator In Your Area (4.9 million people, reach of 10%) and Newcastle-based Chronicle Live (4.8 million, also 10% reach).
Bristol Live (4.69 million people), Yorkshire Live (4.6 million), My London (3.68 million), Nottinghamshire Live (3.3 million) and Lancs Live (2.56 million) were the remainder of the top ten list of biggest regional newsbrands by audience size. None of the ten biggest saw year-on-year audience growth.
The best-ranked non-Reach brand was Kent Online (rank eleven), owned by Iliffe subsidiary KM Media Group. It was almost half a million people (487,709) ahead of the next-best-ranked non-Reach property, Yorkshire Post. The National World-owned brand reached 1.9 million people and was ranked in 14th place.
For our list, we used Ipsos' ranking of the top online brand groups and selected the 50 biggest "local" newsbrands. We excluded sub-national brands such as Wales Online and Daily Record, which cover the entirety of one of the UK's constituent nations.
Of the 31 Reach-owned titles in our ranking, ten recorded a year-on-year increase in audience while 21 recorded a decline, according to Ipsos' data. This is slightly fewer than April, when all but seven Reach newsbrands shed audience.
Leicestershire Live (1.3 million, down 62%), Edinburgh Live (1.3 million, down 43%) and Edinburgh Live (1.3 million, down 43%) saw the largest drops overall in September.
Reach Plc's latest trading update in October noted that digital revenue continued to be impacted by "the well-publicised declining digital referral volumes, in particular from Facebook's de-prioritisation of news".
Of the 19 newsbrands owned by other publishers, seven saw smaller audiences compared to last September, one saw its audience unchanged (National World's Sheffield Star), while 11 grew their audiences.
Five of the titles that saw year-on-year growth were owned by National World. They included Sussex World (1 million people, up 38%), Portsmouth's The News (1 million, up 30%), Belfast News Letter (648,669, up 26%), Lancashire Post (808,214, up 23%) and The Yorkshire Evening Post (1.5 million, up 18%), all of which saw double-digit growth.
While the digital picture was mixed, it tells a more positive story than print circulation of regional titles. Local daily newspaper sales in the UK fell by an average of 21% year-on-year in the first half of 2023 and each of the 53 titles reporting to ABC reported circulation declines.
MEN and Liverpool Echo lead on total time spent while Iliffe and Newsquest titles score well for page views
Engagement revealed a mixed picture. Of the 50 brands on our list, 19 saw a year-on-year increase in page views.
Top of the list was Kent Online (25 million page views, up 202% year-on-year), although this growth was also in part linked to the move to tagging. It was followed by South Wales Argus (3.6 million, up 106%) and Lancashire Post (4.1 million, up 60%).
Looking at total time spent, the MEN (73 million minutes) and Liverpool Echo (39.8 million minutes) came out ahead, although both saw double-digit year-on-year falls in minutes spent with their content of 14% and 26% respectively.
Reach's In Your Area and Newsquest's Telegraph & Argus led for average minutes per user, both on 7.3 minutes.
Ipsos iris replaced Comscore as the industry-recognised standard in 2021. Ipsos iris data is partly derived from a panel of 10,000 people aged 15 and over that is designed to be nationally representative. The participants have meters installed across 25,000 personal devices to passively measure website and app usage.
This data is combined with data from participating websites that are tagged so all devices visiting the site can be identified and logged.
Publishers often have their own internal audience metrics, which can result in different figures. Press Gazette uses Ipsos for its UK news audience ranking stories to be able to compare across publishers.
From January 2022 Ipsos increased the sources of embedded browser traffic (web content viewed within a mobile app) counted in its data. Its monthly data now includes webpages consumed within other mobile app embedded browsers such as Linkedin, Twitter, Google News and Instagram, as well as Facebook which has been counted in its data since 2021. Ipsos has also updated its total internet population figures to align with the latest Pamco survey estimates.
Email pged@pressgazette.co.uk to point out mistakes, provide story tips or send in a letter for publication on our "Letters Page" blog