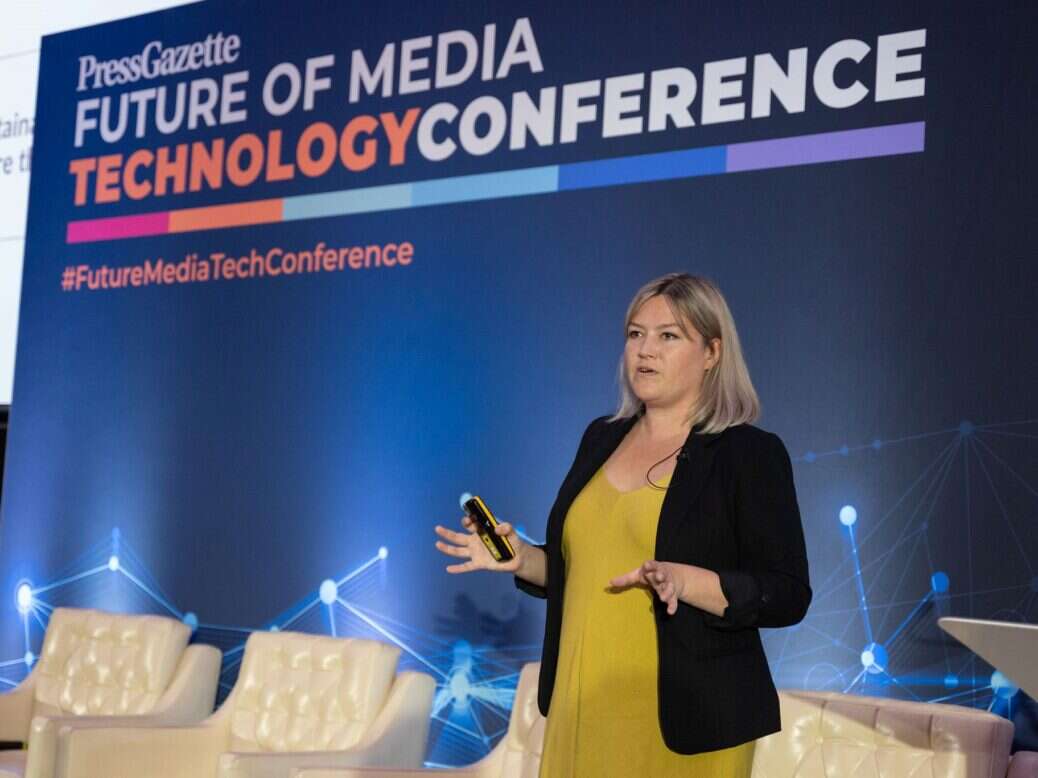 During a focus group in 2015, a target FT female reader was asked to describe the title as if it was a person.
"He's a man and he's in a bowler hat, he's turning away from me and he's not listening to me," was the response – as relayed by Daisy Donald, a consultant at FT Strategies, to Press Gazette's Future of Media Technology conference. FT Strategies was a conference sponsor.
It highlighted an issue for the FT shared by most online news brands in the UK and US: its readership skews strongly towards men.
Research on the gender consumption gap in news published by Press Gazette in July revealed that news sites ranging from The Sun and Mirror to Reuters and the Wall Street Journal lean roughly two-thirds male to one-third female.
Since 2015, ahead of legislation that now requires UK companies to report on their gender pay gaps, the FT has been making a concerted effort to become a more welcoming brand for women and tackle its own lack of audience diversity.
And it has now turned what it has learned into a product called FT Diversify which can help publishers make their content more appealing to women.
Describing the FT's thinking in 2015, Donald said: "We thought women are going to be the leaders in organisations more than we've seen anytime before in history.
How can the FT be the number one business-read for women?
"So there's very much a commercial goal set out by appealing to and understanding the needs of female readers. By understanding what's going on we can really open up a new group of readers for us."
Sharing some tips for publishers looking to appeal to a more diverse audience, she said: "You want your organisation to be aligned and motivated. You want them to really understand the target diverse audience they're looking for, translate that into a strong proposition, and do that through diverse ways of working."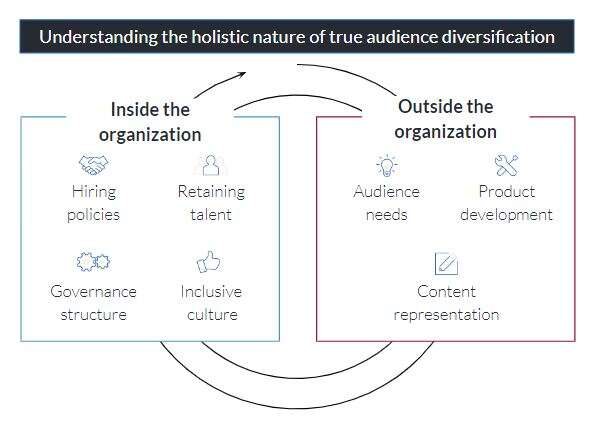 Understanding what the audience thinks will be key to success, she said.
"You need those feedback mechanisms: email out and tell us what you think of your subscription, fill out a survey on our website. Looking at that through the lens of diversity is really important and having that constant feedback mechanism to see when you are making changes if it is having an impact."
The FT Strategies approach centres around making sure content is created in a way that makes women feel as well represented as men.
"So if you go to the FT, you often see pictures of men. Could that be having an impact on the FT's brand perception if a woman goes to the website? So you need to be thinking about that and what are some of the ways that you can actually make your website look representative of the audience you're trying to represent?"
Analysing representation of women in news
FT Strategies head of product Lucas Johnston said FT Diversify works by analysing text and images to provide editors with an estimate of whether men and women are being represented equally.
Sentiment analysis is used to share feedback on the tone of coverage as relating to men and women, and analytics are used to understand how all this impacts the way men and women interact with the site.
Editors are provided with a dashboard that highlights issues around equal presentation and use of biased language.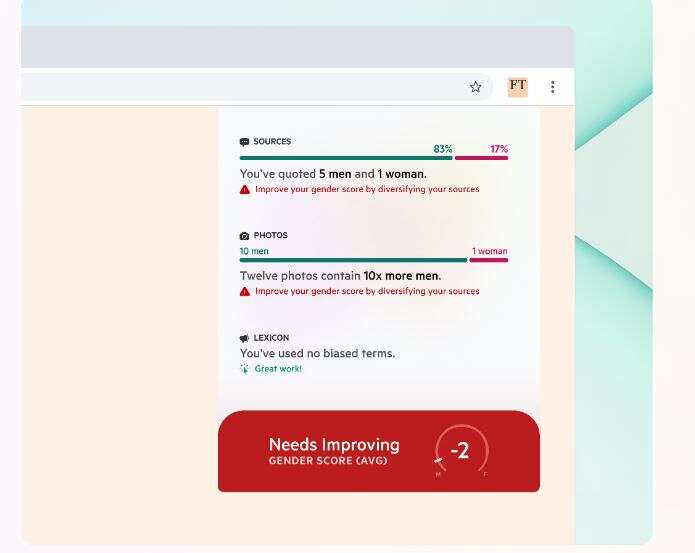 FT Diversify also provides editors with an exec summary that reveals, among other things, which topic areas are reaching a diverse audience.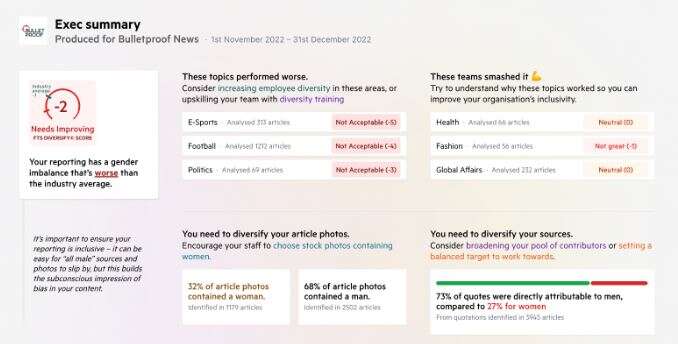 He said: "Does any of that actually result in a change to your audience's behaviour? So in other words, when you increase the amount of women in your content, do you end up with more women reading your content? From the work that we've done with a number of publishers, the answer to that tends to be yes."
Johnston said of the FT Diversify dashboard: "It's designed to basically give you a fresh perspective on how women are engaging with your articles by seamlessly engaging analytics data with the content that a publisher produces, employing advanced machine learning algorithms behind the scenes."
He added: "We're not trying to make big, huge sweeping changes to content strategy, but it's more supposed to be a little nudge to journalists, just a reminder to say, 'hey, perhaps you want to talk to a different source'.
"The theory being, if hundreds of journalists end up doing that then it results in a significant change to the amount women are included in your content which then, ultimately, increases the amount of women who are engaging and reading your content, which then has a positive impact on your the amount of subscribers you have."
Email pged@pressgazette.co.uk to point out mistakes, provide story tips or send in a letter for publication on our "Letters Page" blog