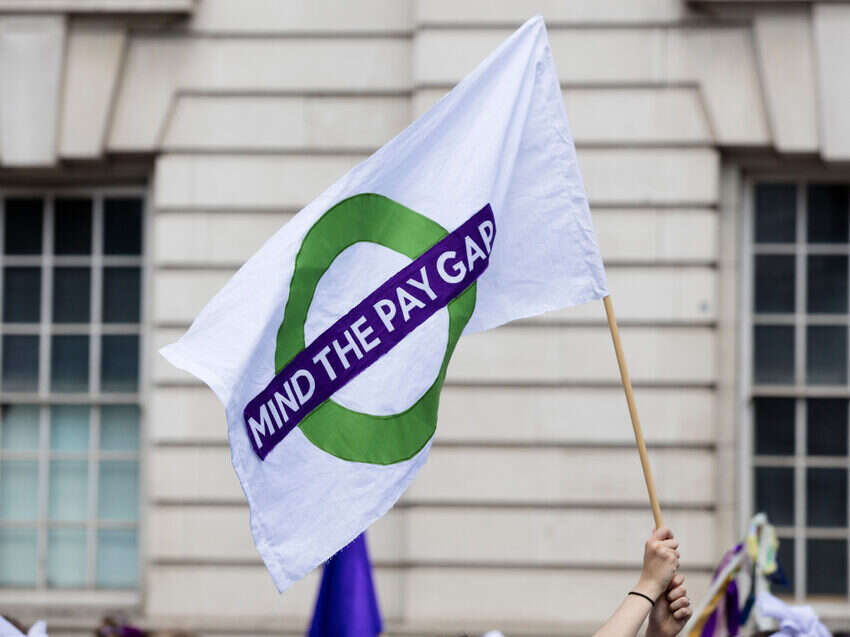 Men were paid more on average than women at all but two of the 33 media companies that have submitted their gender pay gap figures for 2022.
The Press Association reported gender balance on both mean and median calculations for the snapshot date of 5 April 2022.
At regional publisher Newsquest, women were paid 33% more than men when the median was taken, while on the mean women were paid 9.3% more at broadcaster CNN International.
The biggest median gender pay gap favouring men was at Mirror Group Newspapers, with men on average paid 23.2% more, while the largest mean gap was at Conde Nast (30.3%). (Reach, of which MGN is a subsidiary, had a median pay gap of 8.9%.)
Having a gender pay gap does not mean men and women are not paid the same for doing the same jobs, but rather that there may be more men in higher-paid roles.
The average median gender pay gap has decreased from 15.7% in 2017 to 12.1% in 2022, while the average mean gap was down from 17.7% to 13.7%.
The latest dataset also shows that there are more men than women among the top 25% highest-paid employees at 91% of the major UK media companies in our list.
Magazine publisher Bauer had the only even split of 50/50 men and women in its highest-paid group, although it still had a median gender pay gap favouring men of 16% and a mean gap of 10%.
Meanwhile, Conde Nast and Hearst were the only publishers to have more women than men in the top quartile (57.3% and 67% women respectively) – although they both also had the highest proportion of women in their lowest-paid quartile (80% and 86% respectively). Conde Nast had a 21% median pay gap and 30% mean gap, while Hearst was on 12% for the median and 20% for the mean.
The companies most dominated by men in their top pay quartiles were Bloomberg and Sun publisher News Group Newspapers, with 21.5% and 24.6% of women respectively. In 2022 Bloomberg had a gender pay gap favouring men of 22% while NGN was at 20% (both companies have the same figure for median and mean calculations).
All but two of the media companies had a greater percentage of women in their bottom quartile for pay than their top quartile. This demonstrates how companies' gender pay gaps can be influenced by them having more men in highly-paid jobs.
The only exceptions were the Press Association, which had 32% of women in its bottom quartile for pay compared to 33% in the top and Newsquest with 27% in the bottom and 41% in the top.
Overall, of the 27 media companies that reported a figure for both 2017 and 2022 (and excluding Newsquest at which women were paid 33% more in 2022), the median gender pay gap fell at 63% of them and increased at 37%. The biggest increase in gender pay gap was at Newsquest Community Media – comprising the former Archant regional titles bought by Newsquest last year – which grew from a gap of 6.4% to 15.8% (but peaked at 17.4% in 2020).
The mean gap, excluding CNN which skewed female in both 2017 and 2022, improved at two-thirds of companies, got worse at 30% and stayed the same at one – William Reed (mean gap of 23%). The biggest increase in the mean gender pay gap favouring men came at Hearst, which went from 17.2% to 24%.
We have chosen to include both mean and median figures because they can show slightly different things.
The median pay gap is found by lining up all the salaries and finding the midpoint. Some organisations believe this results in a figure that is less skewed by outliers at the top or bottom of the pay scale.
Others, however, think the mean gap gives a good indication of when there is a greater number of highly-paid men at the top of the company and lower-paid women at the bottom. The mean is calculated by adding up every salary and dividing it by the number of them included.
Scottish charity Close the Gap says: "From a purely statistical standpoint, the median is considered to be a more accurate measure as it is not skewed by very low hourly pay or very high hourly pay.
"However, we know the very high-paid people tend to be men, and the very low-paid people tend to be women, and the mean paints an important picture of the pay gap because it reflects this issue. It is therefore good practice to use both the mean and the median when analysing or reporting on the gender pay gap."
For example, Reach - for which we have included the breakdowns for its subsidiaries Mirror Group Newspapers, Express Newspapers and Local World - said in its gender pay gap report: "Our pay gap is mainly due to lower female representation in senior roles and the legacy of a male dominated industry, particularly in the print area of our business. We are continuing
our focus on supporting female progression at all levels in the organisation."
The biggest median gender gap for bonus pay was Dow Jones International, where men received on average 63.8% more in bonuses last year. At Dow Jones, 62.3% of women and 65.8% of men received bonus pay.
The biggest mean gap for bonuses was at Haymarket, with a 66.5% gap. Some 71% of women and 80% of men received bonus pay.
Out of the media companies, 13 reported equal bonus pay for men and women last year, while four organisations (Sky UK, Future, Newsquest and Bauer) paid women more in bonuses than men on average.
Email pged@pressgazette.co.uk to point out mistakes, provide story tips or send in a letter for publication on our "Letters Page" blog