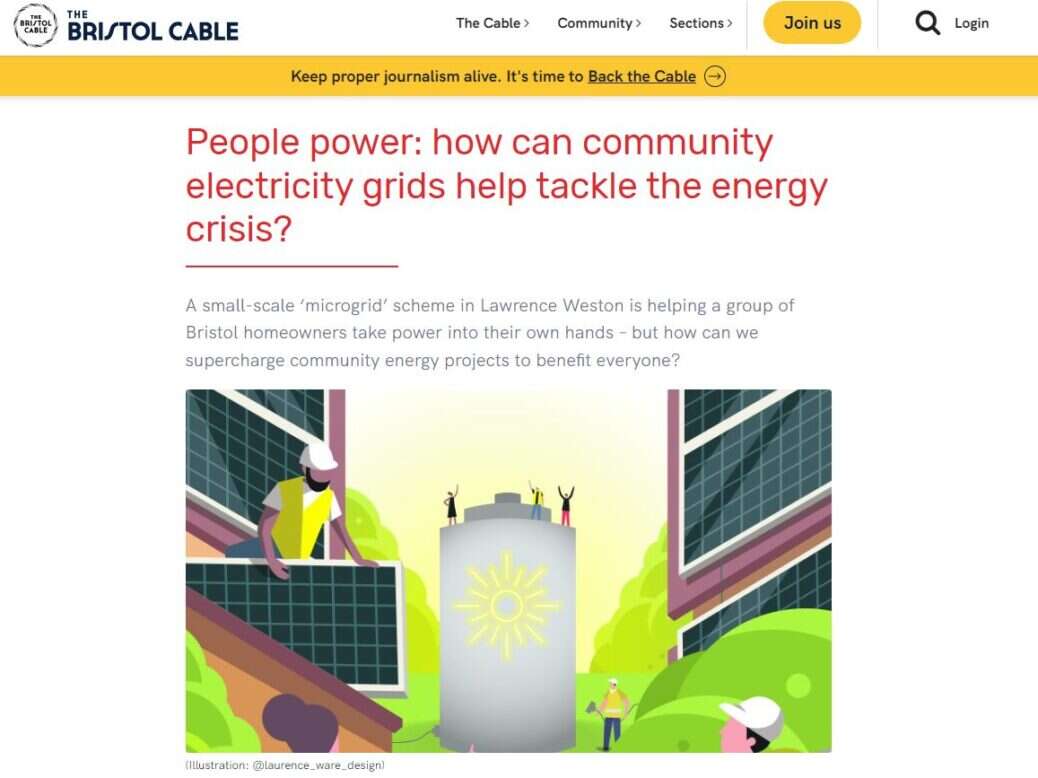 In an era of headlines highlighting the world's ills – and news avoidance increasing at an alarming rate – solutions journalism can offer an alternative way to build an audience.
Positive stories resonate with audiences on a deep level. Solutions journalism engages and inspires readers or viewers, motivating them to get involved and make a difference.
When people see that positive change is possible, they are more likely to support, replicate, or create solutions themselves. This engagement encourages a sense of empowerment, which can lead to community mobilisation and constructive action.
Solutions journalism can offer a counterbalance to an overwhelmingly negative news cycle.
Instead of highlighting the struggles associated with the ongoing cost-of-living crisis, shining a light on the community grocery shop in your area or the local project that teaches young families how to create nutritious and delicious meals on a budget is much more likely to pique the interest of readers, listeners and views.
Martin Lewis, he of MoneySavingExpert and Good Morning Britain fame, is the perfect example of how providing solutions to a wide range of problems can help foster a strong relationship with an audience.
What he's made a career out of doing is relative simple – he identifies an issue that affects a large number of people and then find a way of making it better.
Every journalist the world over could do something similar and it doesn't matter if you're working at a local level or for a national outlet, there are tens of thousands of solutions to every day problems… you just need to look for them.
How to get started with solutions journalism
So how do you get started? Here's a few tips:
One of the key principles of solutions journalism is to focus on local actors who are making a difference.
To source these stories, reach out to community organisations, non-profits, and grassroots movements.
Engage with local leaders, activists, and individuals who are actively working to address issues. These changemakers often have untold stories of determination and resilience.
Think about starting small – if a piece of content you produce changes one person's world for the better then that is a start.
Focusing on what differences projects and initiatives are making to people's lives not only makes those stories relatable but gives you the perfect hook.
Social entrepreneurship, sustainable development projects, and innovative technologies are often rich sources of solutions-oriented stories. Investigate and report on the real-world impacts these projects are achieving.
Also think about harnessing the power of social media.
Social media platforms, such as Twitter, Facebook, and Reddit, can be valuable sources of solutions-oriented stories.
Many grassroots movements and community initiatives gain traction online. Monitor these platforms to identify trending stories of positive change and follow up with in-depth reporting.
And finally, engage with the audiences you serve. User-generated content can often lead to compelling, unique stories.
Give your readers or viewers a channel for them to be able to submit ideas for stories, details or projects and initiatives they're involved in or just simple tips that they have found useful for their everyday issues.
By putting audiences at the heart of not only the story but the way we create stories will start to help rebuild some of the trust that has been lost over the last decade.
Solutions journalism resources
There are some brilliant websites that focus their attention on solutions rather than highlighting problems. Here's our pick:
Founded by former Talking Heads lead singer David Byrne, Reasons To Be Cheerful shines a spotlight on what it calls "smart, proven, replicable solutions to the world's most pressing problems". It highlights how communities worldwide have tackled issues such as climate change, town and city planning, housing, healthcare and more.
The Bristol Cable – Future of Cities series
This is a year-long project from the ever-brilliant Bristol Cable, an investigate news outlet 100% owned by thousands of local people. The Future of Cities series takes a look at Bristol can do as a city to tackle problems such as housing insecurity, food and fuel poverty, and unequal access to healthcare, education and transport networks.
The Solutions Journalism Network
Less a media organisation and more a network bringing together the best solutions journalism from around the world. It features tools and guides to help journalists get started and has a handy Story Tracker which collects pieces together based on different subjects and issues
Solutions journalism training
Bauer Academy is hosting a one-day training course on solutions journalism offered in association with Press Gazette on 21 November.
On this course attendees will learn:
How to find solutions to everyday issues – finding sources of stories/information to help you turn up positive news
How to turn those solutions-based stories into engaging content across different platforms to reach a wide audience
How to use your platform for the greater good, helping to reverse the trend of news avoidance by providing your audience with key solutions to the issues they face.
Solutions journalism is one of a series of courses offered in association with Press Gazette. The full programme is as follows:
All courses are delivered live, online, via Microsoft teams and are limited to just ten places each.
More information on one-day journalism courses offered by the Bauer Academy here.
Email pged@pressgazette.co.uk to point out mistakes, provide story tips or send in a letter for publication on our "Letters Page" blog