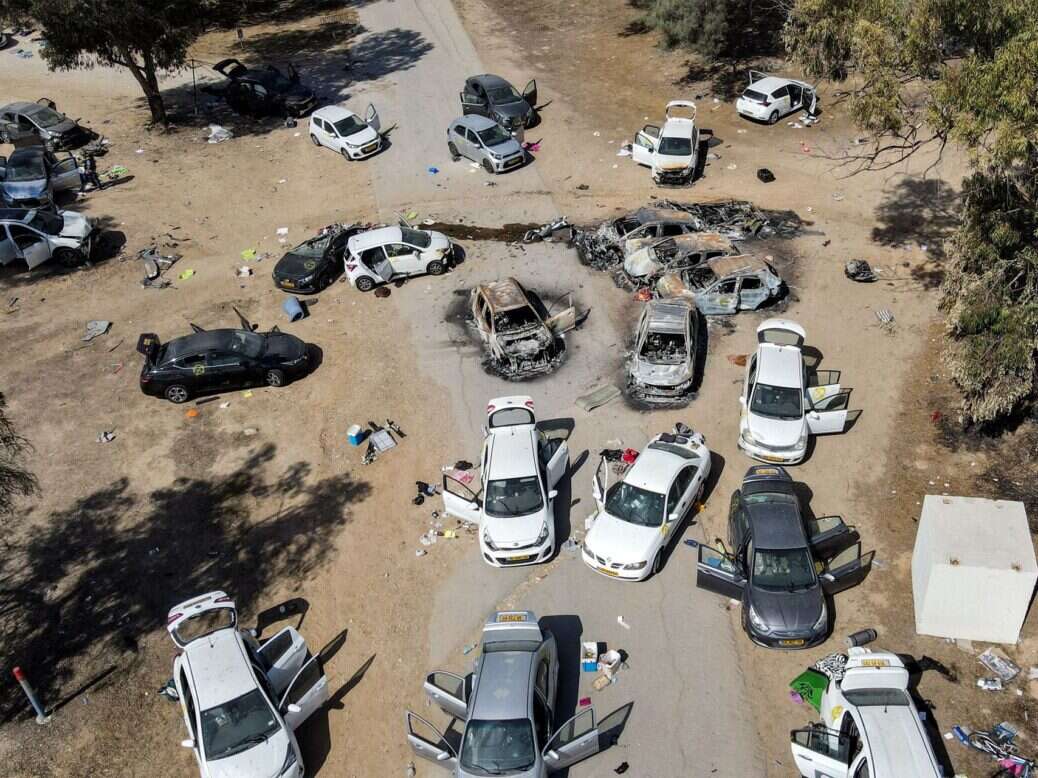 British journalist Phil Chetwynd oversees a team of 1,700 journalists as AFP's global news director. In the wake of Israel bombing his agency's Gaza HQ he writes about the challenge of covering the conflict and the plight of his nine staff trapped in the Gaza strip.
As AFP works around the clock to explain fast-moving events, we are exposed to accusations of both pro-Israel and pro-Palestinian bias. Every word we write is picked over for signs we are leaning one way or the other. Our staff are subjected to unacceptable abuse. It is an extremely difficult environment in which to do quality journalism.
For the record, AFP is not biased. We are fiercely loyal to our statutes which oblige us to report independently to uncover the facts and to bear witness. And for the record, we are very proud of the AFP journalists who are working so hard on this story, some facing extreme dangers. They have produced some extraordinary journalism.
We are not perfect. Real-time newsgathering can be messy. We file hundreds of stories, photos and videos every day. Despite our best efforts, we will make honest mistakes and imperfect choices. But we will be transparent. We will always correct, adjust and update. We will always strive to get it right and to report this war on the ground in Israel and Gaza without fear or favour.
Every day we double down on the guiding principles of our editorial charter and our sourcing guidelines. We are a news agency, we do not editorialise. Every piece of information we send to our clients needs a clear source.
Our chief editor, working with our standards editors, produces regularly updated guidelines on the Israel-Hamas war aimed at ensuring all our content remains fair and balanced. This is a story that has mobilised a large part of our 1,700-strong team of journalists. We are reporting on ructions caused by the war in countries across the world. The same guidelines must be applied everywhere.
AFP has 50 journalists in Israel, Gaza and West Bank
At AFP, we prioritise putting journalists on the ground to witness events directly. We currently have some 50 journalists working in Israel, the Gaza Strip and West Bank. The majority live there permanently – Israelis, Palestinians, foreigners. They have brought vital expertise, knowledge and sources to the story from day one. They have been joined by some 15 special correspondents in recent weeks.
We have teams crisscrossing Israel reporting on the impact of October 7, which left about 1,400 Israelis dead, mostly civilians. We have been telling the stories of ordinary Israelis and documenting the military build-up. We have reported on the horrific scenes in the communities attacked by Hamas, from the morgues where body parts have been collected and from the festival site where hundreds of young people were shot dead. We are telling the stories of Israeli hostages and their families. We have been present at many heart-rending funerals. And we are making a concerted effort to continue telling stories of the Israeli victims of October 7 even as events in Gaza take centre stage.
Nine AFP staff are trapped in Gaza
In Gaza, we have nine Palestinian staff working in very precarious conditions. They have all fled their homes and evacuated our office in Gaza City when the Israeli military ordered the population to move further south. All that remains is a rooftop video camera beaming live images to TV stations around the world.
Our team is now crammed into shared apartments and tents with over 60 family members near Khan Yunis. There is little food and water, and air strikes continue to hit targets around them. Some have lost family members, all have lost friends or neighbours. Family homes have disappeared. There is an air of desperation.
They continue to show extraordinary courage and resilience as they document death and destruction around them. Over 30 Palestinian journalists are reported killed. Their work takes them into hospitals and morgues. They have seen hundreds of dead and injured people, including women and children. The human stories of suffering they report can be overwhelming. The Hamas-controlled authorities say over 10,000 people, including thousands of children, have been killed.
For the moment our team is trapped in Gaza. There is no way out. The Israeli military has told media they will not be targeted, but that our journalists' safety cannot be guaranteed.
A strike on AFP's bureau in Gaza City on 3 November, which Israel says was not deliberate, has further unnerved the team. We are lobbying governments for help, but there is little movement across the border to Egypt.
[AFP had already evacuated its bureau but continues to have a video camera broadcasting live images from the building, which remains standing. The Israeli military were made aware of the location co-ordinates of the building.]
AFP, and many credible global media, reported claims by Hamas health officials that 200 to 300 people had been killed in an Israeli air strike. We immediately contacted the Israeli military for a response and had a first comment in our stories within 15 minutes. Israel's denial and accusation that an Islamic Jihad missile was responsible came nearly three hours later, leading us to totally re-write our stories. But in the battle for narrative, the Hamas claim had a long head start.
There has been much criticism of media coverage of this incident for giving too much prominence to the Hamas claims.
AFP should have handled hospital bombing story differently
Could we have handled this story differently? Yes. We should have been more circumspect in our language and we should have made clear that AFP could not independently confirm such a major claim by Hamas. We have updated our coverage guidelines as a result.
Could AFP have ignored this Hamas ministry statement? No. The mainstream media is no longer the gatekeeper of information. It was already on social media. Our job is to verify and contextualise. Analysts and weapons experts we interviewed for our investigation into the strike seemed to lean towards a Palestinian missile, but they did not definitely rule out any scenario.
In our struggles to keep our Gaza staff safe, we are only too aware of the very real dangers of this war.
AFP's Christina Assi seriously injured
AFP photographer Christina Assi remains in hospital with serious injuries from an attack in south Lebanon on October 13 that killed Reuters colleague Issam Abdallah. Five other journalists including AFP's Dylan Collins and staff from Reuters and Al-Jazeera were injured. The journalists believe they were struck by fire from the Israeli side of the border. Investigations are still underway.
We are also working every day to protect the mental health of our journalists. In the digital world, the battle for narrative is often fought through wrenching and violent images. There is also an information war.
Our journalists were among the first independent witnesses to the horrific scenes in southern Israel on 7 October. The images we filed of ordinary people gunned down at a bus stop or shot dead in their cars in the town of Sderot were used around the world. They are very hard to watch. We were also among the first group of journalists to gain access to the kibbutzim near the Gaza border which witnessed some of the worst Hamas violence.
From day one, we verified and sent to clients images given to us by Israeli rescuers from CCTV cameras, car dashcams and bodycams taken from dead attackers. While editors sifted through images of the atrocities, our digital verification journalists interacted with a tide of fake videos showing violent and decontextualised scenes from events unlinked to the war.
These images came on top of the thousands of very difficult pictures and videos produced by AFP journalists over the past three weeks. The images of dead and injured children in Gaza are particularly challenging.
We do this work to try to build a clear picture of events and to provide our global client base with verified facts. But we are only too aware of the psychological impact. It is brutal, and we are always looking at ways to protect and support our staff.
Despite the many pressures, we feel a great sense of responsibility and purpose. We are heartened by the support of clients and by the solidarity we feel with other media. Our work has never felt more important nor more relevant.
Email pged@pressgazette.co.uk to point out mistakes, provide story tips or send in a letter for publication on our "Letters Page" blog