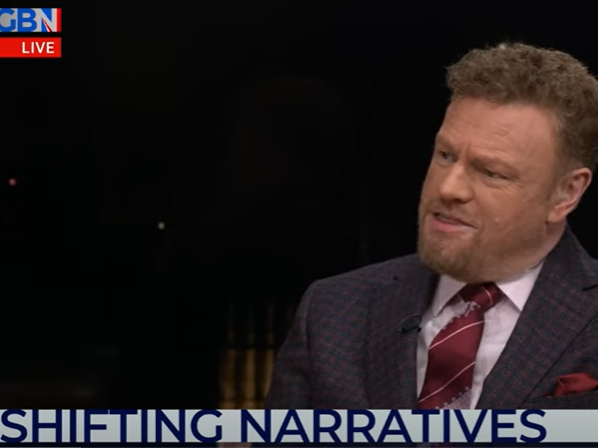 Ofcom has ruled that GB News breached its Broadcasting Code for a second time when it aired "unopposed" claims about the Covid-19 vaccine from guest Dr Naomi Wolf.
Appearing on Mark Steyn's show on 4 October last year, Wolf repeatedly compared the vaccine rollout to "mass murder" that was comparable to the actions of "doctors in pre-Nazi Germany". Her comments sparked 422 complaints to Ofcom on the grounds they were "dangerous" and included "misinformation" that went "unopposed".
The previous breach of the broadcast rules at GB News also took place on Steyn's show, when in April last year he made "dangerous" and "fatally flawed conclusions" about the third Covid-19 vaccine from UK Health Security Agency data.
Steyn had left GB News shortly before that ruling in March, claiming the broadcaster wanted to make him personally liable for any fines levied against it by Ofcom.
Ofcom has now asked for a meeting with GB News to discuss its compliance procedures following the two "significant" code breaches.
According to Ofcom, GB News argued Wolf's comments "might, at the most, have given some viewers 'pause for thought' about the wisdom of having another vaccination" and said this was "part of the value of diverse opinion and in any case cannot be considered in isolation".
It acknowledged Steyn and Wolf "might overstate the case now and then" in the programme in question but said the "greater harm would surely be in silencing them". It also accepted Wolf "expressed herself in forceful terms" that "might upset people" but said it was editorially justified and that she believed as a Jewish woman that what she said was "not excessive and a reasonable comparison".
The broadcaster also claimed Steyn's show was "just one small voice raising legitimate doubts as new information emerged – a passionate and plaintive voice certainly but still a small one".
Ofcom said: "It is important to stress that in line with the right to freedom of expression broadcasters are free to transmit programmes that include controversial and challenging views, including about Covid-19 vaccines or conspiracy theories. However, alongside this editorial freedom, the Broadcasting Code imposes a clear requirement that if such content has the potential to be harmful, the broadcaster must ensure that its audience is adequately protected.
"Our investigation concluded that GB News fell short of this requirement by allowing Naomi Wolf to promote a serious conspiracy theory without challenge or context – for example through other contributions in the programme or by the presenter, who appeared to support many of her comments. There was also no scrutiny of the evidence she claimed to hold to support her claims.
"We also took into account that the programme presented Naomi Wolf as a figure of authority, with particular knowledge and expertise in the safety of the Covid-19 vaccines. We consider this would have lent credibility to her unchallenged claims."
The watchdog cleared GB News over Wolf's subsequent appearance on Steyn's show the following day, saying on that occasion her comments were put in context by other views shared throughout the programme and that a banner appeared on screen saying she "faced widespread criticism for Covid research".
Other than the two investigations into Steyn's show, Ofcom has previously cleared GB News over claims of offensive language on Nigel Farage's Talking Pints. One investigation into due impartiality during the interview by Conservative MPs Esther McVey and Philip Davies with Chancellor Jeremy Hunt remains ongoing.
GB News Radio, separately from the TV channel, also breached election rules by failing to give a list of all candidates in a by-election during a discussion. The candidates' names had been put on screen for the TV version.
Email pged@pressgazette.co.uk to point out mistakes, provide story tips or send in a letter for publication on our "Letters Page" blog