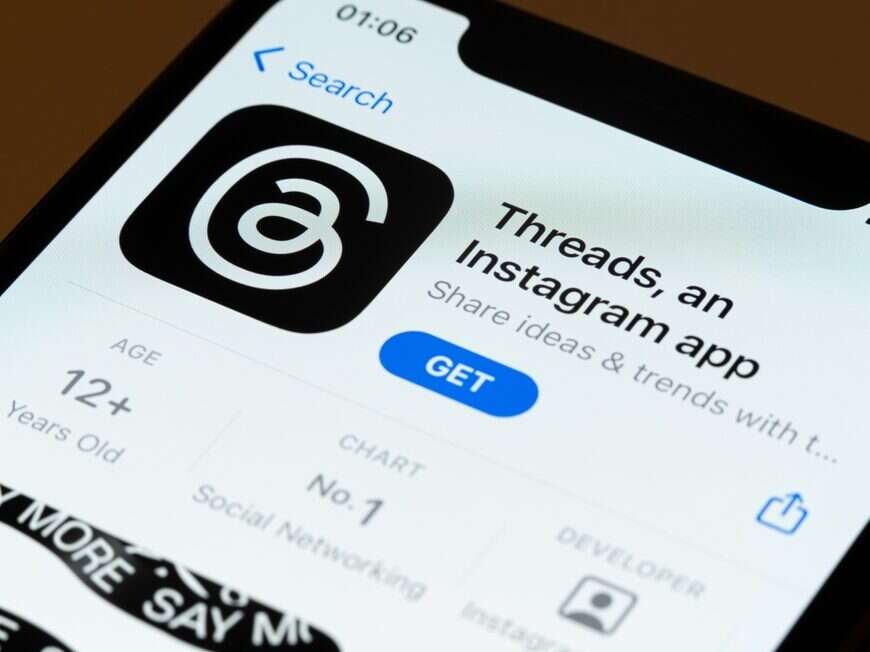 Three weeks on from the launch of Threads, the Twitter rival created by Facebook and Instagram owner Meta, and news publishers are beginning to take stock of their experiments on the platform.
Social media is a rapidly changing beast at the moment: since the launch of Threads in the UK on 6 July (it was available on 5 July in the US), Twitter is rebranding itself as X and Tiktok has added text-based posts to its video-based platform for the first time.
On Threads, so far, many news publishers are posting story links with the same, or very similar, wording as their Twitter posts.
It takes more work to post on Threads as currently users cannot schedule posts in advance and there is no desktop version – users can view links via their desktop computer but cannot do anything beyond that, such as create posts themselves. This means many teams who are already stretched cannot make their Threads trials a priority even if they want to.
However, some are also trying out slightly different techniques. For example, Reach's Daily Express and Ok! Magazine are more liberal with emojis than they are on Twitter, making Threads feel more informal.
Sky News appears to be using some of its vertical videos from Tiktok on Threads and The Times regularly reposts from its journalists' own pages.
Like all users, news publishers with bigger Instagram followings had a head start as Threads users were invited to connect with the accounts they were following on Instagram when they created their new accounts.
But that does not necessarily mean they have decided to dedicate much time to Threads even if they have a larger following: The Independent, which has almost 64,000 Threads followers, has not posted on the platform in a week.
Of the top ten UK publishers by audience size, plus a select number of others added for comparison, The Guardian, Financial Times and Sky News are the top three for follower counts on their main accounts across all three of Threads, Instagram and Twitter. (Edit to add: The FT was added to this story/chart a couple of days after it was initially published, as it was pointed out it would be second place in the Threads ranking.)
The Guardian's posts appear to be largely different from its Twitter posts, with a mixture of questions to the audience and longer sells above story links and videos – for example, one post about the dangers to dogs of puppy yoga also appeared on both Instagram and Tiktok. It has posted more regularly than many other publishers, but still much less than its activity on Twitter.
BBC News does not appear to have created a main account on Threads at all, despite being the biggest news publisher on Instagram. Several of its sub-brands, including BBC Scotland News, Newsnight, Woman's Hour, BBC Radio 4 and BBC London, have created accounts but not posted. We, therefore, have only included the Radio 4 Today programme account, which appears to be posting links, videos or audio at least once per day, in our ranking of the most popular UK publishers on the platform. The BBC does have an overall account that largely reposts from its sports and entertainment brands.
How is Meta/Threads treating news publishers?
Adam Mosseri, the head of Instagram, quickly made clear after launch that they were not trying to replicate Twitter and they would not be courting news and politics publishers – although they equally would not be downgrading their posts.
Mosseri wrote: "The goal isn't to replace Twitter. The goal is to create a public square for communities on Instagram that never really embraced Twitter and for communities on Twitter (and other platforms) that are interested in a less angry place for conversations, but not all of Twitter.
"Politics and hard news are inevitably going to show up on Threads – they have on Instagram as well to some extent – but we're not going to do anything to encourage those verticals."
He added: "We won't discourage or down-rank news or politics, we just won't court them [in] the way we have in the past. If we are honest, we were too quick to promise too much to the industry on Facebook in the early 2010s, and it would be a mistake to repeat that..."
Facebook has been unfriending news in its news feed, impacting the bottom line of major publishers like Reach, and parent company Meta continues to oppose attempts at regulation and payments to publishers, including in the UK. As freelance journalist Charlie Moloney put it: "This is the company we rush to for Threads?"
What are journalists and publishers saying about Threads?
Yara Silva, head of social at Reach, told Press Gazette the publisher is experimenting on Threads with all four of its national titles – Daily Mirror, Daily Star, Daily Express and OK! Magazine – by posting with consistency and trying out different topics.
"OK! has the largest following so far as it has the biggest Instagram account, and we've also had one big hit from it so far on the Daily Star account too. But engagement and clickthrough is still small compared to what we can drive from other places," Silva said.
"The things I'm most keen to see come to Threads are a desktop version, app insights and the ability to schedule. It's quite time-consuming at the moment for what it brings us because everything has to be done from our social media editors' mobile phones.
"If they roll out these changes soon, I think publishers will be able to start strategising more about long-term use of the platform, but at the moment it's just experimentation."
Silva's colleague Dan Russell, who is Reach's engagement director, also told Press Gazette: "The tracking is a pain but there is some small success. [It's] early days though and the content that is getting more engagement is different to Twitter."
Russell has noticed that actual thread-style posts were getting good engagement on Threads: for example, Wales Online posting historical photos in a thread, Manchester Evening News (MEN) adding a photo of a man jailed for 12 years under the initial story post, and the MEN highlighting a new bakery by posting first a video from inside and then the story link.
At the New Statesman (which is owned by the same company as Press Gazette), resources have not allowed Threads to take up much bandwidth so far, so they are mostly cross-posting the same content that is published on Twitter to save time.
Martina Andretta, the title's head of social media, told Press Gazette: "The traffic and engagement from the platform have been negligible while posting on it is still fairly time-consuming. And as this is strictly a mobile-only experience for the time being, it's not possible to easily repurpose content or use scheduling tools."
Andretta added: "Being a publisher that covers a lot of politics, I'm concerned about Meta's reticence towards this type of content – see past elections on Facebook [for example]. If the app wants to rival Twitter, it has to be able to attract journalists, users in the political sphere and people interested in news. It is unclear what the culture on Threads is for the time being, and this will take time to develop."
Others also continue to be sceptical. Darren Toogood, editor of independent outlet the Island Echo on the Isle of Wight, told Press Gazette: "[We] haven't bothered yet. [We] will when things like Buffer support auto-posting – then we will treat it the same as Twitter."
And Franklin Okeke, a freelance tech writer for Techrepublic, said: "I downloaded the app but didn't like the interface. It was kinda [sic] cluttered for me. As a tech journalist, I was hoping to see something better than Twitter, but that wasn't the case. I haven't used it since then."
He added that it had seemed like a missed opportunity for Meta chief executive Mark Zuckerberg "to pounce on the opportunity [of Twitter's issues] to give us something better, but I think he's better off at Facebook".
Meanwhile, Kirsten Dewar, senior global director of news at Dataminr, which gives newsrooms real-time updates on events from social media, said the uses for publishers on Threads remain limited at this point in time.
"At the moment, Threads isn't designed to be a primary source for news publishers. As we understand it, it isn't meant to be a real-time information service, which drastically decreases its value to news organisations who use Dataminr.
"The platform is still in its infancy, but as of right now, it's not likely to be particularly useful to news publishers."
Email pged@pressgazette.co.uk to point out mistakes, provide story tips or send in a letter for publication on our "Letters Page" blog