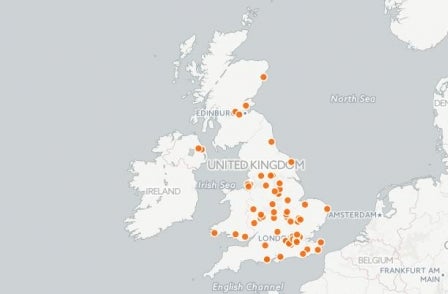 At least 48 regional newspapers have closed since the start of 2012, according new research by Press Gazette.
However, 39 local newspapers launched in the same period, making a net reduction of nine in two years. This compares to previous Press Gazette research showing that, between 2005 and the end of 2011, there were 242 local press closures and 70 launches.
So overall, since 2005 there has been an estimated net reduction of 181 local newspapers in the UK.
Of the 47 local newspapers to close since the start of 2012, 43 per cent were paid-for titles.
Press Gazette's research is based on analysis of coverage on this website and on Holdthefrontpage.
Two regional publications launched only to close within two years. The Seeker News in Dorset went into administration with £40,000 debts in October 2013, four months after its launch. The Fulham Resident launched in 2012, only to closed in 2014.
Surrey, Cambridge and Berkshire were among the worst-hit areas for losing local print publications since 2012. Six publicatons closed in Surrey in 2014, including the Surrey Times, which was axed by Trinity Mirror along with six other titles in November 2014.
Liverpool saw several newspaper launches alongside the closure of the Liverpool Post by Trinity Mirror in December 2013. The media company launched four hyperlocal titles earlier in the year, covering Anfield, Kirkby, Maghull and Aintree, and Crosby and Bottle.
London has also seen an increase in the amount of local newspapers covering the city. Some 14 local publications have launched in the capital since 2012, the majority being paid weekly papers founded by Tindle Newspapers.
Since 2012, Johnston Press has axed at least 11 local newspapers, while Trinity Mirror has closed at least 10. Tindle Newspapers was the company which opened the most publications, launching 11 weeklies in London in three years.
Aside from closures, regional newspapers have stayed afloat by cutting costs. Many have closed offices or cut staff and since 2011 and ten regional dailies have radically cut costs and staff by switching to weekly publication. No regional dailies have closed over the last two years.
| Title | Launched/closed | Date reported | Frequency | Cost |
| --- | --- | --- | --- | --- |
| Burnley Citizen | Closed | 27/11/2014 | Weekly | Free |
| The Wokingham Times | Closed | 14/11/2014 | Weekly | Paid |
| The Bracknell Times | Closed | 14/11/2014 | Weekly | Paid |
| Surrey Herald | Closed | 14/11/2014 | Weekly | Paid |
| Surrey Times | Closed | 14/11/2014 | Weekly | Free |
| Woking Informer | Closed | 14/11/2014 | Weekly | Free |
| Harrow Observer | Closed | 14/11/2014 | Weekly | Paid |
| Herefordshire and Wye Valley Life | Closed | 04/06/2013 | Monthly | Paid |
| Worcestershire Life | Closed | 04/06/2013 | Monthly | Paid |
| Warwickshire Life | Closed | 04/06/2013 | Monthly | Paid |
| Shropshire Life | Closed | 04/06/2013 | Monthly | Paid |
| North East Life | Closed | 04/06/2013 | Monthly | Paid |
| Wiltshire Life | Closed | 04/06/2013 | Monthly | Paid |
| Elmbridge Guardian | Closed | 06/05/2014 | Weekly | Paid |
| Nuneaton & Bedworth Post | Closed | 30/07/2014 | Monthly | Paid |
| The Resident | Closed | 10/10/2014 | Weekly | Free |
| Carrickfergus Advertiser | Closed | 15/01/2014 | Weekly | Paid |
| Ballyclare Gazette | Closed | 15/01/2014 | Weekly | Free |
| Fulham and Hammersmith Chronicle | Closed | 14/04/2014 | Weekly | Free |
| Woking News and Mail | Closed | 10/03/2014 | Weekly | Paid |
| Woking Review | Closed | 10/03/2014 | Weekly | Free |
| The Liverpool Post | Closed | 10/12/2013 | Weekly | Paid |
| Bedford Midweek | Closed | 26/06/2013 | Weekly | Free |
| Fulham Resident | Closed | 05/05/2014 | Monthly | Paid |
| Thanet Times | Closed | 02/08/2012 | Weekly | Paid |
| Royston Weekly News | Closed | 07/08/2014 | Weekly | Free |
| Saffron Walden Weekly News | Closed | 08/08/2014 | Weekly | Free |
| Huntingdon/ St Ives & St Neots News & Crier | Closed | 09/08/2014 | Weekly | Free |
| Cambridge First | Closed | 23/03/2012 | Weekly | Paid |
| Lambeth Post | Closed | 04/07/2013 | Weekly | Free |
| Fife Leader | Closed | 30/06/2012 | Weekly | Free |
| Falkirk & Grangemouth Advertiser | Closed | 30/06/2012 | Weekly | Free |
| West Lothian Herald & Post | Closed | 30/06/2012 | Weekly | Free |
| Leeds Weekly News | Closed | 30/06/2012 | Weekly | Free |
| Pudsey Times | Closed | 30/06/2012 | Weekly | Free |
| Mansfield and Ashfield Observer | Closed | 02/08/2012 | Weekly | Free |
| Worksop Trader | Closed | 03/08/2012 | Weekly | Free |
| Doncaster Advertiser | Closed | 04/08/2012 | Weekly | Free |
| Chesterfield Advertiser | Closed | 05/08/2012 | Weekly | Free |
| Kidderminster Chronicle | Closed | 20/08/2012 | Weekly | Free |
| Streatham Guardian | Closed | 15/11/2012 | Weekly | Free |
| Enfield Gazette | Closed | 25/01/2012 | Weekly | Paid |
| Oxford Star | Closed | 20/06/2013 | Weekly | Free |
| Portsmouth Journal | Closed | 29/10/2012 | Weekly | Free |
| The News Journal | Launched | 01/05/2014 | Monthly | Free |
| London Weekly News | Launched | 25/11/2014 | Weekly | Free |
| The Great Yarmouth and Gorleson Gazette | Launched | 01/01/2012 | Weekly | Free |
| The Pembrokeshire Herald | Launched | 01/07/2013 | Weekly | Paid |
| Swadlincote Post | Launched | 10/08/2012 | Weekly | Free |
| Westminster and Pimlico News | Launched | 25/11/2014 | Weekly | Free |
| Kensington News | Launched | 25/11/2014 | Weekly | Free |
| Chelsea News | Launched | 25/11/2014 | Weekly | Free |
| Your Local Paper | Launched | 25/03/2013 | Weekly | Free |
| Folkestone & Hythe Express | Launched | 11/10/2013 | Weekly | Paid |
| Wellingborough Extra | Launched | 18/04/2013 | Fortnightly | Paid |
| Kettering Extra | Launched | 19/03/2013 | Fortnightly | Paid |
| Corby Extra | Launched | 20/03/2013 | Fortnightly | Paid |
| Glossop Gazette | Launched | 01/08/2012 | Monthly | Free |
| Bootle Champion | Launched | 14/01/2012 | Weekly | Free |
| Cambridge Magazine | Launched | 01/10/2013 | Monthly | Paid |
| Scarborough Voice | Launched | 01/07/2012 | Three-day-a-week | Free |
| Streatham & South London Press | Launched | 08/06/2012 | Weekly | Paid |
| Brixton & South London Press | Launched | 08/06/2012 | Weekly | Paid |
| Wimbledon & South London Press | Launched | 08/06/2012 | Weekly | Paid |
| Wandsworth & South London Press | Launched | 08/06/2012 | Weekly | Paid |
| Dulwich & South London Press | Launched | 08/06/2012 | Weekly | Paid |
| Deptford & New Cross & South London Press | Launched | 08/06/2012 | Weekly | Paid |
| Forest Hill & Sydenham & South London Press | Launched | 08/06/2012 | Weekly | Paid |
| Anfield and Walton Star | Launched | 26/06/2013 | Weekly | Free |
| Maghull and Aintree Star | Launched | 26/06/2013 | Weekly | Free |
| Kirkby Star | Launched | 26/06/2013 | Weekly | Free |
| Crosby and Bootle Star | Launched | 26/06/2013 | Weekly | Free |
| The Aberdonian | Launched | 18/04/2013 | Weekly | Free |
| Fenland Eastern Daily Press | Launched | 10/09/2013 | Daily | Paid |
| Caerphilly Observer | Launched | 24/09/2013 | Fortnightly | Free |
| Port Talbot MagNet | Launched | 17/04/2013 | Monthly | Free |
| The Scarborough Review | Launched | 01/03/2013 | Monthly | Free |
| Cranbrook Herald | Launched | 14/09/2013 | Monthly | Free |
| Romford Gazette | Launched | 18/04/2012 | Weekly | Free |
| Grantham Target | Launched | 02/08/2015 | Weekly | Paid |
| The Croydon Citizen | Launched | 17/12/2013 | Monthly | Free |
| Fulham Resident | Launched and closed | 13/09/2012 & 05/05/2014 | Monthly | Paid |
| Seeker News | Launched and closed | 30/04/2013 and 07/08/2013 | Fortnightly | Free |
| GetReading | closed | 14/11/2014 | | free |
| Reading Post | closed | 14/11/2014 | biweekly | paid |
Do you know any more regional publications that have opened or closed around you in the last three years? Let us know by emailing pged@pressgazette.co.uk
Email pged@pressgazette.co.uk to point out mistakes, provide story tips or send in a letter for publication on our "Letters Page" blog