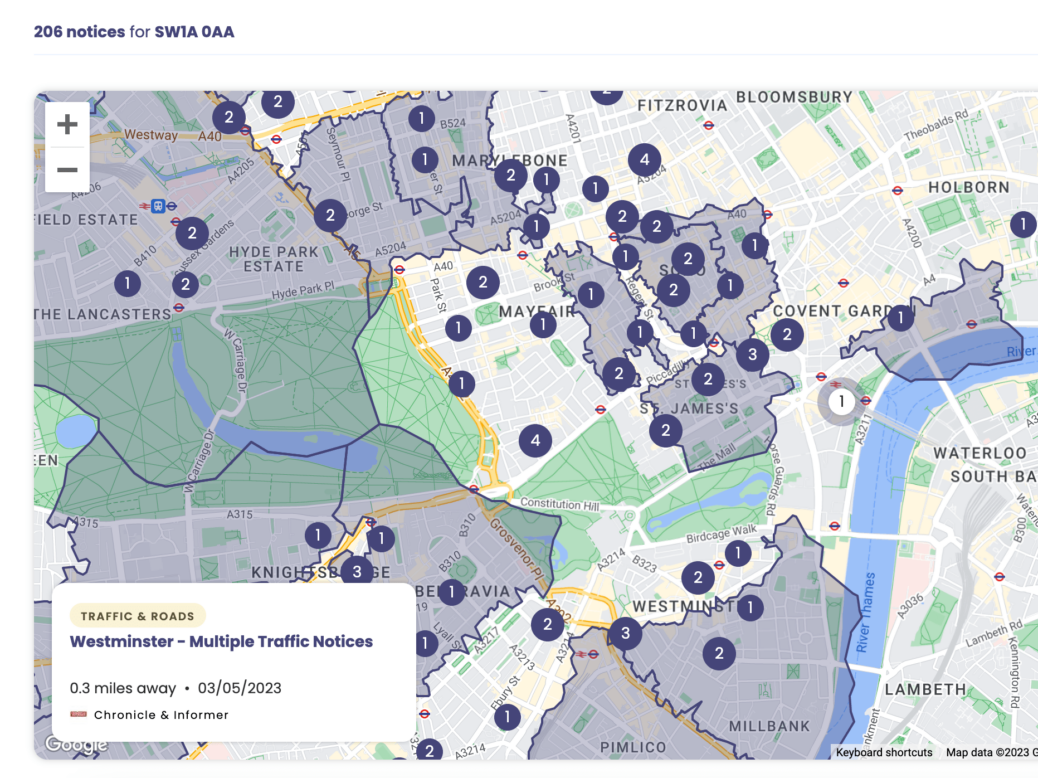 The News Media Association has launched its Public Notice Portal, an online platform that brings together the numerous public announcements published by local newspapers.
The portal, which had a soft launch in September and has been funded by the Google News Initiative, formally went live on Monday morning.
It only aggregates public notices published by NMA member publishers (it is not a comprehensive listing).
The statutory requirement for local authorities to publish news about public notices in local newspapers brings publishers £40m in revenue a year. Some £10m of that is comes from planning notices, with the rest made up of other types of notices including traffic and alcohol licensing.
Appearing at the launch event for the Public Notice Portal on Monday, Newsquest chief executive Henry Faure Walker revealed that for some papers paid council announcements now comprise more than half of all advertising revenue.
What is the Public Notice Portal?
The new portal collects together all the public notices published by NMA members and displays them on a single platform, either on a map or as a list. Each notice appears alongside the logo of the paper that published it.
The NMA says the portal displays "more than 10,000 live notices at any given time with an average of 2,500 notices being added by local publishers every week".
The platform, which was built by local publishing giant Reach, can be accessed either via its dedicated website, which allows readers to search for notices relevant to their postcode, or through the website of local newspapers in the scheme.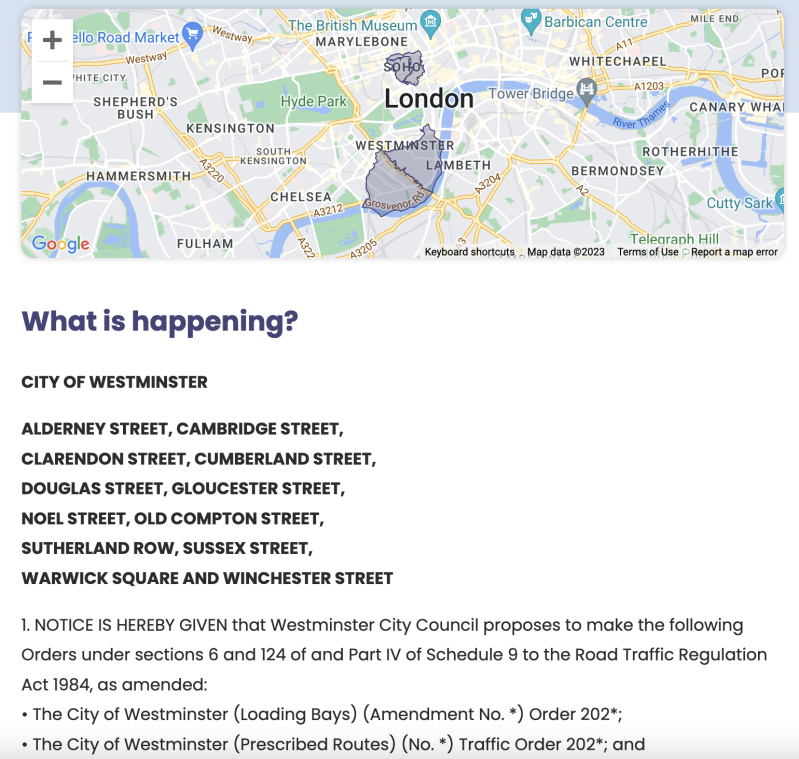 The portal addresses an issue with the existing public notices regime whereby announcements for a single area might be scattered across multiple publications.
Faure Walker told the group assembled for the portal launch at the Houses of Parliament: "Like most things in publishing, the portal is driven fundamentally by an economic rationale – principally the recognition that public notices have actually become one of the largest advertising categories for many local news brands.
"There will be some local newspapers represented here today whose revenue from public notices advertising now makes up more than 50% of all their advertising… Indeed, it would not be an exaggeration to say that without public notice advertising, many small weekly newspapers and the essential journalism that they do would probably cease."
Plans for the Public Notice Portal were first announced in January 2021 – shortly after the government alarmed the news industry with a white paper pronouncing that "the Covid-19 pandemic has highlighted the need for modern digital planning services that can be accessed from home".
The Google News Initiative funded the effort, paying £1m for the portal which now exists under the supervision of the NMA. Google's funding for news also received an oblique reference at the event from Damian Collins MP, who told the crowd while introducing Faure Walker that the Digital Markets, Competition and Consumers Bill "hopefully will herald a UK-style news bargaining code".
[Read more: Big tech kicks off lobbying effort as UK introduces news payment legislation]
Who gets paid – and who doesn't
The portal will not directly translate into greater revenue for publishers. But Faure Walker said that "ensuring that we have a sustainable model for local journalism, and we have a robust strategy for the future, is pretty much the primary purpose of all the local publishing companies that are here today…
"To support this really important activity, we wanted to expose these notices to the huge and engaged online audiences that local news brands now command, so that these online audiences could be informed and have easy access to the really important public interest information that is contained within a public notice.
"And dare I say it – public interest information that the local councils' press offices might sometimes prefer not to be publicised."
At present, only NMA members are represented in the portal, although non-members will ultimately be eligible to have their notices published to the site as long as they pay a fee. NMA members do not have to pay anything beyond their dues for inclusion in the scheme. Press Gazette understands a small number of non-NMA publications are due to join the scheme shortly.
Digital-only publishers, however, remain left out as things stand. Public notices legislation stipulates that the council announcements be published in print – leaving a newer generation of digital-native local news operations ineligible, something they have complained of previously.
Correction: This article originally referred to £10m in revenue coming from public notices. In fact, £10m is from planning notices with a further £30m coming from other types of public notices.
Email pged@pressgazette.co.uk to point out mistakes, provide story tips or send in a letter for publication on our "Letters Page" blog