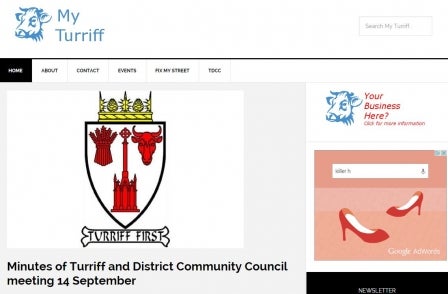 New research has provided a map of 550 active local and "hyperlocal" news websites across the UK.
These are sites which are run independently of the regional newspaper industry and which, in some cases, fill gaps in coverage.
Over the last ten years there has been a net reduction of 200 in the number of local newspapers in the UK with thousands fewer regional press journalists employed in the industry.
The new sites are generally run by volunteers, with a minority employing professional journalists.
The Local Weblist has been launched by the Carnegie UK Trust and was developed by hyperlocal media consultancy Talk About Local.
The sites are described as "hyperlocal" but also includes independent sites covering comparatively large areas such as Brighton and Hove News and the Lincolnite.
Douglas White, head of advocacy at the Carnegie UK Trust, said: "Our work supporting local news provision across the UK has found that small, nimble and largely volunteer-led hyperlocal news providers are making a significant contribution to the volume of independent local news produced in our communities.
"However, many hyperlocals have difficulties with visibility – some people simply do not know that they exist. This free, online directory will help hyperlocals improve their visibility to new audiences and open up new partnership opportunities to help them develop and grow."
The Carnegie Trust has highlighted five successful independent local news websites
MyTurriff – Abederdeenshire, launched 2011
"With no independent, online sources of local news, information and events, My Turriff developed from Visit Turriff, a site which was established in 2011 to help promote the Aberdeenshire town. Local news in Turriff is covered by the weekly printed local newspaper, with some additional coverage by daily regional newspapers from Aberdeen. However, the local newspaper, while having a very loyal local readership, does not currently publish news online…
"My Turriff is run philanthropically by Mike Rawlins, but features some Google adverts to help cover the costs of the site."
The Lincolnite – Lincoln, launched 2010
Covers city-wide news in area also covered by BBC Radio Lincolnshire and weekly newspaper the Lincolnshire Echo, which covers the whole county.
"The Lincolnite that has become the city's most popular source of online local news, having developed the greatest social media presence. Despite being in competition with each other, the various local news outlets have a good working relationship and have collaborated on several projects to the benefit of their collective audiences.
"Six full-time and two part-time staff, all with a journalism background, are involved in running the Lincolnite and Lincolnshire Business, along with a bank of volunteer column contributors and a number of freelancers, from photographers to feature writers for individual projects. Members of the audience across Lincoln are also welcome to write columns for the site and regularly engage with the team and the content produced on social media."
The Charlton Champion – South East London, launched in 2010
"The Charlton Champion has a good relationship with the local newspapers, with limited overlap in content and the site focusing on a smaller geographical area, and the team believes it offers important additionality to the council publication.
"Two regular writers, Darryl Chamberlain, a trained journalist, and Neil Clasper, run The Charlton Champion on a voluntary basis, which means they have to be selective in what the site covers."
On The Wight – Isle of Wight, launched 2012
The Isle of Wight also has established media players the Isle of Wight County Press weekly newspaper and Isle of Wight Radio.
"The core OnTheWight team – husband and wife Simon and Sally Perry – evolved the site with the aim of building and then maintaining the trust of the reader; improving openness and transparency among those with decision-making powers on the Island; and stimulating local news provision; as well as giving local residents a voice by publishing their articles and giving them the opportunity to freelycomment on local news stories.
"Recently, the team have been able to pay themselves a modest salary, in return for each working over 10 hours a day on the site."
The Bristol Cable – Bristol – lauched 2014
"With city-wide news publications, culture magazines, regional offices of national broadcasters and a range of hyperlocals all based in Bristol, the city may not immediately appear to have a local news gap or democratic deficit. However, analysis by the team behind the Bristol Cable found there to be a lack of coverage of issues affecting under-represented communities, broadly-sourced content and investigative reporting across the city. The Bristol Cable addresses these gaps by undertaking local investigative reporting and covering under-represented issues…
"The Bristol Cable launched its membership scheme with its first edition in October 2014, and now has 400 members paying onaverage £3 a month for local news and information. In addition to the monthly membership contributions, income is generated from advertising by ethical organisations and businesses, grants and donations and payment for presentations and workshops delivered by the team. If the target of 1,000 members by summer 2016 is reached, sufficient income will be generated for all contributors to the Bristol Cable to receive payment for their work.
"A core team of seven volunteers are involved in the day-to-day operation of The Bristol Cable, with three having recently received a payment of £70 per week for three months paid from a funding grant, for their respective 40 hours of work. Each [quarterly] printed edition sees the involvement of an average of 40 contributors, with more members involved in monthly decision-making forums.
Email pged@pressgazette.co.uk to point out mistakes, provide story tips or send in a letter for publication on our "Letters Page" blog