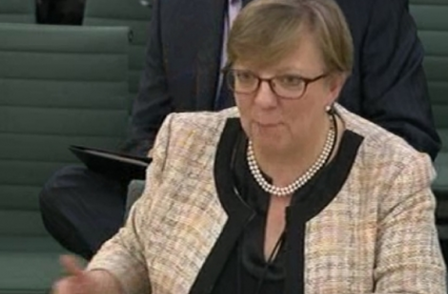 There have been widespread calls for the Crown Prosecution Service to review its policy on prosecuting journalists after the acquittal of four Sun journalists on Friday.
Newspapers from The Guardian to the Daily Mail have called for changes to way the law is being used against journalists by the police and CPS in the wake of the verdicts.
Chief reporter John Kay, royal editor Duncan Larcombe, executive editor Fergus Shanahan and deputy editor Geoff Webster were all cleared of conspiracy to commit misconduct in public office by paying for stories.
The jury spent 48 hours deliberating after a three-month trial at the Old Bailey.
The journalists' ordeals began with their arrests in dawn raids by police three years ago.
It has been noted that murderers, rapists and terrorists typically wait a year between arrest and trial.
One source, Ministry of Defence official Bettina Jordan-Barber who was paid £100,000 over eight years, was jailed. Two other sources, Sandhurst instructor John Hardy and his wife Claire, were both cleared by the jury.
Leaving the court Larcombe, 39, said: "I'm not going to say much, but 1,060 days ago eight policemen raided my house at six in the morning.
"There is no celebration while this witch hunt continues against my colleagues, who are still facing the nightmare that I hopefully one day will wake up from."
Thanking family and friends who stood by him, Sun chief reporter John Kay, 71, said: "It's a great relief that a three-year ordeal is over.
"I just hope that this result bears fruit for other colleagues in a similar predicament."
Asked about his source Jordan-Barber, who was jailed for a year after pleading guilty, he said: "I'm very, very upset that a trusted source of The Sun ended up in jail as a result of betrayal by my own company."
Shanahan, 60, said the trial had been a "terrible ordeal" for the families of the people involved.
While journalists may have a "thick skin" and "can look after ourselves", the loved ones had been put under "the most appalling strain for three years", he said.
A number of newspapers have called for the CPS to review its policy on the prosecution of journalists in the wake of the jury's decision.
The prosecutions of Sun journalists stem from parent company News Corp's decision to give email evidence to police in the wake of the closure of the News of the World at the height of the hacking scandal in July 2011.
These cases are believed to be the first time that the charge of conspiracy to commit misconduct in public office has been used against journalists paying for stories.
So far nine Sun journalists have been found not guilty after standing trial on this charge. A further seven face retrials after juries failed to reach a verdict. Two former News of the World journalists – Ryan Sabey and another individual who cannot be named – have been found guilty by juries.
In legal argument Richard Kovalevsky QC, speaking for Larcombe, noted the dilemma faced by juries: "This offence is a very odd offence, because the jury is being asked to determine what is a criminal offence. The difficult is that the line is for them to draw."
The Guardian said in a leader column today:
Jurors are reluctant to convict journalists when they see even the slightest evidence of a public interest being served by their stories. Some of the material purchased by the journalists was tittle-tattle. But other tipoffs led to legitimate stories that should have been published.

It was unwise of the Crown Prosecution Service not to recognise the distinction; the director of public prosecutions will no doubt study these verdicts before sanctioning any other trials of reporters for paying public officials – whether for conspiracy or "aiding and abetting". The police, too, should reflect on the unfairness of keeping so many potential suspects on police bail for so long while deciding whether or not to prosecute.
The Daily Mail said on Saturday:
In the wake of the Leveson Inquiry (announced by David Cameron to save his own neck over the Andy Coulson imbroglio) the police and NHS have gagged whistleblowers – insisting they can speak only to a State-sanctioned hotline.

The likes of Met Commissioner Sir Bernard Hogan-Howe have all but criminalised informal contact between journalists and police.

Disgracefully, Tory minister Francis Maude and Cabinet Secretary Jeremy Heywood – the man known as Sir Cover-Up – have threatened to sack civil servants who talk to reporters without ministerial permission.

A free Press is essential to the functioning of any free society. It holds the powerful to account, exposes hypocrisy and acts as a bulwark against State corruption.

Without a free Press the MPs' expenses scandal, child abuse in Rotherham, lethal failings at Mid-Staffs hospital and the Cyril Smith and Establishment sex abuse cover-ups would have remained hidden.

The public, through the jury system, have overwhelmingly recognised this vital truth. The politicians, police and prosecutors must now do the same – and acknowledge their public duty to end this destructive, four-year vendetta by abandoning further outstanding proceedings without delay.
The Daily Telegraph said in a leader:
It is not only the lives of individuals that have been ruined by this witch-hunt. It has also had a chilling effect upon the ability of the free press to do its job as a cornerstone of democracy.

It is hard to escape the conclusion that parts of the establishment have used the post-Leveson climate as an opportunity to reassert some of their institutional authority. No one is denying that crimes were committed by a small number of individual reporters – none of them associated with this newspaper. But it also should be noted that sections of the Left have been waiting decades for an excuse to launch a war upon the adversarial press. Within Parliament this reached the frightening level of an attempt to root a code of press behaviour in statute, which could well have been used to control what journalists print.

Meanwhile, so odd is the zealous pursuit of reporters by the CPS that questions are bound to be asked about its motivation, too. Certainly we would advise that it reconsider its approach towards journalists who have waited an inhuman length of time for justice. Where there is a solid accusation supported by evidence and a strong chance of conviction then there is a case for pursuing it. But in the example of this most recent trial, there was a lack of clarity even about the legality of paying a public servant for information. In other words, for too long the CPS has proceeded unwisely with little thought for public interest, at huge cost and with a troubling effect upon press freedom. This madness has to end.
A Sun leader column on Saturday said the acquittals show …"that the public had no appetite to convict and jail journalists for telling the truth".
It also said:
The 'evidence' from company emails was wafer thin. Police, 'fishing for more, raided our staff at dawn in front of their terrified tearful families and ransacked their hiomes as if they were terror suspects. They found nothing.
Sun associate editor Trevor Kavanagh wrote:
Presiding judge Mr Justice Saunders summed it up: 'This is an extremely difficult charge even for lawyers to understand. It's even more difficult to explain it to a jury."

The Crown Prosecution Service should heed his lordship's words.
But he noted that it was a sour victory for four journalists who have gone through "a living nightmare" with their families.
The fear of sharing a cell with real criminals in Belmarsh jail haunted their days. It was on their minds the moment they wake and their last thought before falling asleep….

Their careers were on hold, their lives in a state of suspended animination.

It is impossible to exaggerate the impact on their wives and distraught families.
Email pged@pressgazette.co.uk to point out mistakes, provide story tips or send in a letter for publication on our "Letters Page" blog