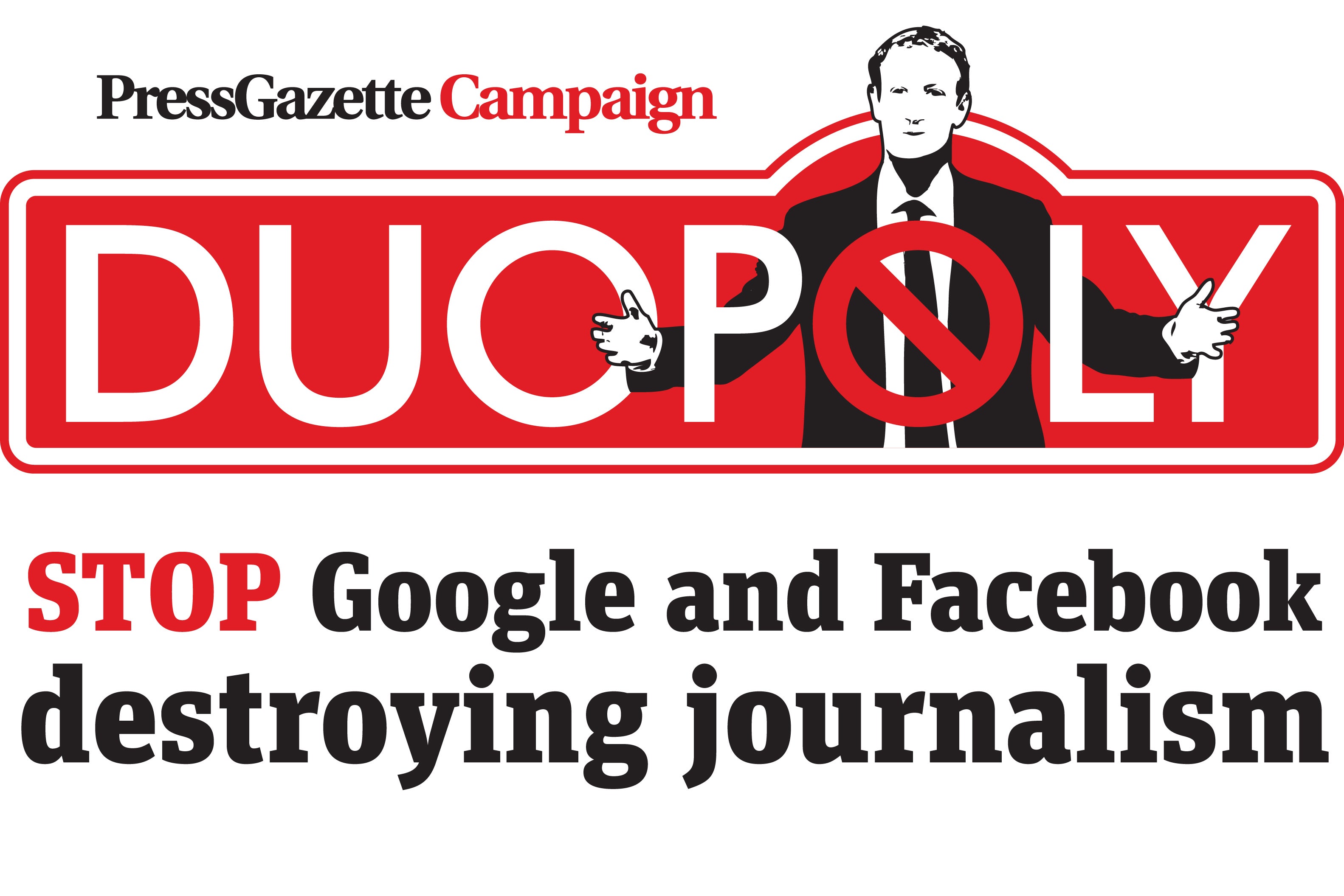 Sign Press Gazette's petition urging Facebook and Google to make a fairer deal with the news industry
Imagine if two news publishers dominated digital media in the way that Facebook and Google do.
The Government would not allow such a duopoly to stand. Campaigners would call for them to be broken up in the name of media plurality.
Yet by 2020 Google and Facebook are expected to take 71 per cent of all the money spent in the UK on digital advertising, according to a report by analysts OC&C.
The effect of this can already be seen and is devastating for both the news industry and for society in general.
News publishers are reaching more people than ever before both directly, via their websites, and indirectly, via social media. But they are getting an ever shrinking slice of the advertising pie. This has a direct impact on the number of journalists they are able to employ.
That's why Press Gazette is today launching its Duopoly campaign which aims to stop Facebook and Google destroying any more of the UK journalism industry.
There is no simple solution, but broadly we are seeking a fairer deal between news publishers and the digital giants – one which fairly rewards the creators of the content on which these platforms rely.
We want Google and Facebook to become more responsible digital citizens, acting in a way that allows diverse digital news sources rather than gorging themselves on all the available digital advertising in a way which will lead smaller players to starve.
A partner at OC&C, which authored the report on UK advertising in 2020, said: "The scale and speed [of Google and Facebook's growth] is really a call to action for media companies. By the time they get to 70 per cent of the online ad market, that doesn't leave a lot of space left elsewhere."
In 2015 the UK advertising market was worth more than £20bn. Of that, £2.4bn went to national and regional newspapers and their websites and £8.6bn went to online (for which mainly read Google and Facebook).
In the space of a decade the share of the UK advertising market going to UK regional and national newspapers has declined from nearly a half to little more than 10 per cent.
Money which had been spent on journalists holding those in power to account, particularly at a local level, has been transferred to two US-owned digital platforms which exist purely to exploit content rather than create it.
To add insult to injury, Google and Facebook are masters at avoiding paying tax in the UK on their vast profits.
Journalism, which is broadly a social good, is being replaced by entities which have little responsibility and are complicit in creating a good deal of harm by distributing misleading and extremist content.
Over the coming months, Press Gazette will be investigating the impact of Google and Facebook on the journalism industry and providing a forum for debate.
Both companies have the capacity to be positive partners for news publishers and already provide great benefits to us all in terms of increasing the reach of brands and enabling new people to discover our content.
But if that is at the expense of the advertising income which consumer publishers need to survive then it is not a price worth paying.
Here are some of the ideas and themes Press Gazette is going to explore in the coming months:
A fair deal for news publishers
Both Google and Facebook make much of their money through people viewing and sharing copyrighted journalistic content on their platforms.
In exchange they return almost no value to journalism creators.
Facebook has changed in recent years from being a place to share pictures and information with friends to becoming a major source of news for many people. This has been a deliberate policy by Facebook which controls what we see on the network by tweaking its algorithm.
More than half of the UK population is now on Facebook. According to the Reuters Institute, 28 per cent of Britons use Facebook on a weekly basis to access news. Among under 35s this rises to 41 per cent.
Channel 4 News has generated literally billions of video views for Facebook – much of it for work created at great personal risk by journalists working inside Syria. By way of financial return it gets almost nothing, while Facebook banks the advertising income.
Facebook profits while others take the risks and responsibility.
Google and Facebook need to adopt a formula where a fair proportion of the search and display advertising income they make from journalism is returned to publishers so it can be reinvested in content creation.
This is not just fair, it is enlightened self interest.
Reforming automated advertising
Automoted online advertising is largely controlled by Google, which owns the dominant Double Click technology used by most ad-buyers. As little as 30 per cent of the money spent by brands on programmatic advertising finds its way to publishers.
Even at the wholesale rate, Press Gazette would argue that trusted news brands are under-valued by the advertising networks.
As the Times investigation has shown, programmatic advertising (which uses cookies to let adverts follow individuals around the net) can lead to brands appearing next to extremist content.
Google needs to look at ways to enable news publishers who invest in journalism to get a fairer deal from the ad networks.
The news industry itself needs to work harder to make it easier for advertisers to work across groups of trusted news brands.
'Fake news' (and fake advertising)
Google and Facebook need to work harder to clearly identify and promote accurate professionally-produced journalism – clearly distinguishing it from fictional content masquerading as news.
This may involve working with regulators as well as the news industry to draw up a white list of sites which reach the necessary standards of accuracy.
Google and Facebook make millions from not just fake news, but fake advertising – which is more insidious and difficult to track.
It can't be right that the two dominant UK commercial media companies are immune from taking any responsibility when it comes to the accuracy of their news and advertising content.
The law
The Government needs to look at creating a level playing field for all media companies, so that Google, Facebook and other platforms face the same responsibilities as news publishers
If they are going to sell advertising against content, then they should take responsibility for that content.
That means they should be covered by laws of defamation, privacy, contempt of court and copyright in the same way as everyone else.
Plurality
Given Google and Facebook's dominance of the internet advertising market it is difficult to see how they can escape a full Government investigation into their duopoly status in the market.
Conclusion
Press Gazette's view is that it would be better for Google and Facebook to reform themselves now before they drift into a situation where the state is forced to intercede.
That's why we have launched a petition aimed at the chief executives of Google and Facebook urging them to return more value to the news industry. Sign it here.
What others say
Concern about the impact of Facebook and Google on our news industry – and in turn society – is not a fringe opinion. When everyone from The Guardian to News Corp agrees there is a problem then it is time to take it seriously.
"Social media companies have become overwhelmingly powerful in determining what we read and whether publishers make any money.
"The idea of challenging the wide-open worldwide web has been replaced by platforms and publishers who maximise the amount of time you spend with them and find clever ways to stop you leaving.
"That may be great news for advertisers and the platforms themselves, but it's a real concern for the news industry."
"Our news ecosystem has changed more dramatically in the past five years than perhaps at any time in the past five hundred….
"We are seeing massive changes in control, and finance, putting the future of our publishing ecosystem into the hands of a few, who now control the destiny of many."
"Google destroyed the local press many years ago. The first that went was classified advertising. Facebook has been more insidious.
"It's like the frog in hot water. It's there until it's boiling and it's too late. It's been perfectly obvious the existential threat that Google and Facebook have delivered to publications for many years yet what do they do? 'Oh we're on Google News we've got a good ranking', 'oh we're on Facebook instant articles'.
"It's like what Lenin used to say about the Labour Party – useful idiots."
"The word Orwellian is flagrantly used and abused. But when it comes to the all-powerful algorithms of Google, Amazon and Facebook, otherwise known as GAF, Orwellian is unused.
"The institutional neglect has now left us perched on the edge of the slippery slope of censorship.
"There has been no tradition, as there is at great newspapers, of each day arguing over rights and wrongs, of fretful, thoughtful agonizing over social responsibility and the freedom of speech.
"What we now have is a political backlash with which these omnipotent companies are uniquely ill equipped to cope. Their responses tend to be political and politically correct.
"Regardless of your own political views, you should be concerned that we are entering an era in which the two most powerful news publishers in human history, and I say that again, the two most powerful news publishers in human history, are going to routinely and selectively 'unpublish' certain views and news."
"Facebook say that they are not a media company [but] I believe they are and that, with the amount of money they are making and the power and influence they have, they have to accept responsibility.
Email pged@pressgazette.co.uk to point out mistakes, provide story tips or send in a letter for publication on our "Letters Page" blog