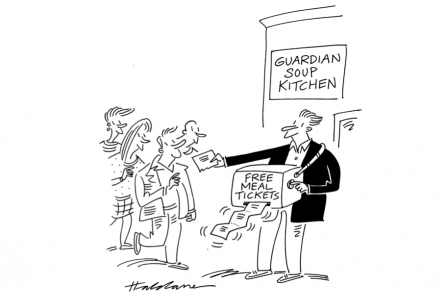 The chief executive of News UK has said he is "optimistic" that the Times and Sunday Times are on course to become profitable – and has described the papers' previous strategy of free online content as a "small wobble" in its 230-year history.
Speaking at the Digital Media Strategies Conference in London this morning, Mike Darcey said the business "has turned around" since the papers abandoned free online content in 2010 and noted that trading losses at Times Newspapers Limited had fallen to £6m in the past year.
He said: "When we first announced the changes to The Times, it was widely believed it would harm rather than help our titles. Yet according to a recent report by Enders, this approach is now regarded as a sensible way ahead for the industry.
"This has been the approach at the Times for 230 years. There was a small wobble a few years ago – a brief dalliance with free content on the web."
Darcey added: "While of course I can offer no assurances, I am generally optimistic that an improved economic backdrop, combined with further delivery of our paid-for strategy, focused on engaged audiences, will in time lead to a sustainably profitable future for the professional journalism that The Times and The Sunday Times embodies."
By last December, The Times and Sunday Times had 153,000 paying digital subscribers and a further 207,000 subscribers to the print edition who receive digital benefits as part of their package. Last year The Sun crossed the 100,000 digital subscriber milestone in four months.
Comparing the Times strategy with that of the Guardian, Darcey said of his rival's approach: "I worry on behalf of my friends at the Guardian."
He said free online content was "a bit scary to me. It might work, I suppose, but it looks very brave to bet the entire business, the basic ability to pay your journalists, on that scenario playing out well, indefinitely. Too brave for me, it's not a bet I will be making.
"Of course others are pursuing a different path, even those who seek the same ultimate goal of preserving professional journalism. I understand their choices, the bets they are making, but they look too risky for me. I prefer the path we are on."
He added: "Mr Murdoch has been very clear – my job is to run a profitable business; being a drain on the other successful parts of News Corp is not an option for me. So I need a different answer."
Darcey was speaking alongside the Guardian Media Group chief executive Andrew Miller in a session on making money from digital content.
The News UK chief executive added: "I believe that many in the news business have spent too much time trying to answer narrow questions like how to monetise digital content, and have lost track of the bigger questions around securing a sustainable future more broadly.
"Indeed, some have pursued the narrow monetisation of digital content in a way that seems to have jeopardised their overall business. As a result, some have got themselves into a spot of bother, and fostered a narrative of newspaper decline."
And in a dig at Mail Online he said: "I am certainly not interested in forms of monetising digital content, which while interesting in their own right, contribute nothing towards, or perhaps even undermine, the sustainability of our core professional journalism.
"We don't want to be redistributors, re-writers of other people's content – we want to be generators of content, setting the agenda, asking the questions."
Will Mail Online be eaten by its own hunger for clickbait? Mike Darcey illustrated his talk with cartoons which cocked a snook at his free online rivals.
Email pged@pressgazette.co.uk to point out mistakes, provide story tips or send in a letter for publication on our "Letters Page" blog