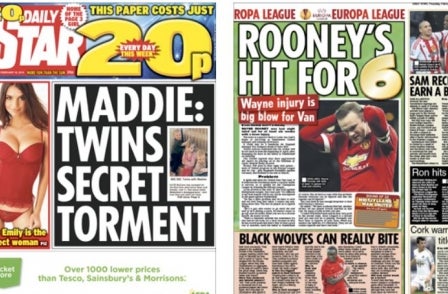 The Daily Mirror lost ground against the Daily Star in January apparently hurt by the latter's price cut.
The Mirror, which costs 60p during the week, fell 12.3 per cent year on year to just over 800,000 copies per day. The 20p Daily Star rose 10.6 per cent to just over 470,000.
Meanwhile, the 40p Sun fared only a little better than the Mirror – dropping 9.7 per cent year on year.
The plunging Mirror sales may explain parent company Trinity Mirror's plan to launch a new cut price daily newspaper in the news few weeks. The title is reportedly set to be called New Day and may be a retaliatory strike.
The Times was the only other national newspaper to grow its circulation year on year in January, by 1.9 per cent to 404,155 (with the help of around 20,000 additional free bulk copies).
The soon-to-close Independent had a paid-for sale of under 40,000 in January. The Independent on Sunday was a little high at around 42,000 (excluding bulks).
The Sunday Mirror appears also to be suffering at the hands of Richard Desmond. It costs £1.30 and fell 14.7 per cent year on year compared with a 12.7 per cent year-on-year increase for the 50p Daily Star Sunday.
The Sun on Sunday, costing £1, meanwhile held up better falling by 6 per cent year on year.
 
National newspaper ABC figures for January 2015 (source ABC)
| Title | Jan-16 | MoM% | YoY% | Bulks | Free |
| --- | --- | --- | --- | --- | --- |
| Dailies |   |   |   |   |   |
| The Sun | 1,787,096 | -0.75 | -9.68 | 53,723 |   |
| Daily Mail | 1,589,471 | -0.56 | -5.88 | 77,034 |   |
| Metro | 1,348,033 | 0.19 | 0.14 |   | 1,348,033 |
| London Evening Standard | 898,407 | 4.82 | 2.38 |   | 898,407 |
| Daily Mirror | 809,147 | -0.32 | -12.26 | 45,000 |   |
| The Daily Telegraph | 472,033 | -0.92 | -4.58 |   |   |
| Daily Star | 470,369 | 4.12 | 10.61 |   |   |
| Daily Express | 408,700 | 1.99 | -10.75 |   |   |
| The Times | 404,155 | -1.1 | 1.9 | 41,879 |   |
| i | 271,859 | 1.28 | -3.03 | 66,714 |   |
| Financial Times | 198,237 | -5.27 | -9.66 | 21,359 |   |
| Daily Record | 176,892 | -0.51 | -13.17 | 4,959 |   |
| The Guardian | 164,163 | -1.13 | -11.47 |   |   |
| City AM | 97,259 | -1.5 | -6.74 |   | 97,259 |
| The Independent | 55,193 | -1.57 | -10.02 | 15,356 |   |
| Sundays |   |   |   |   |   |
| The Sun on Sunday | 1,487,301 | 1.27 | -6.01 | 55,273 |   |
| The Mail on Sunday | 1,388,059 | 0.16 | -5.03 | 66,660 |   |
| The Sunday Times | 770,370 | 0.97 | -3.9 | 32,847 |   |
| Sunday Mirror | 749,061 | 1.01 | -14.68 | 45,000 |   |
| Sunday Express | 369,666 | 4.05 | -7.03 |   |   |
| The Sunday Telegraph | 355,044 | 1.1 | -6.9 |   |   |
| Daily Star – Sunday | 299,146 | 0.7 | 12.72 |   |   |
| Sunday People | 279,837 | -0.73 | -16.49 | 1,750 |   |
| Sunday Mail | 195,167 | -1.22 | -12.43 | 3,810 |   |
| The Observer | 183,210 | -0.25 | -7.64 |   |   |
| Sunday Post | 163,037 | -1.28 | -12.94 |   |   |
| Independent on Sunday | 91,644 | -1.37 | -6.15 | 49,538 |   |
Email pged@pressgazette.co.uk to point out mistakes, provide story tips or send in a letter for publication on our "Letters Page" blog