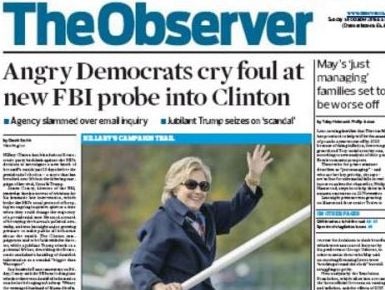 The Observer and The Times were the only UK national newspapers to grow their paid-for print sales year on year in January.
The Observer rose 1.4 per cent to 185,752 and paid-for sales of The Times rose 3.8 per cent year on year to 379,861.
The Times, Sunday Times, Daily Telegraph and Sunday Telegraph all increased their circulations with the help extra free bulk copies distributed at places like hotels and airports.
Even without the help of the free bulk copies, the upmarket 'broadsheet' end of the newspaper market is out-performing the faster declining tabloids.
The Times is now just 21,000 copies behind the Daily Telegraph. In terms of paid-for print sales the gap is more like 60,000.
The Sun put in the best overall month on month performance, up 3.4 per cent compared with the slower month of December, helped by the popular annual £9.50 holidays promotion.
The Sunday Mirror was the biggest faller, dropping 16 per cent year on year to an average circulation of 629,277. At £1.40 it is 50p more expensive than the Daily Star Sunday and 40p more than The Sun on Sunday.
There was better news online with every newspaper except the Telegraph up year on year in January.
Note: This story was corrected on 17 February at 8am. An earlier version said The Observer was the only paid-for circulation riser.
UK national newspaper print circulations for January ABC (source: ABC)
| | | | | |
| --- | --- | --- | --- | --- |
| Title | Jan-17 | MoM% | YoY% | Bulks |
| The Sun | 1,666,715 | 3.43 | -6.74 | 97,766 |
| Daily Mail | 1,511,357 | 1.35 | -4.91 | 66,684 |
| Metro (free) | 1,476,956 | 0.1 | 9.56 | |
| The Sun on Sunday | 1,375,539 | -0.54 | -7.51 | 95,704 |
| The Mail on Sunday | 1,257,984 | -2.04 | -9.37 | 54,132 |
| London Evening Standard (free) | 887,253 | 4.64 | -1.24 | |
| The Sunday Times | 792,324 | 0.01 | 2.85 | 83,237 |
| Daily Mirror | 724,888 | 1.11 | -10.41 | 34,000 |
| Sunday Mirror | 629,277 | 1.36 | -15.99 | 34,000 |
| The Daily Telegraph | 472,258 | 2.65 | 0.05 | 41,868 |
| The Times | 451,261 | 1.14 | 11.66 | 79,790 |
| Daily Star | 443,452 | 0.68 | -5.72 | |
| Daily Express | 392,526 | 0.23 | -3.96 | |
| The Sunday Telegraph | 359,400 | 0.03 | 1.23 | 30,215 |
| Sunday Express | 335,772 | 0.15 | -9.17 | |
| i | 266,768 | 1.02 | -1.87 | 56,284 |
| Daily Star – Sunday | 256,801 | -0.38 | -14.16 | |
| Sunday People | 240,846 | 0.62 | -13.93 | 7,000 |
| Financial Times | 188,924 | -2.22 | -4.7 | 20,802 |
| The Observer | 185,752 | 1.98 | 1.39 | |
| Sunday Mail | 168,164 | -2.52 | -13.84 | |
| The Guardian | 156,756 | -2.69 | -4.51 | |
| Daily Record | 155,772 | -2.98 | -11.94 | |
| Sunday Post | 143,169 | 0.21 | -12.19 | |
| City AM (free) | 90,319 | -0.65 | -7.14 | |
Email pged@pressgazette.co.uk to point out mistakes, provide story tips or send in a letter for publication on our "Letters Page" blog