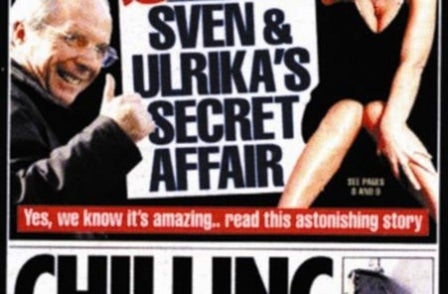 MPs attempted to widen the scope of News of the World phone-hacking scandal yesterday by questioning journalistic practices at rival national newspapers.
The Daily Mirror was again accused of using phone hacking to land its 2002 award-winning scoop on Sven Goran Eriksson's affair with Ulrika Jonsson, while Labour MP Chris Bryant claimed the NoW was 'not the only magician practising the dark arts'on Fleet Street.
Speaking at a Parliamentary debate on phone-hacking yesterday , Lib Deb MP Adrian Sanders claimed 'the Daily Mirror, when under the auspices of Piers Morgan, is suspected of using voicemail interception to reveal Sven-Goran Eriksson's affair with Ulrika Jonsson".
Sanders did not reply when asked by Press Gazette whether he had evidence to support the claim.
Responding to the allegation today, a spokesman for the newspaper's publisher Trinity Mirror said: 'Trinity Mirror's position is clear. Our journalists work within the criminal law and the PCC code of conduct."
Several other MPs cited the Information Commissioner's 2006 report on data theft 'What price privacy now?', which was written after the Operation Motorman investigation into private investigator Steve Whittamore.
After raiding Whittamore's home police seized a cache of handwritten records documenting thousands of requests – both legal and illegal – for information from journalists.
They revealed thousands of offences under section 55 of the Data Protection Act had been committed, following requests from 305 named journalists working for a range of Fleet Street newspapers and national magazines.
The subsequent report found that among the 'ultimate buyers'for information were 'journalists looking for a story".
No journalist or newspaper was ever prosecuted.
Speaking in the Commons, Bryant said: 'In 2006, the Information Commissioner produced a devastating report, 'What price privacy now?', which detailed literally hundreds–in fact, thousands–of dubious or criminal acts by journalists or agents of national newspapers: illegally obtaining driving licence details, illegal criminal records or vehicle registration searches, telephone reverse traces and mobile telephone conversions.
'He [the Information Commissioner] listed 1,218 instances at the Daily Mail and The Mail on Sunday alone, 802 at The [Sunday] People and–I say sadly as a Labour Member–681 at the Daily Mirror.'
The report also revealed that 19 NoW journalists had made 182 requests for information, but it was not only limited to tabloids – The Observer made 103 requests and The Sunday Times made 52.
Tory MP MP Nicholas Soames claimed it was 'shameful that the Government of the day did not take action when that report was published".
MP Paul Farrely added: 'Following the latest revelations there has been much talk of a 'tipping point' for the press, but we have been at tipping points many times before – for example, with the McCann family – and nothing has changed.
'Above all, for the better of decent journalism in this country, all newspaper proprietors, not just Rupert Murdoch, must look themselves in the mirror and ask, 'Do I like what I see?' and, 'Do I care to change it?'"
Email pged@pressgazette.co.uk to point out mistakes, provide story tips or send in a letter for publication on our "Letters Page" blog