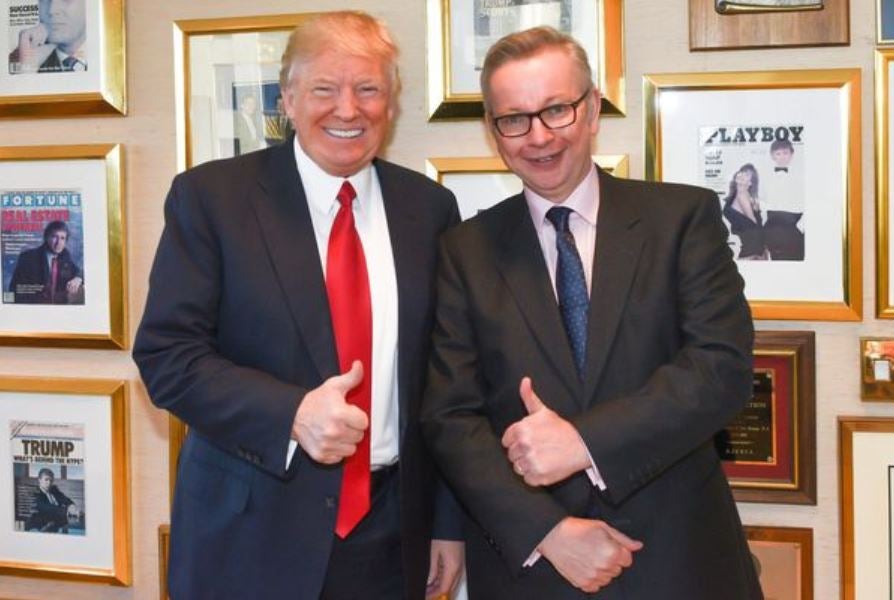 Michael Gove has defending his interviewing tactics and refusal to challenge Donald Trump more forthrightly in an interview for The Times.
He also revealed that the paper secured the exclusive interview after approaching Trump jointly with German daily Bild.
Asked on the BBC Daily Politics why he did not challenge Trump about various outrageous campaign statements and policy u-turns former cabinet minister Gove said: "We were there for the best part of an hour, we had the opportunity to ask questions on a range of issues.
"When you are talking to someone like Donald Trump you can try to, if you want to,  argue with him but he is like a river in spate, the flow of language just comes at a torrent."
Asked where were the difficult questions on his links to Russian president Vladimir Putin, he said: "We asked if he would stand by what he said on NATO, he did shift his position, we did ask him about everything from the Iran deal to whether he was going to fulfil his campaign promise to on barring all Muslims…
"It was important for me and my colleague from Bild to cover a wide range of topics and then allow Times and Bild readers to form their own judgement…
"We managed to generate from him compelling news on a variety of issues, including a commitment to a rapid trade deal with Theresa May…
"My role in the interview was to make sure he can speak for himself and then people can make their own judgements…
"There's a difference between being a reporter  who allows a politician to speak for themselves and an individual who can form a judgement about what they say."
Asked whether it was professional of him to pose for a thumbs-up picture with Trump at the end of the interview, he said: "People will have their own views about that picture.
"I think I've got a smile on my face and so has he. So if it provokes a smile of anyone reading the newspapers then we are entertaining as well as informing.
"If people think it was shoddy journalism then I can only apologise. I am still a relative newcomer to the trade. I will hope to do better with my next story."
Writing in The Guardian Jonathan Freedland said: "Above all, the Gove/Trump encounter provides a useful glimpse into what the future of direct media accountability of the US president will look like.
"You can see why Trump Tower granted the former minister his hour. It's the same reason Trump gives regular access to Sean Hannity of Fox News. He would prefer to be questioned only by those who are ideological sympathisers.
"Gove provided regular reassurance of that, seeing no reason to challenge Trump on anything."
Picture: Credit The Times/ News Syndication
Email pged@pressgazette.co.uk to point out mistakes, provide story tips or send in a letter for publication on our "Letters Page" blog