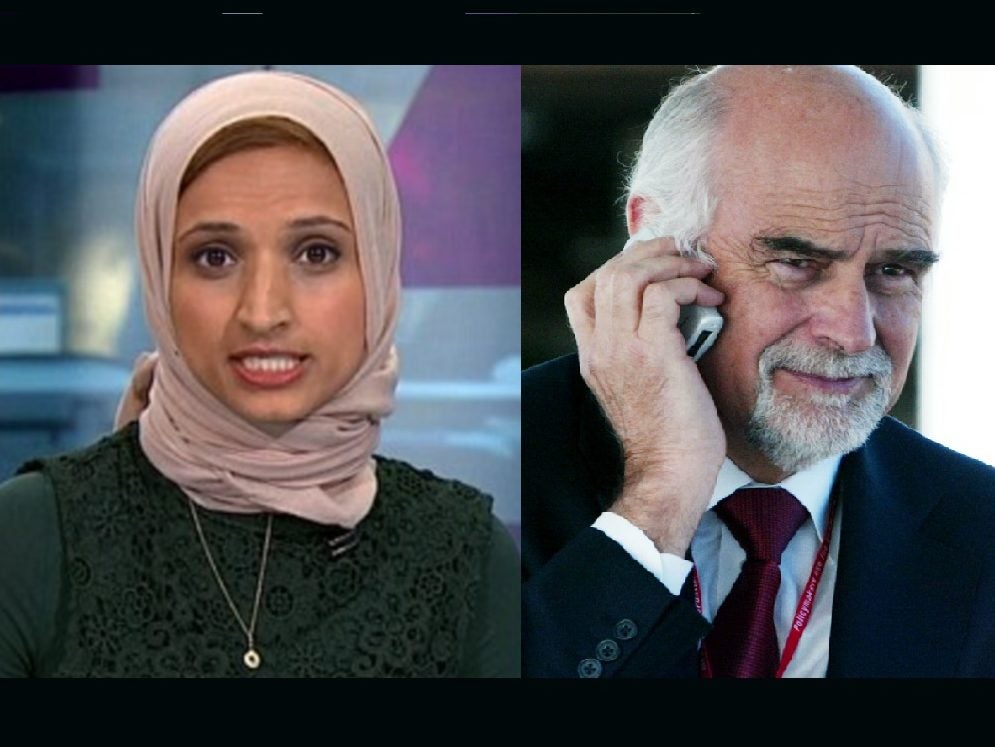 The board of press regulator IPSO has issue a public rebuke to one of its members – Sun columnist Trevor Kavanagh – over a comment piece about Channel 4 newsreader Fatima Manji which was seen as undermining its work.
The regulator  has also, separately, upheld a complaint against Kavanagh over a factual error.
Kavanagh has apologised to the IPSO board for an article which criticised Manji at a time when she was pursuing a complaint against his paper.
The two complaints were made against Kavanagh by Miqdaad Versis of the Muslim Council.
The first was over an article from 24 October headlined: "We're kind, Gary, but we hate being conned".
The comment piece discussed concerns that refugees at a migrant camp in Calais were lying about their age to enter the UK.
It was written in response to comments made by former footballer Gary Lineker on Twitter in which he appeared to condemn media coverage of migrants.
Lineker said: "The treatment by some towards these young refugees is hideously racist and utterly heartless. What's happening to our country?"
Kavanagh wrote that Home Office figures had shown that "two out of three of those elbowing their way to the front of the queue are lying about their age".
Versi said that out of 3,472 asylum claims received, 933 individuals had their ages checked, and 636 were found to be adults, which represented 18.3 per cent of the total.
He noted that a correction had been published in print, but was concerned that it had not been published online and the article had not been amended.
After the matter was raised with IPSO The Sun changed the article and published a correction online.
IPSO said the error had given a "a significantly misleading impression of the number of asylum seekers who had incorrectly said they were children in order to gain refuge".
IPSO's Complaints Committee upheld the complaint, and has required The Sun to publish this adjudication online.
Versi made a second complaint over an article published alongside the Lineker piece about Fatima Manji, who had complained to IPSO over a Sun article questioning her wearinig the hijab on screen.
Kavanagh said "nobody seeing [Ms Manji] in full Muslim headdress could doubt it was provocative of Channel 4", and he added that Manji had "singled herself out by dressing as she did".
Versi said the article gave the misleading impression that Channel 4 had chosen Ms Manji to present the news on the day in question in order to be "provocative". In fact, she had been rostered to do so ten days before the attack in Nice.
The IPSO committee rejected the complaint because it said the relevant statement was opinion and not fact.
It also noted that the IPSO board, which Kavanagh sits on, has no role considering individual complaints.
The IPSO board has issued its own statement slapping Kavanagh down.
It said: "IPSO is committed to ensuring that individuals who believe that they have been wronged by the press are able to seek proper redress without fear of retribution or victimisation.
"In this instance, public comments by an IPSO board member brought the strength of this commitment into question. This should not have happened.
"The board has received an apology from the board member and an assurance that it will not happen again."
Campaign group Hacked Off called for Kavanagh to be sacked from the IPSO board.
Joint executive director Evan Harris said: "The public will never consider IPSO acceptable as a regulator until it is recognised as independent and effective by the independent audit body, but it will not even be remotely credible while it has Trevor Kavanagh on its board.  It's like putting Dracula in charge of investigating thefts from a blood bank."
He added: "The fact that he has apologised, in secret terms, to IPSO and not to Fatima Manji  shows that neither he nor IPSO have the first clue who the victim is here. The statement from IPSO did not dare even mention Kavanagh by name.
"No normal regulator would fail twice to look into an allegation of victimisation of a complainant as IPSO have done in their ruling on Ms Manji today, and no other regulator would tolerate a sitting director doing this."
Email pged@pressgazette.co.uk to point out mistakes, provide story tips or send in a letter for publication on our "Letters Page" blog