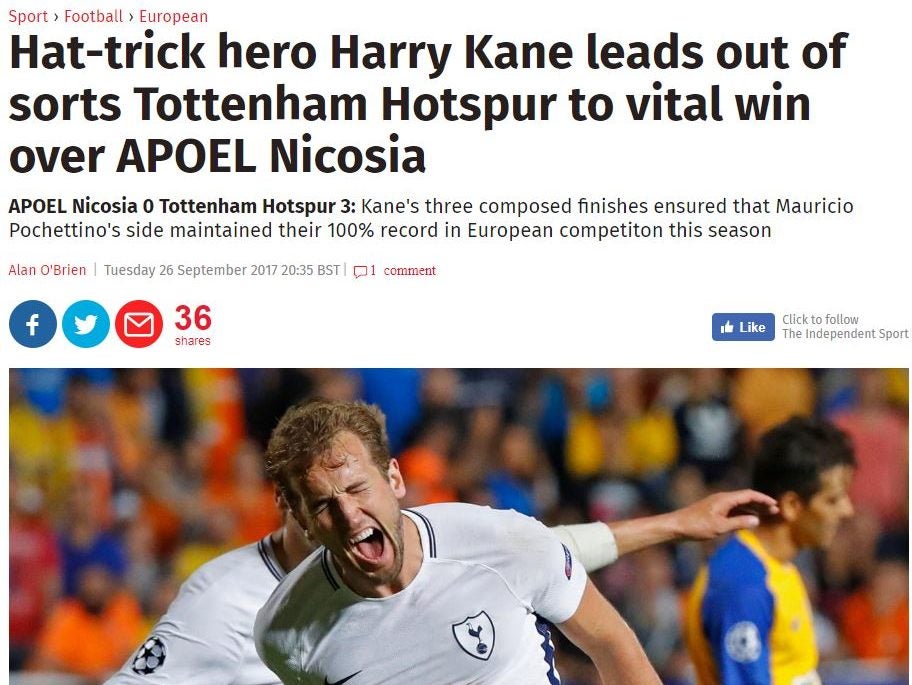 A sports writer byline that appeared on a football match report for The Independent website, but seemingly does not belong to an actual journalist, has been confirmed as a so-called "cod byline".
The practice is common among UK journalists who are shifting on a newspaper but don't want their current employers – perhaps a rival title – to know about it.
It involves the journalist either adopting a made-up name or taking a house byline, one which is put up by the newspaper itself and regularly used as a substitute to protect the writer's identity.
The report (pictured top) on Tottenham Hotspur's win over APOEL Nicosia in Cyprus was published on The Independent website on 26 September with the byline: Alan O'Brien.
It was also published in the i newspaper, which still retains a content-sharing deal with its former owners at the Independent despite having been bought by Johnston Press last year.
At first it was claimed O'Brien had filed the story from Cyprus, having attended the match, although this byline locator information was later removed online.
The byline raised eyebrows at Buzzfeed after it was contacted by a source who said O'Brien did not exist and had not been in Cyprus. Three other sports writers also confirmed to Buzzfeed they did not know an Alan O'Brien.
Press Gazette has since spoken with the Independent which confirmed the Alan O'Brien byline was being used by a freelance shifter as a cod byline.
They said: "Cod bylines have long been widely used in sports sections of newspapers.
"As it happens, The Independent stopped using them some years ago – except where there is an overriding journalistic imperative, to protect the identity of a whistleblower who has written for us, for instance, or to protect sources.
"However, the Alan O'Brian byline was subsequently deployed by staff unaware of the earlier decision."
The claim that the reporter had filed the story on location was the result of a production error and was unrelated to the use of a cod byline, Press Gazette understands.
Plans to have someone writing for The Independent from the game fell through, but a template with the location included in the byline that had been created earlier was not updated, it is understood.
Johnston Press said the mach report had been "syndicated" to it with the byline and location and was published "in good faith" in the i newspaper.
A spokesperson said: "We require all our partner agencies to uphold the highest professional standards and editorial integrity when they supply us with syndicated copy. We and our readers demand it.
"Any inaccuracy in copy is an extremely serious matter and unacceptable. We are investigating today's report further before taking the next steps."
Email pged@pressgazette.co.uk to point out mistakes, provide story tips or send in a letter for publication on our "Letters Page" blog