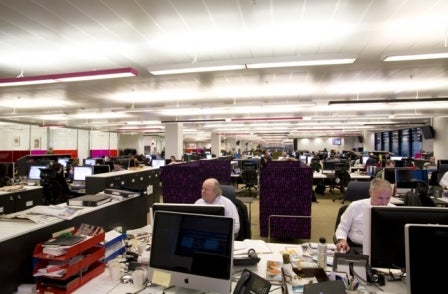 Guardian News and Media is planning to launch a paid-for membership scheme in the autumn as it seeks to further beef up its digital revenues.
Yesterday, the title announced digital revenue was up 24 per cent year on year to £69.5m, and turnover was up £14m to £210m.
Investment in launching the membership scheme, and in launching Guardian Australia, were both listed among £11m of one-off costs which left GNM with total losses for the year to March 30 of £30.4m.
Guardian Media Group warned in its annual report yesterday that the "accelerating rate of migration from print to online, and from desktop browser to mobile consumption of news" will hit both print and digital revenue.
To mitigate this it has invested in a "transformation programme to develop its portfolio of digital products and its international reach".
Chief executive Andrew Miller told Press Gazette: "The change that we can see coming over the horizon is, if anything, faster than it has been before in the mobile space and in the social space and the speed of consumption is rapidly changing into digital."
Miller declined to be drawn on the specifics of the membership scheme, which he said are still be worked out. It is unclear whether some form of premium editorial content will be part of the package. While most Guardian content is currently free online, the paper does charge for its digital editions and for some of its apps.
Miller said that the idea was to "provide a reward for the most loyal readers".
"In the UK that means investing in a physical space that Guardian members can get to and hold events. Outside the UK it is the ability to pay for added value."
Asked for more detail on where the extra £14m in digital revenue has come from, Miller said: "Very strong growth in digital display revenue, also Guardian Labs and strong growth in recruitment market…"
He said that online display advertising for The Guardian has grown because it sells on "audience rather than platform" and because GNM has held on to an experienced sales team".
He said that advertisers were interested in accessing The Guardian's audience because it is "progressive, intellectually curious, affluent and engaged in the world".
The sale of Trader Media Group earlier this year has left Guardian Media Group with a piggy bank of £842.7m with which to subsidise future Guardian losses and invest.
Asked what level of Guardian losses would be sustainable, Miller (pictured above) said: "We've got an operating loss level of £20m. If we can sustain our level of losses at this level we'll be fine."
But he said that pressure on the bottom line will remain because of the continuing decline of print and the move of readers from desktop to mobile (it is harder to display advertising on mobile phones).
The Guardian's investment fund is being handled by Cambridge Associates with a target of delivering £40m a year of income (a 5 per cent return).
The annual report says the money will be invested in a mixture of "global and emerging market equity, fixed income, real assets and hedge funds". But Miller said Cambridge has been given "strict parameters" on what it can and can't invest in.
The Guardian's branded content division Guardian Labs launched in February.
Employing more than 130 staff, Guardian Labs offers advertisers "new ways to tell their stories". This has included a seven-figure deal with Unilever to provide editorial content about sustainability.
GMG chairman Neil Berkett said in yesterday's annual report that The Guardian will "explore more and more" ways to "co-operate with advertisers and sponsors".
There were more hints about the future plans for the business from deputy chief executive of GMG David Pemsel: "This is the time for a brand like ours to be really understood…
"We have this most formidable trusted unique brand, we've managed to develop a new proposition in Guardian Labs. Our audience sees us a global company…The idea of trying to have a much deeper immersive loyal relationship with our readers through membership is a massive component to the strategy because ad revenue will get us so far but managing to turn that into some meaningful deep relationship through membership is absolutely critical.
"We are scratching the surface. I don't think we have begun to think about the far-reaching consequences of us in India or other parts of the world because it's all there for the taking."
Email pged@pressgazette.co.uk to point out mistakes, provide story tips or send in a letter for publication on our "Letters Page" blog