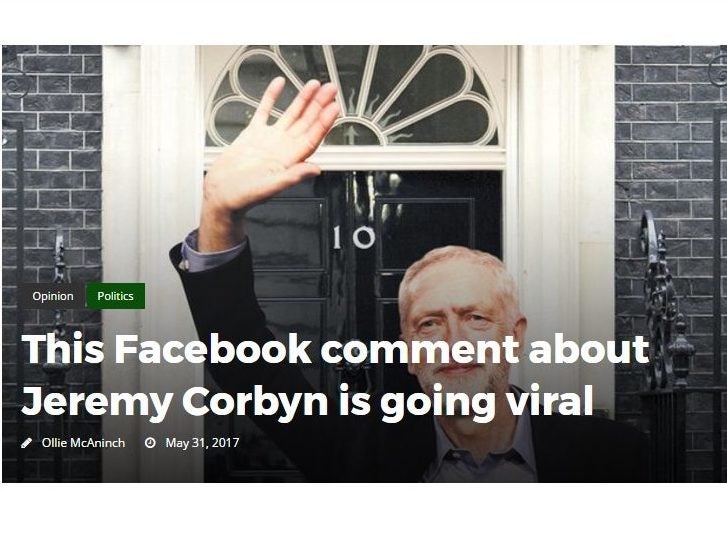 Final figures for the most-shared stories on social media during the general election campaign show that anti-Tory articles dominated.
Although satirical stories feature, there are no fake news stories in the most-shared list – suggesting this was not a factor in the election.
The findings suggest that social media (mainly Facebook) acted as a counterbalance to printed newspapers.
Market-leading dailies The Sun, Daily Mail and Daily Telegraph were all staunchly pro Conservative throughout the campaign (as was the Daily Express).
Press Gazette searched the Buzzsumo database using the words "general election" for the top 100 most-shared stories from 18 April to 8 June.
According to our judgement, 45 were anti-Tory/pro-Labour, 46 were neutral (including all poll results stories) and five were pro-Tory. The remaining four were judged to be not relevant.
Left-leaning titles The Independent, Mirror, Guardian and HuffPo published 52 of the top 100 most shared articles.
Left-wing websites offering an alternative slant on the news – The Canary, Skwakbox and The London Economic – have six articles in the top 100 most-shared list.
The Canary claimed more viral stories in the top 100 than the Daily Mail, Telegraph and Express. It featured four times, while they appeared just once each.
The Canary's most-shared article on the general election was headlined: "NHS workers have spoken. The general election is our only chance of saving the health service [TWEETS]." It had a total of 63,500 shares.
There are no pro-Conservative stories in the top 20 most-shared list, according to Buzzsumo's data.
The figures relate to the most shared stories across five social media platforms: Facebook, Twitter, LinkedIn, Google+ and Pinterest.
The most-shared story of the election campaign remains that of populist alternative news website The London Economic, headlined: "This Facebook comment about Jeremy Corbyn is going viral."
It repeats a Facebook comment by Chris Renwick which pours scorn on the portrayal of Jeremy Corbyn by "the media arm of the establishment" and had a total of 142,600 shares.
The Independent appears 21 times within the top 100 – the most of any news organisation – the Guardian 17 times and the BBC 14 times. The Standard, Express, Telegraph and Daily Mail appear just once each.
The Sun does not feature at all in the top-100 list and The Times features once (at 100).
Satirical news stories appear four times in the top 100, of which two place in the top 10 with nearly 100,000 combined shares.
Top 20 most shared articles relating to "general election" on social media spanning 18 April to 8 June (source: Buzzsumo):
| | | | | | | |
| --- | --- | --- | --- | --- | --- | --- |
| # | Headline | Publication | Date | Facebook shares | Twitter shares | Total shares on social media |
| 1 | This Facebook comment about Jeremy Corbyn is going viral | thelondoneconomic.com | May 31, 2017 | 136,800 | 5,600 | 142,600 |
| 2 | Green Party pulls out of crucial general election seat to help Labour beat Tories | independent.co.uk | Apr 25, 2017 | 75,600 | 802 | 76,400 |
| 3 | Stop the Tories – Infogram, charts & infographics | infogr.am | Apr 18, 2017 | 68,900 | 413 | 69,300 |
| 4 | If ever there was a time to vote Labour, it is now | theguardian.com | Apr 25, 2017 | 63,500 | 4,500 | 68,200 |
| 5 | Labour will scrap university tuition fees if they win general election | independent.co.uk | May 10, 2017 | 53,600 | 12,800 | 66,500 |
| 6 | NHS workers have spoken. The general election is our only chance of saving the health service [TWEETS] | thecanary.co | Apr 24, 2017 | 61,900 | 1,600 | 63,500 |
| 7 | EU leader: UK would be welcomed back if voters overturn Brexit | theguardian.com | Apr 20, 2017 | 52,100 | 6,800 | 59,400 |
| 8 | Can't be bothered to vote? If you're young, you simply can't afford not to | theguardian.com | Apr 30, 2017 | 52,000 | 3,700 | 55,800 |
| 9 | UK hasn't done enough to tackle terrorism, says woman whose job it was to tackle terrorism | newsthump.com | Jun 5, 2017 | 48,800 | 1,800 | 50,700 |
| 10 | Diane Abbott to replace Rachel Riley on Countdown | southendnewsnetwork.com | Jun 6, 2017 | 48,800 | 143 | 48,900 |
| 11 | Labour slashes Tory lead to just five points in latest poll taken this week | independent.co.uk | May 25, 2017 | 43,600 | 1,900 | 45,500 |
| 12 | Election poll shows Labour is ahead in the UK general election | wired.co.uk | Jun 7, 2017 | 42,300 | 2,900 | 45,300 |
| 13 | Labour and Lib Dems reject Greens' call for electoral pact against Tories | theguardian.com | Apr 19, 2017 | 41,900 | 3,100 | 45,100 |
| 14 | Young people, here's what no one is telling you about the general election: you could swing it | independent.co.uk | May 12, 2017 | 41,800 | 1,700 | 43,600 |
| 15 | General election 2017: Campaigning continues | bbc.co.uk | Apr 18, 2017 | 20,600 | 22,300 | 43,500 |
| 16 | Professor Stephen Hawking backs Labour in general election because Tories would be a 'disaster for NHS and police' | mirror.co.uk | Jun 5, 2017 | 33,700 | 9,400 | 43,100 |
| 17 | Why should I not vote Conservative? 29 nasty policies you shouldn't forget in the 2017 general election | mirror.co.uk | Apr 28, 2017 | 38,700 | 3,500 | 42,200 |
| 18 | Theresa May to seek general election on 8 June | bbc.co.uk | Apr 18, 2017 | 31,200 | 9,000 | 41,700 |
| 19 | General election 2017: Two million apply to register to vote | bbc.co.uk | May 20, 2017 | 36,700 | 4,800 | 41,600 |
| 20 | Dennis Skinner: Theresa May called an election because of Tory fraud investigation | inews.co.uk | Apr 20, 2017 | 38,100 | 1,600 | 39,600 |
Email pged@pressgazette.co.uk to point out mistakes, provide story tips or send in a letter for publication on our "Letters Page" blog