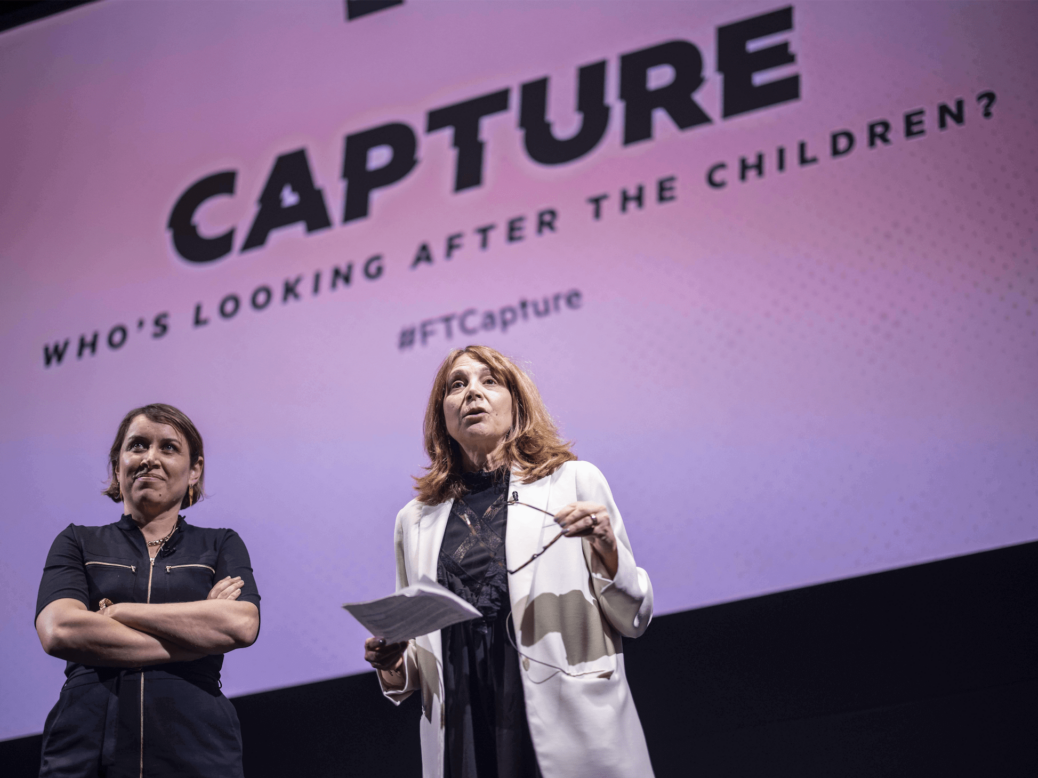 On stage at BAFTA last week, Financial Times editor Roula Khalaf acknowledged to the audience that, for a business newspaper, "it's a rather unusual thing to have produced a drama".
Khalaf was there for the release of Capture, a 15-minute work of fiction about children's safety online. Distinct from the dry markets reporting often associated with the FT, Capture is a compact, quippy thriller featuring Doctor Who star Jodie Whittaker and Motherland actor Paul Ready.
The FT is enjoying commercial success: in its most recent accounts it recorded a pre-tax profit in the UK of £4.3m on revenue of £370m, and its circulation decline is currently among the slowest of the UK's national newspapers. Its global revenue, according to unaudited figures, was £438m in 2021, with profit of £30.7m.
But how does a free-to-stream short film factor into that strategy?
The FT's head of new formats, Juliet Riddell, directed Capture. She told Press Gazette: "When they hired me, they were looking for someone to come along and bring some fresh ideas about how to create video content for the FT."
Riddell's background is in television documentaries and factual and arts programmes: earlier in her career she worked on two Grayson Perry television series and created a dating show format for Channel 4. She has been at the FT for five years, but previously made documentaries for The Guardian.
Riddell said: "I found that I actually really loved working at a newspaper because you could turn things around that much quicker and you had a much more direct relationship with your audience…
"When you work in a newspaper, you are both your own commissioner as well as the producer, which is quite enticing as a filmmaker."
[Read more: Youtube for publishers – The Sun and The Guardian explain how to succeed on video platform]
One of Riddell's projects at the FT has been "FT Standpoint", a series of genre-spanning documentaries produced by pairing the paper's journalists with artists. Capture's writer, playwright Nina Segal, said after the screening that her research process had involved speaking with FT reporters and tech workers.
Besides Capture, Standpoint films have included "People You May Know", a BAFTA-nominated film about privacy starring It's A Sin actress Lydia West, and "Antibiotic resistance: a matter of time", which explores "the next global health crisis" through a filmed sequence of projections.
The FT's films are free to view, making them a "unique tool" for the newspaper, Riddell said. "So I think that they are considered to be a good opportunity to challenge perceptions of what people think of the FT as a newspaper and as a brand. So in that sense, it's a sort of showcase opportunity for high-quality work."
The New York Times – another paywalled, financially healthy newspaper – gave a similar explanation to Press Gazette last year when asked why its opinion documentaries were free to view.
Adam B Ellick, who leads the NYT's Op-Docs effort, said the paper was "putting stuff out there as a touchpoint for people who might not know that the Times is making stuff it didn't make ten years ago or 15 years ago, and it looks different, and it feels different and it talks to you differently".
[Read more: Oscars, CGI and Jonathan Pie – Inside The New York Times' award-winning Opinion Video department]
In line with that thinking, last week's screening of Capture was prefaced with a promotional video, released the same day, presenting a fresh vision of the FT as a paper "breaking out of the business niche into fresh journalistic territories".
But Riddell said the FT's investment in documentaries had an editorial logic, as well as a commercial one.
She compared working with artists on the documentaries to the way the opinion desk would commission an external writer to explore a topic.
"They are opportunities to take those bigger, broader themes that sometimes it's harder for newspapers to look at – the macro sort of shifts in society," she said.
Those stories, she continued, are "journalistically important, but sometimes it's quite hard to do such a big piece about something as broad as online regulation.
"I think that these films are opportunities to look at those bigger, more complex subjects in a unique way, which is sometimes harder to access in a single print piece."
Email pged@pressgazette.co.uk to point out mistakes, provide story tips or send in a letter for publication on our "Letters Page" blog