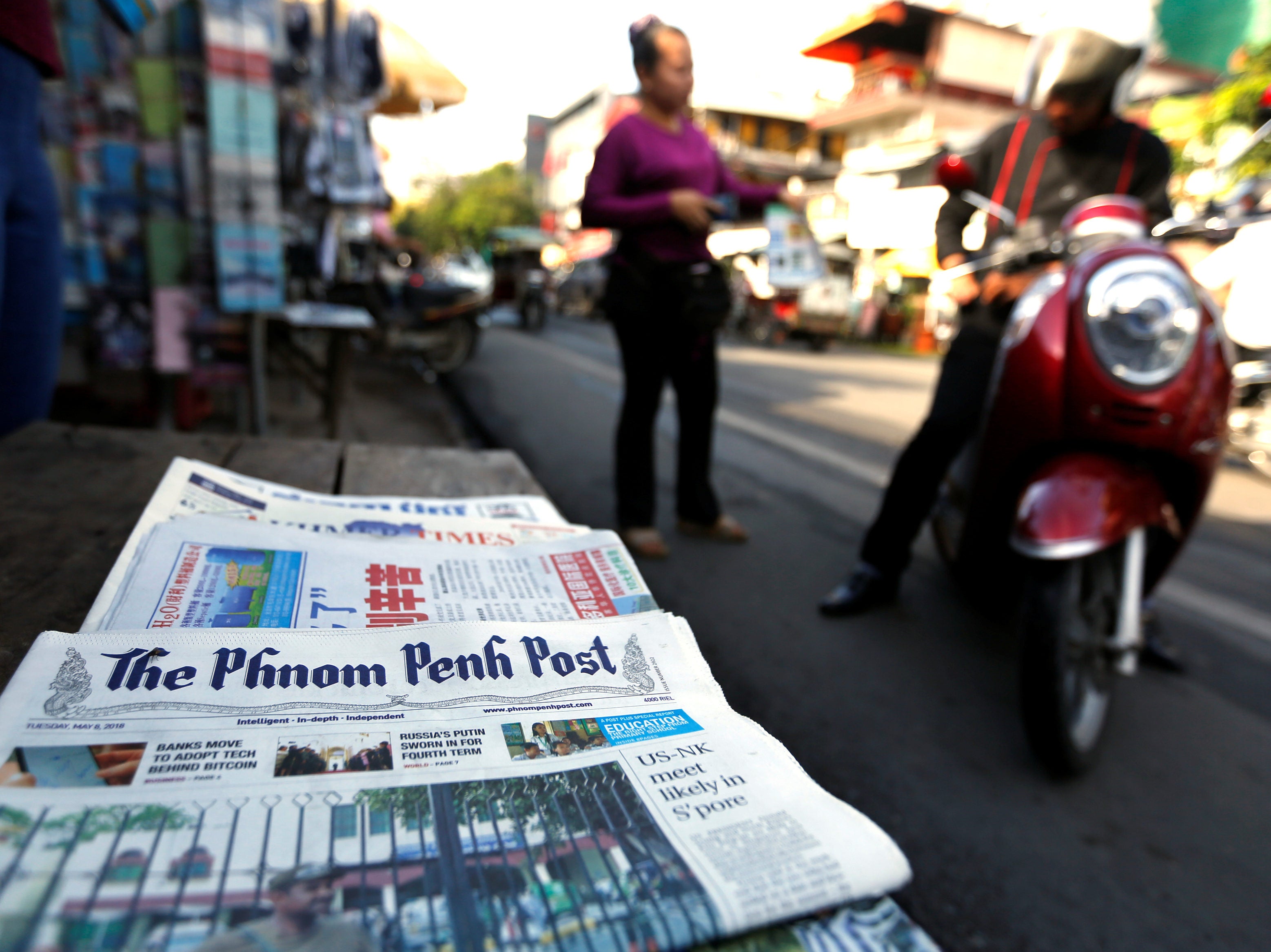 The acquisition of the Phnom Penh Post by a Malaysian businessman made the newsroom "apprehensive" and "concerned" according to one of the paper's former journalists, Erin Handley.
"There were fears for years that we'd be sold to someone politically well-connected to neutralise us, and we weren't sure if the recent sale was an attempt to do that," she said.
Handley was a sub-editor at Cambodian daily paper, the Phnom Penh Post, before its sale to Asia PR-owner Sivakumar Ganapathy and was one of 13 members of staff that left the paper following the dismissal of the its editor-in-chief, Kay Kimsong.
Kimsong was fired after refusing a request by Ganapathy to remove a "damaging article" that revealed the businessman's links to Cambodian Prime Minister Hun Sen and a pro-government newspaper from the 1990s.
Following Ganapathy's demands, the Post's managing editor, business editor and web editor all resigned, as well as the senior journalists who worked on the piece.
Eight foreign news reporters and the chief executive resigned the following day.
Although Handley has seen her former colleagues at the Post write "critical and crucial news pieces" since last week's events she said: "The real test of the Post's independence will be revealed in the long term.
"I do fear the Post will lose that fearlessly independent streak that led to award-winning investigations, but with the passionate Khmer reporters still there, that gives me a shred of hope."
Ganapathy has promised to "uphold the paper's 25-year-old legacy and editorial principles/independence".
However, Hanley said: "Ganapathy's demand to remove an article and fire staff set a dangerous precedent for censorship and undermined the paper's editorial independence.
"There was a creeping dread as we learned more about our new owner and his company's prior connections with Cambodian Prime Minister Hun Sen."
She added: "What happened at the Post comes amid a much broader political and media crackdown ahead of the elections."
The Cambodian election is set for 29 July where Sen will look to extend his 33 years in office, which have made him one of the longest serving Prime Ministers in the world.
Although she cannot say if the Post's sale to Ganapathy was connected to the upcoming Cambodian elections, Handley does note that "others have observed that the timing is suspicious".
Handley said: "The sale included the disappearance of a large tax bill ($3.9m) that was looming over us. Some have questioned whether the tax bill was used to leverage a sale at a crucial time."
Handley added: "The main opposition leader has been jailed for treason and his party forcibly dissolved; opposition party supporters fled in droves to Thailand; people are getting arrested for criticising Prime Minister Hun Sen on Facebook.
"Three journalists have been jailed on national security charges that are widely believed to be trumped up; we've had more than two dozen radio frequencies shuttered and the Cambodia Daily was forced to close after it was slapped with an exorbitant tax bill."
Cambodia fell ten places in the latest World Press Freedom Index for 2018, compiled by Reporters Without Borders, ranked 142 out of 180 countries.
"Frankly I'm surprised it didn't slide more," said Handley. "The current state of press freedom in Cambodia is dire."
Handley had moved to Cambodia from Australia to work on the Post in 2016 after first visiting the country in 2015 as part of a journalism development fellowship.
She said: "The Post had a good reputation as a paper and it was a dream of mine to work there. The kind of stories I was able to write were a lot more challenging and interesting than back home in Australia."
However she said her opinions of the paper changed following sale of the Post to Ganapathy and the firing of editor-in-chief Kimsong.
Photograph: Reuters/Samrang Pring
Email pged@pressgazette.co.uk to point out mistakes, provide story tips or send in a letter for publication on our "Letters Page" blog