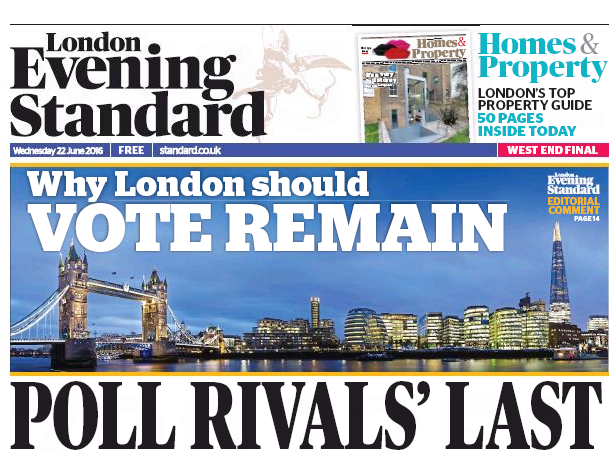 The Evening Standard today became the latest newspaper to declare on the EU referendum, urging its readers to vote Remain on the front page.
In a leader column which accepted the many failings of the EU, the Standard said: "London has been transformed by our decades of EU membership into becoming the very heart of Europe, rather than Berlin, Paris or Brussels. The capital has led the way for business, for culture, for change and development as a social model  for all of Europe. If we vote Leave we will be impoverishing ourselves not only economically but in our global standing, in our very history."
The weight of the British press has backed leaving the EU, with the top-selling papers in each section of the national newspaper market leading the pro-Brexit charge (The Sun, Daily Mail and Daily Telegraph).
When circulations figures are taken into account, the UK national newspaper market (including the Standard)  favours leaving the EU.
The following chart is based on adding up the total circulation of newspapers endorsing Remain, Leave and neither. Note: It gives equal weight to Sunday newspapers.
National press EU referendum endorsements at a glance (plus the Standard):
| | | |
| --- | --- | --- |
| Stance | Title | Avg Circulation |
| Leave | Daily Express | 419328 |
| Leave | Daily Mail | 1545473 |
| Leave | Sunday Express | 365071 |
| Leave | The Daily Telegraph | 498474 |
| Leave | The Sun | 1716361 |
| Leave | The Sun on Sunday | 1413493 |
| Leave | The Sunday Telegraph | 370579 |
| Leave | The Sunday Times | 797280 |
| Undeclared | Daily Star | 513233 |
| Undeclared | Daily Star – Sunday | 316224 |
| Undeclared | i | 284434 |
| Undeclared | Metro | 1347594 |
| Undeclared | Sunday People | 272019 |
| Remain | Daily Mirror | 785717 |
| Remain | London Evening Standard | 900175 |
| Remain | Sunday Mirror | 709495 |
| Remain | The Mail on Sunday | 1374864 |
| Remain | The Observer | 194054 |
| Remain | The Times | 436692 |
| Remain | The Guardian | 169424 |
| Remain | Financial Times (UK edition) | 63,178 |
| Remain | Daily Record | 172699 |
| Remain | Sunday Mail | 187636 |
Email pged@pressgazette.co.uk to point out mistakes, provide story tips or send in a letter for publication on our "Letters Page" blog