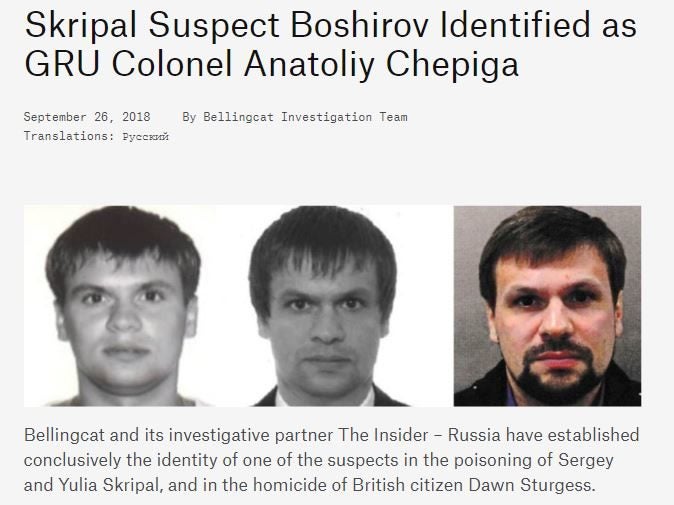 There was no partnership agreement between Bellingcat and the Telegraph over the scoop appearing to reveal the true identity of one of the suspected Novichok assassins, according to Bellingcat's boss.
Both titles shared the story on Twitter at about 5pm on Wednesday, linking to separate articles, providing evidence that one of two suspects in the Salisbury chemical attack earlier this year is a decorated Russian colonel.
The man, who appeared on RT (formerly Russia Today) claiming to be a tourist named Ruslan Boshirov who works in the fitness industry, is actually Col Anatoliy Chepiga, Bellingcat has reported.
In its version of the story, the Telegraph said it had been a "disclosure, uncovered by investigative journalist organisation Bellingcat in conjunction with the Telegraph…".
One of its reporters also trailed the scoop ahead of publication, tweeting that people should "watch the Telegraph website at 5pm for a major breaking new story".
Bellingcat made no mention of the Telegraph in its story.
The independent investigative website's founder and editor, Eliot Higgins, told Press Gazette: "I'm a bit unclear on what the Telegraph is doing… seeing [as] we didn't make any agreements with them."
He added that he "can only imagine it's a terrible misunderstanding".
Higgins said Bellingcat does share advanced drafts of its reports with select media partners, under embargo.
"This is done so they can do their own preparatory work ahead of our publication, and possibly add on context or other details," he said.
"This in no way implies that the report itself is conducted in partnership with such media. The only investigative partners on this report were Bellingcat, as a lead investigator, and its junior partner The Insider.
"We hope that Telegraph's statement is the result of a misunderstanding."
The Telegraph has so far declined to comment.
In its piece, Bellingcat detailed its research in bringing the story together, after starting with only photographs of the two suspects and their cover identities.
The suspected Novichok hitmen face arrest on allegations of conspiracy to commit murder if they leave Russia, which does not extradite its own citizens. Both men have been identified as Russian military spies by Downing Street.
They are suspected to have targeted former Russian spy Sergei Skripal in an assassination attempt signed off by the Russian state. Skripal's daughter, Yulia, was also poisoned by the Novichok nerve agent used in the attack, although both survived.
Briton Dawn Sturgess was killed when she was exposed to the toxic nerve agent after her partner Charlie Rowley found the container – a modified perfume bottle – that the men had allegedly used to transport it in and gave it to her. Rowley was also hospitalised but survived.
RT has broadcast an interview with both Russian suspects in which they protested their innocence.
Broadcast regulator Ofcom said it has received two complaints about the interview, which a spokesperson said it is assessing before deciding whether to investigate further.
RT has reported the Bellingcat scoop. It added in its report: "The authenticity and veracity of the documents, which Bellingcat claimed it got from a Russian database, could not be immediately verified."
The Telegraph quoted Russian Foreign Ministry spokesperson Maria Zakharova as dismissing the new claims in a Facebook post.
She wrote: "There is no evidence, so they continue the information campaign, the main task of which is to divert attention from the main question: 'What happened in Salisbury?'
"The question is: when will there be any evidence of the involvement of anyone, as London tells us, of poisoning in Salisbury?"
Email pged@pressgazette.co.uk to point out mistakes, provide story tips or send in a letter for publication on our "Letters Page" blog