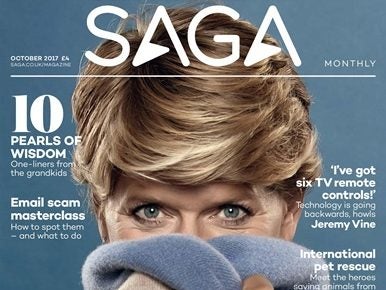 Saga Magazine has been forced to defend its journalistic practices after the author of its latest cover feature about the BBC's Clare Balding accused the editor of giving "copy control" to the TV star.
Well-known interviewer Ginny Dougary said in a Guardian comment piece that she had asked for her byline to be removed from the Saga Magazine article about Balding, marking a first in her 35-year journalism career.
She said it was a "direct consequence of the other first: the subject of my interview being given, without my prior knowledge, copy control and – in a breathtaking liberty – removing sections of my interview and replacing them with her own, self-promoting, words".
Dougray said Balding, who is promoting her new children's book, was an "insecure diva" and that she had stepped in as the magazine's cover star after Dawn French "dropped out at the last minute".
She said Saga's editor, Katy Bravery, had emailed her saying that Balding and her agent had complained "that there is way too much about her being gay in the interview" prior to publishing.
"This was very late in the day for the editor to come back to me: the piece was supposed to have gone off to the printers the previous week," she said.
"I phoned her to say that I was shocked that 'Clare and her agent' had been sent the piece for copy control, and Bravery's response was that it was more like 'copy approval', and I wondered about the difference."
Balding has since tweeted that she did "not have copy approval" over the article.
Heat Magazine's entertainment director, Boyd Hilton, also tweeted: "We've interviewed Clare Balding loads of times and she never asked for copy approval. Can't imagine she'd suddenly insist on it."
In a statement, Saga told Press Gazette: "Saga Magazine edited the interview with Clare with the full involvement of the writer, who suggested we add lines ourselves.
"It was the editor's view that the original article did not cover the wide range of issues that Clare holds dear. The writer is mistaken in thinking that copy approval was given. It was not.
"Saga Magazine does not offer copy control, and interviews that require it are declined. In this case, quotes were checked for accuracy alone. New quotes were sourced to rebalance the article against deadline.
"It is the editor's decision alone to edit an article that is not exactly right for the magazine and Saga Magazine does not defer that decision to PRs or interviewees."
Saga, a paid-for monthly lifestyle magazine for the over 50s, has an average monthly print circulation of nearly 286,000 (ABC figures to June this year).
Bravery, who has previously edited magazine's for the Daily Express and Sunday Mirror, became editor of Saga in 2008.
Email pged@pressgazette.co.uk to point out mistakes, provide story tips or send in a letter for publication on our "Letters Page" blog