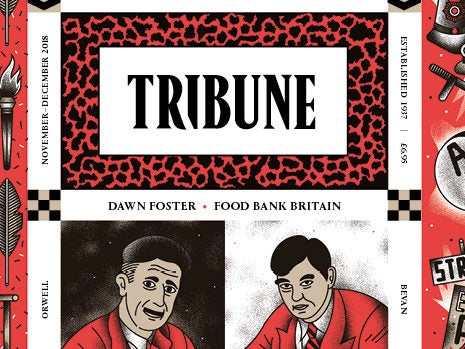 A US publisher has re-launched Britain's oldest democratic socialist publication,  Tribune.
Bhaskar Sunkara, the founder of US magazine Jacobin, introduced the relaunched edition of Tribune last week at The World Transformed, a conference hosted by pro-Jeremy Corbyn activist group Momentum.
The launch followed 18 months of "long negotiations", according to 28-year-old Tribune editor Ronan Burtenshaw.
Sunkara bought Tribune in May using profits from Jacobin, after Blackpool FC owner Owen Oyston filed for bankruptcy and was forced to stop publishing the title in January.
The title has changed hands a few times in the last decade, with former owner Kevin McGrath closing it down in 2011, only two years after he bought it from a consortium of trade unions including Unite.
Sunkara, 29, founded Jacobin magazine in 2011, while still a history student at George Washington University in Washington DC. He printed the first issue in his dorm room.
Since then, Jacobin has become a debating platform of the American left, although Sunkara said its reach in London "is often bigger than New York".
Burtenshaw, formerly Jacobin's Europe editor, says acquiring Tribune was a "big challenge" because Jacobin is "not by any stretch a wealthy organisation".
Tribune magazine dates back to the 1930s when it was founded by Labour Party MPs Sir Stafford Cripps and George Strauss. Previous editors and contributors include author George Orwell, Labour Party leader Michael Foot and the late MP Barbara Castle.
Burtenshaw says when it comes to reporting on Brexit, he wants the content to be "broad" because the "socialist left does not have one single position".
The relaunched edition of Tribune had around 1,500 subscribers prior to its launch last week.
Discussing how they differ from their competitors – the likes of Novara and the Morning Star – Sunkara says: "I would say Novara we really like, and I think what they focus on is what they do best – audio and video. They're young and irreverent and we consider them collaborators.
"The Tribune that I envision is rooted in the Labour left. It is in dialogue with trade unions, it's covering industrial coverage, it's providing longer-form analysis in a step removed from those industrial struggles but still covering strategy and those debates.
"Essentially the Morning Star will cover the beat and we'll do more analysis."
The Tribune will publish every two months, with an online subscription costing from £19.95.
Tribune has added leading left-wing columnists including Grace Blakeley, Dawn Foster and Owen Jones to its list of writers.
Dawn Foster, who also writes for the Guardian and Jacobin, says her work will be different across all three publications.
"Tribune gives you a lot more space," she says.
"When it comes to publishing a daily newspaper you've got to get a lot of news in, whereas with Tribune, because it's a bi-monthly magazine there is room for bigger stories that are less time-sensitive.
"That's where the wider personal stories come in, whereas if you put it in The Guardian obviously it will just get bumped for another news story and you've got tighter deadlines because it's a different type of publication."
Some on the left have criticised the magazine, which they believe is not in-keeping with the sceptic traditions of writers like Orwell, but Burtenshaw says: "We really believe in the Tribune tradition but it is varied.
"To some extent people have a point in what they're saying – that their vision of Tribune, the Tribune of the late 80s perhaps, or they'll read a part of Orwell's writing in his later career, and they say this is obviously not befitting.
"I think the more honest way of doing things is putting your politics up front."
According to Burtenshaw, some of the challenges faced in the publishing industry today are moguls owning "huge parts of the media", younger journalists finding it "impossible" to earn a respectable income and "powerful people" using the media to tighten public discourse.
Tribune has recently received criticism from former writers who say they had kept the magazine running during its struggles to stay afloat.
In a series of open letters, obtained by Red Roar, three former Tribune journalists accused Sunkara of using the magazine's 80-year-old legacy to expand Jacobin's content reach into UK markets.
Mike Parker, who said he had been unemployed since signing away 30 per cent of the pay owed to him, called Sunkara a "robber baron" and claimed they were not asked to participate in any planning of the relaunch, nor were they informed of Burtenshaw's appointment as editor.
Ian Hernon's letter stated: "In the capitalist world someone who buys an ailing company and dumps its committed workers is known as an asset-stripper or robber baron, but at least they don't claim to be socialists."
In a separate letter, George Osgerby wrote: "All the pious, pseudo-academic waffle in the world doesn't really amount to a hill of beans. Our actions are what count. How we treat others is what matters."
In a statement on Tribune, Sunkara and Burtenshaw addressed the letters, saying they were an "inaccurate portrayal of the long path that led to Tribune's rescue and relaunch".
Sunkara said he asked Hernon, Osgerby and Parker to be part of the Tribune relaunch, but did not receive a response until the letters were published.
"While we appreciate all of those who have contributed to Tribune over many years, the claim in this instance that their stewardship of the project in the last three years 'made it possible' for Jacobin to take over the magazine is entirely false," he added.
Email pged@pressgazette.co.uk to point out mistakes, provide story tips or send in a letter for publication on our "Letters Page" blog