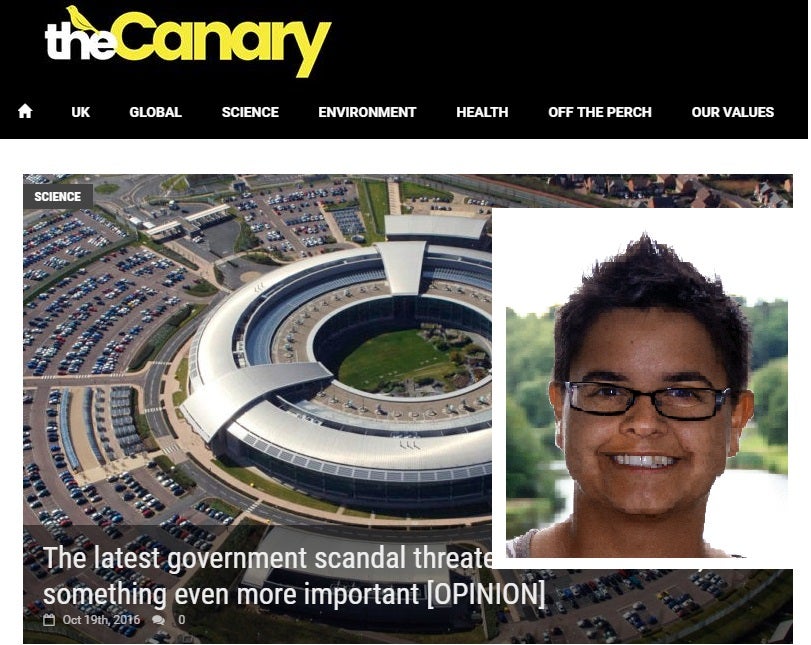 News website The Canary was founded a year ago this month for about £500 but now has a turnover of £250,000 a year, according to its editor-in-chief Kerry-Anne Mendoza.
The left-leaning site offers UK and global news as well as coverage of developments in science, environment and technology with an editorial voice described by Mendoza as "progressive".
It has come under fire for its perceived support of embattled Labour leader Jeremy Corbyn, something Mendoza said she found to be a "weird" complaint.
"There isn't any outlet in the world that doesn't have an editorial line," she told Press Gazette. "It's weird to be almost uniquely targeted for having one.
"Our position is we're not necessarily pro Corbyn – that's certainly not where our readership comes from. In fact we have suffered slightly in taking some of the positions that we did."
A politically active university drop-out, Mendoza went on to work as a management consultant across banking, local government and the NHS.
She said she left a six-figure salary to join the Occupy Movement when it sprang up at Finsbury Square, London.
The Bristolian has reported on the ground from Gaza for her blog Scriptonite Daily, and has written books including Austerity: Demolition of the Welfare State.
Mendoza stopped blogging to co-found The Canary along with original business partner Roja Buck, starting it "on an absolute shoestring".
"We are not accepting venture capital or philanthropy donations or even grants," she said. "We don't want to be tied down to anybody."
The site's business model changed a few months after it went live on 14 October 2015 thanks to "subscribers" donating anything from £3.75 to £102.20 a month.
"Paying subscribers for this whole first year don't get anything. They don't get a mug, they don't get a t-shirt, they don't even get an email from us saying welcome," said Mendoza.
"They are paying for content that they could bet for free purely because they want our writers to earn more money."
It provided a stream of income that is now given straight back to the writers as a flat fee for each article which increases along with the subscriber base, although Mendoza declined to say how much the fee was.
Are there fears this income could fall away if support for Corbyn, whose politics largely matches The Canary's own, begins to dwindle?
"Absolutely not," she said. "I think it's a common misconception that our hits come from Corbyn articles.
"What people seem to like us for is breaking open legislation that's coming through and actually explaining it in a way people understand and can see what the risks are and then take action."
Revenue from advertising and sponsored content is divided among the 25-strong editorial team, all of whom are employed on a part-time basis (including Mendoza, for whom the site is her primary income, and wife Nancy), after costs have been taken out.
Half is again shared out among the writers according to the success of their stories (more hits means more money) with 20 per cent going to the seven "leadership team" members, 10 per cent to the three section editors and a further 20 per cent going back into the company "for marketing and new projects".
Mendoza said she didn't take a salary for the first six months of The Canary's life but now six writers have been able to quit other jobs to write for the site.
"The business model was really important to us because we feel like writers so often get such a bum deal with their journalism," she said.
"What we wanted to do was create a direct line between the success of a media business and the personal, financial success of the people who create that success.
"That's why we have an equity and revenue share model, because we win or we lose together."
While employed at The Canary, writers produce anything from two to seven articles a week on a quota.
The news team are spread out across the country and abroad and hold meetings using a mobile app that creates a virtual newsroom.
Mendoza said copy goes through a "rigorous" six-gate editorial system which cover pitching, plagiarism, legal checks, fact checks, copy-editing and sub-editing, although the site is currently is unregulated.
She said she wanted The Canary to be a "counter-point" to a "largely conservative mainstream media".
"A lot of the assumptions underpinning much of the journalism happening in the mainstream space – this is not a criticism, it's just a fact – are from a new-liberal political view and from a neo-classical economic point of view.
"We wanted to introduce new and varied ideas to people. But we also wanted to do that in a very human voice, so something with a reading level the same age as a tabloid newspaper – 8 to 12-years-old – with terms in the headlines anybody can understand.
"We're not aiming to replicate an academic style of journalism that you might find elsewhere. We were really going out to say, 'no, we need to be accessible'. We're not simplifying the ideas, but we are simplifying the language.
"We wanted to create a space that was like a conversation with your friends about a big issue and have those people not only able to understand the article but go away and find out more about the issue and carry that conversation on in their own communities, friendship groups and workplaces."
The site produces about seven stories a day with headlines that have an early Buzzfeed quality to them, such as: "There's finally a plan for Brexit, and Twitter is not impressed" and "A shameless Tory MP just went full on Trump over child refugees".
Social media, in particular Facebook, has played a vital role in growing The Canary's reputation. "Our plan from the get-go was to be a social media driven outlet," said Mendoza.
In July it entered the top 100 UK Media Publishers (at 79), as ranked by similarweb.com, with 7,532,000 combined page views across the month.
This month The Canary launches its first investigation sending a reporter to report from a UN delegation to Damascus in Syria.
"The ultimate long-term vision is to have a place not only where we report the news but where we make the news, so actually a place where people don't just come to read but come to organise," said Mendoza.
Future plans include a membership package that will still not allow for exclusive editorial content, as Mendoza is adamant stories will never go behind a pay wall, but will look to give members the opportunity to vote for which investigations they want to take place.
A movement into video is also billed, with regular news and interviews as well as the launch of Canary TV on Youtube and plans for a "fairly irreverent news slot" at a regular time.
"It's a long-term project," said Mendoza. "It was never meant to be a flash in the pan. We have long-term very big plans, but we have to earn the right to take each step forward."
Email pged@pressgazette.co.uk to point out mistakes, provide story tips or send in a letter for publication on our "Letters Page" blog