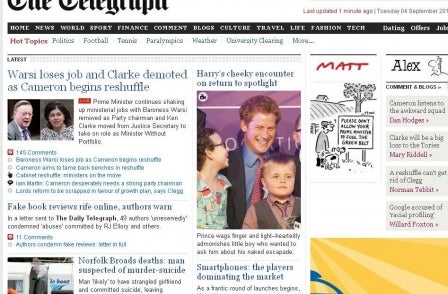 A report by the Reuters Insitute looking at the global state of the news industry has suggested a sharp increase in those willing to pay for news online.
In the UK, it found that 9 per cent of respondents accessed paid-for online news in the last year (2012) compared with the same survey a year earlier. The report had a survey base of 2,078.
By contrast, the survey found that 54 per cent of those it asked in the UK had bought a newspaper in the last week.
The jump in those paying for online news in the UK comes amid a widespread increase in newspaper paywalls.
Last year The Times, Sunday Times and FT were the only major UK national newspapers to charge for online news access. But the Telegraph went behind a metered paywall at the end of March and The Sun will be behind a paywall as of 1 August.
The survey found that 25-34 year-olds are most likely to be willing to pay for digital news – with 20 per cent (in the UK and globally) saying they had accessed paid-for digital news in the previous year.
The survey also found that consumers are accessing news via a greater number of devices than ever before.
The breakdown for online news access in the UK is as follows: 67 per cent via computer, 29 per cent via smartphone, 16 per cent via tablet, 2 per cent vie e-book reader and 3 per cent via SmartTV.
The Reuters survey also asked Britons how they accessed news in the previous week.
Some 52 per cent said they looked at "lists, articles and blogs", video and audio was next most popular with 47 per cent, apps (19 per cent), pictures and graphics (15 per cent), lives pages/live blogs (11 per cent) and other (1 per cent).
Traditional news brands still remain the most popular way for people in the UK to access online news. But newer online-only players take four of the top 11 spots listed in the report.
The survey asked respondents: Which, if any, of the following [online brands] have you used to access news in the last week?
BBC News: 52 per cent
Mail Online: 14 per cent
Sky News: 13 per cent
Yahoo: 13 per cent
A local newspaper: 9 per cent
The Guardian: 8 per cent
Google News: 7 per cent
Huffington Post: 7 per cent
MSN: 6 per cent
Daily Telegraph: 6 per cent
Sun Online: 5 per cent
The research was conducted by

YouGov using an online questionnaire at the end of

January/beginning of February 2013.
Report editor Nic Newman (former head of product development at the BBC) said in his conclusion: "The overwhelming message is that audiences increasingly expect news that they can access anytime, anywhere. But that doesn't mean they only want online news.
"Audiences may be embracing news on tablets and smartphones but they still want to catch up with broadcast news and they enjoy taking time with the printed page. It's a multi-platform world and becoming more so.
"Embracing digital is clearly the future, but news brands can't a?ord to leave behind groups who still carry huge in?uence and drive most of the revenue.
"Clearly news brands still matter but a strong name and long heritage is no longer enough. Our data show that there still is a yearning – in an ocean of content – for trusted news across a range of subject areas, but newer brands like Yahoo and the Hu?ngton Post are also proving they can ?ll that role alongside a raft of specialist providers, blogs, and social media too.
"Against this background, it is not surprising to see more and more anguished debates around editorial and distribution strategies.
"Most news organisations are recon?guring their work?ows for the multi-platform age – trying to drive more output to more platforms with the same number (or fewer) journalists.
"Finding new audiences and revenues is proving more challenging. Some news organisations are looking to exploit niches, others are pushing for scale and paywalls are going up around the world
"As ever, success will depend on a combination of clear strategies and a strong understanding of changing audience behaviours."
Read the full Reuters Institute Digital News Report 2013
Email pged@pressgazette.co.uk to point out mistakes, provide story tips or send in a letter for publication on our "Letters Page" blog