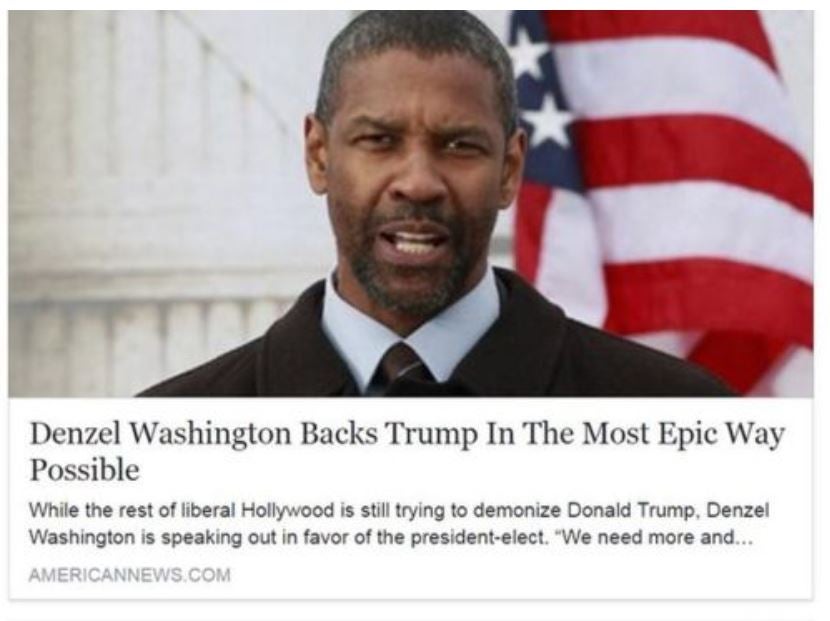 Fake news is a "major issue" and will require both media organisations and social media platforms to work together to tackle it, according to Storyful's director of news.
Joe Galvin told Press Gazette the reality of fake news is that is it a "serious attack on media standards" and "damaging to the public discourse".
Storyful is a social media news agency, bought by News UK in 2013, which verifies social media content for its subscribers.
Galvin said there were two distinct types of fake news sites, those that are set up to promote propaganda and those created for financial gain (though many stride the two).
The issue has risen to prominence since the presidential election campaign in the US, with some blaming fake news stories shared on social media for Donald Trump's surprise victory.
Asked how big the problem of fake news was, Galvin said: "It's absolutely enormous. It's very difficult to quantify.
"The largest sites regularly get hundreds of thousands of likes on Facebook for example. It's a huge problem.
"These posts are being viewed by millions and millions of people. Often these people know what they are sharing is fake but it has a particular resonance for them and might agree with their political agenda.
"In many cases people just look at the headline, they form a judgement and they move on.
"They then, because they agree with it or at least it suits their political beliefs, share it. They're probably sharing it with other like-minded people and then it builds a head of steam and creates this echo chamber effect which is very common place."
Fake news stories shared during the US election campaign included claims that:
An FBI agent involved in the Clinton email leaks story had been murdered
Pope Francis backed Donald Trump for president
And that Denzil Washington was backing Donald Trump.
Fake news sites (entirely fabricated) included the Denver Guardian and American News.
The Labour party is understood to be launching a probe into the fake news problem and the issue has also caught the attention of President Barack Obama and Facebook boss Mark Zuckerberg.
Obama told the New Yorker the new media environment "means everything is true and nothing is true" and that where before a "baseline of facts" would be established, that no longer exists.
"An explanation of climate change from a Nobel Prize-winning physicist looks exactly the same on your Facebook page as the denial of climate change by somebody on the Koch brothers' payroll," he said.
"And the capacity to disseminate misinformation, wild conspiracy theories, to paint the opposition in wildly negative light without any rebuttal – that has accelerated in ways that much more sharply polarise the electorate and make it very difficult to have a common conversation."
On Saturday Zuckerberg wrote a post on Facebook that said the platform was taking misinformation seriously but that tackling it was both "technically" and "philosophically" complex.
He said "the percentage of misinformation is relatively small" but shared steps being taken by Facebook to prevent its proliferation including including stronger detection, third party verification, warnings and "disrupting fake news economics".
According to Galvin, it may be true that amount of misinformation is statistically small but, he said: "In terms of the impact it has it's far greater".
He claimed there was an "absolute mound of fake news out there", adding: "In my opinion it's a pretty urgent and major issue that needs to be tackled in a short space of time as opposed to medium or long term."
He said: "At Storyful our goal is to authenticate and provide verified social media content around news stories to dozens of different news outlets all over the world.
"What we are not doing really on a daily basis here – and perhaps we need to think about doing more as an industry – is tackling the massive amount of what is called fake news on the social web simply because so much of it is so obviously fake and illegitimate that we don't feel the need to debunk it.
"However perhaps we're wrong, that's where media organisations are falling down. There's been a presumption, and I've seen it in our client base and ourselves, that these things aren't making the kind of impact we presumed they were making.
"But they were making a far greater impact than we ever could have imagined and clearly had some kind of impact on public discourse in both Brexit and during the US presidential campaign."
He said there was now a "huge onus" on social media platforms to tackle the issue of fake news.
"We do as much as we can to debunk these things as they emerge," he said. "We are working with news organisations and media outlets like Buzzfeed and others are working hard to debunk lots of these fake sites as well, but we are speaking to the wrong audience.
"The audience that is consuming this information, they are not going to be convinced by us. So really it's fundamentally an issue of education and approach and it's an issue for the platforms.
"The platforms have to take seriously that this is a major issue and most of the clicks and revenue coming on these sites is generated by click-throughs from social media platforms, so they have to take it seriously."
He said platforms and media organisations had to "work in congress" to be able to tackle the issue.
"No one organisation could ever hope to tackle the absolute mound of fake news out there, but I think if as an industry we come up with best practice around it and work hand-in-hand with Twitter, Facebook, YouTube and others to develop an approach to this problem I think we can have success.
"The bottom line is if we cut off ad revenue for these people (and Google has made some effort to do this). If we cut off the revenue for these propagandistic sites I think that's a step in the right direction and it's certainly achievable."
Email pged@pressgazette.co.uk to point out mistakes, provide story tips or send in a letter for publication on our "Letters Page" blog