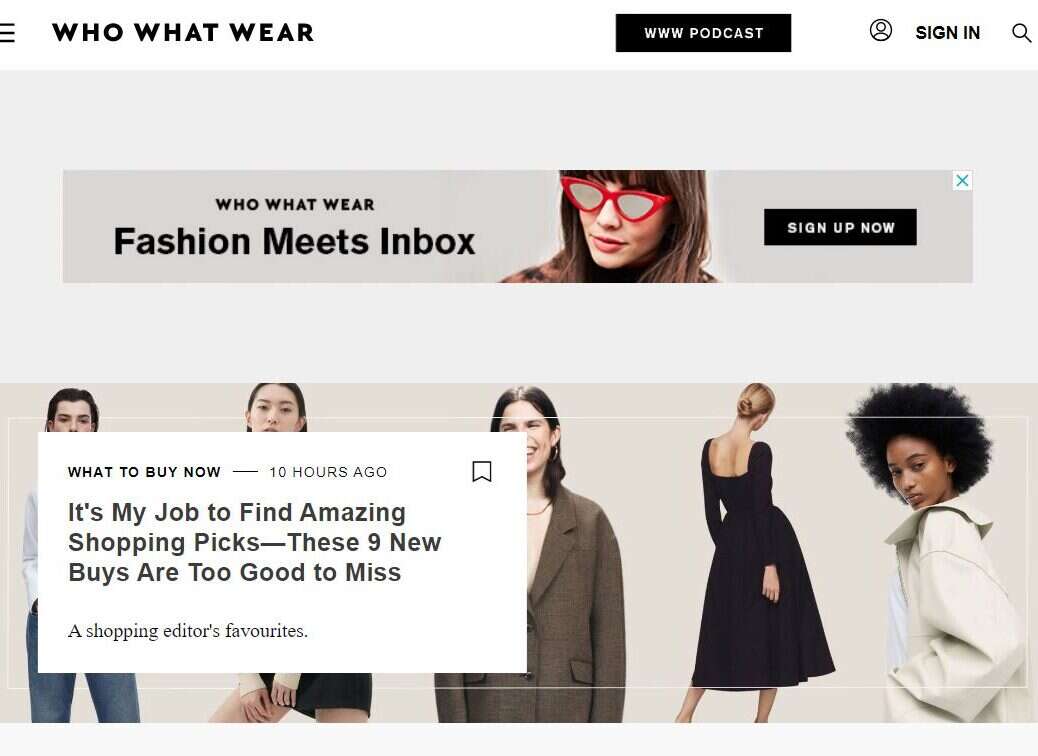 Future's women's lifestyle vertical is "not feeling the effects as yet" of the advertising downturn afflicting many publishers, its executives say.
The company's senior vice president of lifestyle, knowledge and news, Sophie Wybrew-Bond, told Press Gazette the company sees "huge headroom" for growth in the segment – which it is capitalising on in part through an "editors as influencers" strategy.
Future, a UK company listed on the London Stock Exchange, is currently in the midst of a drive to reach one in every two Americans each month (it currently claims to reach one in three). In May last year it acquired US digital-only women's lifestyle publisher Who What Wear for $127.2m, as well as the licence to publish the website Marie Claire US – making it, according to Comscore, the sixth largest beauty and fashion publisher in the country.
Wybrew-Bond explained the expansion into women's lifestyle saying that, although the company had had "heartland strength" in technology publishing, "We already had homes [titles], which we'd acquired from Centaur. TI Media brought more strength in homes and took us to number one in the UK in the homes vertical.
"So that was strategic, but also it meant that we were suddenly much more diversified as a business. We weren't so reliant on those other verticals and we could start to build out using Future's model, if you like – taking British brands from TI Media and really promoting a digital-first strategy."
[Read more: Future timeline – Company's journey from zero to £4bn market cap media giant]
The vertical was attractive, Wybrew-Bond said: "As a category there's real growth in beauty revenues in the US, both in terms of advertising but also in terms of affiliate revenues. And of course, that sits squarely in women's lifestyle.
"Structurally, out there in the market, beauty sales online have been really under-penetrated compared with going into a retailer".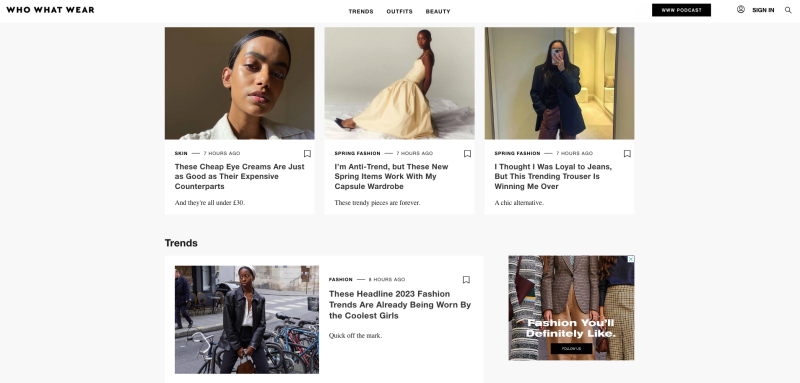 Who What Wear publishes fashion coverage written in a conversational, often first-person tone. Typical headlines might read: "The Chic £25 H&M Dress All Our Editors Own Is Finally Back in Stock" or "I Thought I Was Loyal to Jeans, But This Trending Trouser Is Winning Me Over". The US site received 12.4 million views in January this year, according to Similarweb.
Hillary Kerr, Who What Wear's co-founder and chief content officer and a self-described "content nerd through and through", said the brand's audience "is really primed to shop".
"She has a high income, she's overwhelmingly female and it's quite diverse… She comes to us from a variety of channels – social, newsletter, search and site… She really trusts us to help her in making her purchasing decisions, whether that is a drugstore lipstick or a designer bag.
"And because of that brand affinity and the loyalty that we've built over the years, she's also a very resilient audience."
Advertising, a major revenue stream for many news publishers, has fallen in recent quarters over recessionary fears, accounting in part for the thousands of layoffs at news organisations in the past six months. Future itself cut at least five editorial roles in September – although perhaps tellingly, those cuts hit the company's tech titles.
Wybrew-Bond said it was "at a time like this, where there's a little bit of caution and conservatism, that some brands are considered to be safer havens, if you like, than others.
"And so for us, it's always about trying to be not only a brand-safe environment, but a brand that you would want to spend with for your spend to be effective.
"Essentially we seek market leadership because again, in a conservative environment, you're going to go for a market leader to spend your money with."
Buying both Marie Claire and Who What Wear, she said, created "quite a potent portfolio as a retailer in the US or a luxury brand. You'd want to spend across those two and it gives us a bit more resilience. So we're not feeling the effects [of a downturn] as yet."
Press Gazette has previously reported on the apparent resilience of publishers with high-end audiences amid a downturn.
[Read more: Times may be tough but luxury sector publishing is booming]
Kerr said Who What Wear was seeing "still very much an appetite for newness".
"If anything, there's more appetite for beauty now than ever, thanks in no small part to juggernauts like Tiktok. It just feels accessible in a way that it didn't ten, five years ago…
"I can tell you that anytime you do a story like 'This beauty product is viral on Tiktok, we tried it, here's what we really think' – people are deeply curious about that.
"They love the user-generated content aspect of it because it's not just coming from experts alone, though obviously, an expert point of view, especially an editor's point of view, is still very much valued."
She added: "We do a lot of editor-first point-of-view content, which is tremendously effective."
Wybrew-Bond agreed: "Back in the day we would have seen influencers as sole agents, if you like. Whereas our editors are also influencers, and are able to exert much more of a first-person point-of-view rather than just hiding behind the brand, if you like, and being a byline.
"I think it's kind of an interesting point. And it means that when we make content to travel across to social or to start there, it should resonate much better."
Future reported profit of £170m on turnover of £825m for last year (2022).
Email pged@pressgazette.co.uk to point out mistakes, provide story tips or send in a letter for publication on our "Letters Page" blog