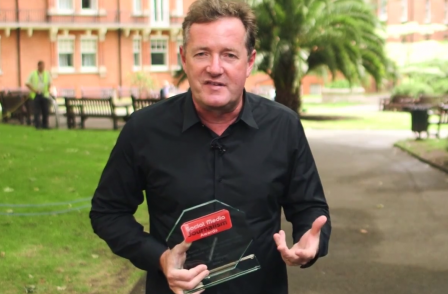 Piers Morgan has been named the most influential UK journalist on social media by Press Gazette.
He took top prize in the second of Press Gazette's Social Media Journalism Awards. In April, hacking trial tweeter Peter Jukes was named top reporter on twitter and social media.
Last night Press Gazette named the top 50 most influential journalists on social media, sponsored by MyNewsDesk.com ("the world's leading all-in-one brand newsroom and multimedia PR platform").
The prize was awarded after taking into consideration the views of an expert panel of judges, voting forms filled out by more than 200 Press Gazette readers and also looking at the number of followers journalists have on Twitter.
Picking up the prize Morgan, who has more than four million followers on Twitter, said: "I don't win many awards as you can imagine. Social Media is the future for journalism whether you're using it to provoke debate, for information or to be entertained. 
"I've embraced it pretty wholeheartedly, Press Gazette has done the same. My advice to any journalist who thinks Twitter's not for me, or I saw Paxman the other day saying it's for the brain dead is: it may be, but it's what the youth of today are using as a form of communication. I like to embrace everything that's for the future rather than for the past.
"It's the best journalistic tool that I've encountered and I wish it was around when I had been a newspaper editor because of the ease with which you can find out what's happening anywhere in the world in real time."
Press Gazette editor Dominic Ponsford said: "Our top 50 most influential journalists list has many famous journalists on it and some less well know names. Because we based it on the views of readers, as well as our judges and looking at total follower numbers, the list also includes some who are highly rated by their peers and by followers in their local communities as well as those with national and international profiles.
"What we have created is great list of must-follow journalists which highlights the extent that journalists today have become brands and publishers in their own right, independent of their employers."
Morgan couldn't be at last night's reception to launch the top-50 most influential UK journalists on social media list because he was overseas, so he was presented with the award in advance and the moment was captured on video:
The Press Gazette top ten most influential journalists on social media are:
1 – @PiersMorgan              
2 – @CaitlinMoran                        
3 – @PaulWaugh                                      
4 – @JohnRentoul                                   
5 – @FleetStreetFox                              
6 – @PaulMasonNews (Paul Mason)        
7 – @Mehdirhasan (Mehdi Hasan)      
8 – @PeterJukes                                              
9 – @AlexTomo (Alex Thomson)           
10 – @RodneyEdwards         
The rest of the top 50 (in Alphabetical order)
Sponsored by:
Email pged@pressgazette.co.uk to point out mistakes, provide story tips or send in a letter for publication on our "Letters Page" blog