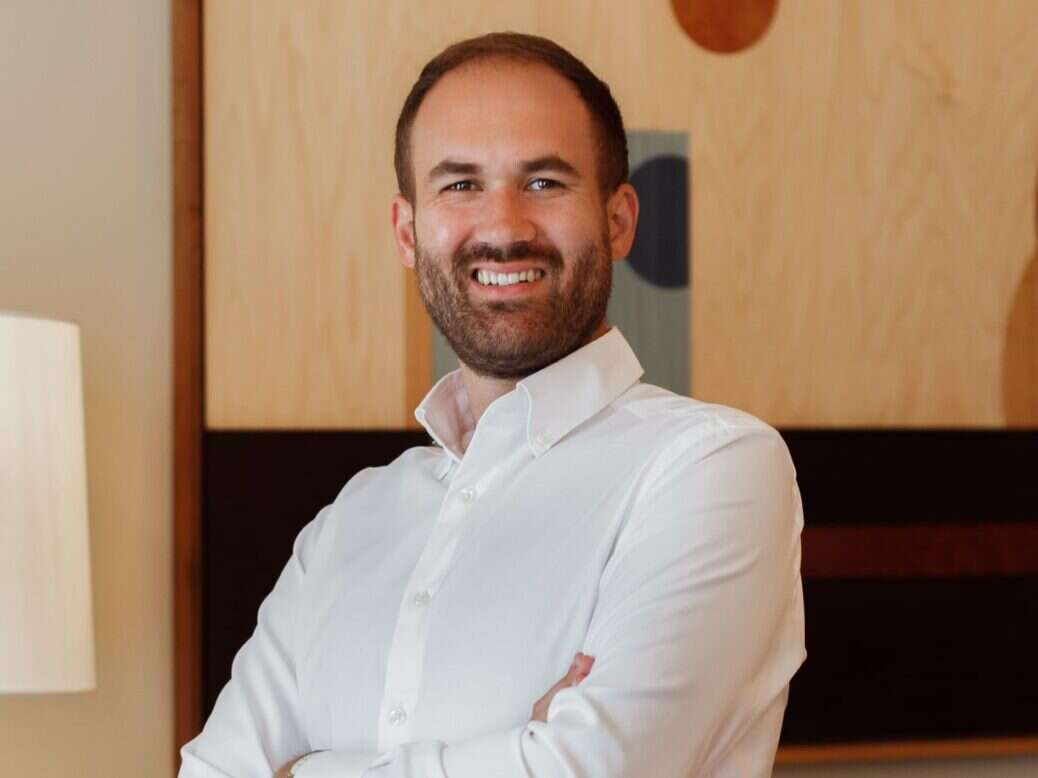 Goal publisher Footballco believes it will grow affiliate revenues by 300% this year in a drive away from a reliance on other forms of advertising.
Footballco's EVP of content and operations James Lamon previously told Press Gazette that the company had a "great year" financially in 2022.
Nonetheless it set out a "core mission" to diversify its revenues, which are currently dominated by advertising, and decided affiliate marketing was the right place to start.
Lamon told Press Gazette: "Advertising is an ever-changing landscape, and it can be inconsistent. And so we wanted a more consistent line of revenue that we could use to defend our business in the downtimes of the ad cycle.
"In recent years, we've gone from instability to instability, with Covid followed by a global economic downturn followed now by some conflict around the globe. And all this is a bad climate for advertising.
"But at the end of the day, people throughout all this are still buying goods and services that they need, and so the idea that we can help service people and at the same time provide a different line of revenue that helps us build a strong business and defend jobs and everything is a great thing."
The cost of living crisis in the UK and elsewhere has, perhaps counterintuitively, only added to this opportunity, Lamon said.
"What I would say is at the same time that the cost of living crisis has obviously become an issue in society, we've grown our revenues 300%." The 300% growth is a projected figure comparing full-year 2022 with 2023.
"So it's evident that we're doing a good job of helping people spend their dollar," Lamon continued. "I know personally I get more conservative with each dollar I spend so I want to make sure that I'm spending on the right thing, and the idea that we can help consumers make the best choice is something that makes me happy."
What does Footballco's affiliate content involve?
Footballco helps people in the current "subscription wars" decide which TV packages and streaming subscriptions are the best value and let them watch the games and events they want to see as sporting rights are increasingly spread across providers.
In addition, Lamon cited the "vital role that sport plays in the lives of most people… so one of the last things someone is going to ever cut in their monthly budget is their broadcasts to watch the team that they love and the players that they love".
Two types of content fall under the affiliate bracket at Footballco: low intent and high intent. The first means the inclusion of affiliate links and information about products in other coverage – for example, reminding users in an article about a team line-up that the match will be available to watch on Sky and how to subscribe, or rounding up the new team kits and also telling people where to buy them.
High-intent content is more likely to be designed around people already thinking about making a purchase – for example those searching for what football boots to buy. Lamon said: "You need both to drive the optimal result".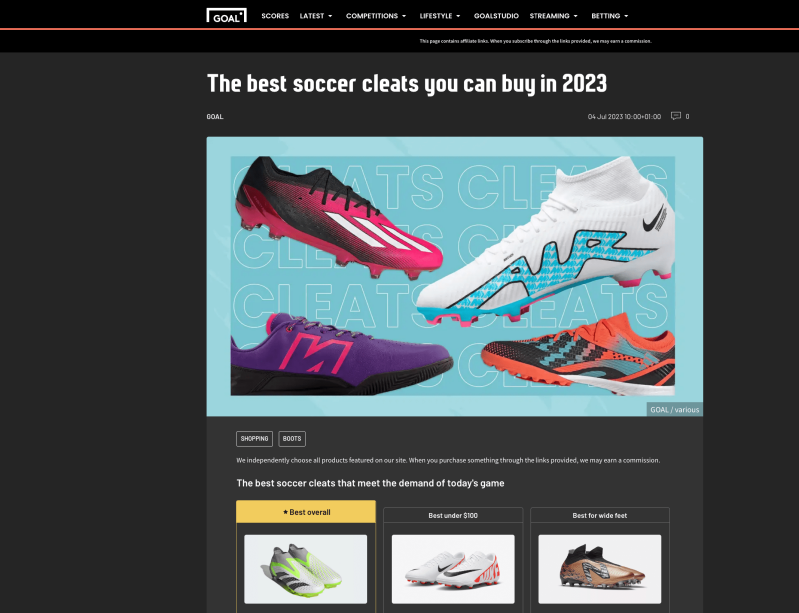 "We saw an opportunity to take that huge engaged fan base we had already at Goal and our other brands and to sell products and services to them by recommending, reviewing and informing them about what's available," Lamon said.
"So because of the legacy we had and the audience we had in sport already it was an opportunity that was sitting at our doorstep."
Footballco works with affiliate partners who pay on a cost-per-acquisition (CPA) or tenancy (fixed fee) basis. It has dozens of direct partners plus hundreds through affiliate networks. "You can't make much of a business out of this if you don't have good relationships with a new form of partner… it is a collaboration so that we can share learnings and data and optimise the results to drive the number higher," Lamon said.
The drive is taking place across Footballco's sports brands but began with its biggest website, Goal, which saw major user experience (UX) and user interface (UI) improvements this year. That platform will roll out to every Footballco brand over the next 18 months.
Footballco finished making hires at the start of the year and "really properly focused on making growth in this area", Lamon said. It now has six people on its core affiliate team, a mixture of writers and SEO staff. They are supported by a further six people – product and design leaders – in management roles overseeing the strategy while Footballco's tech team based in Poland built the products.
Affiliates have unintended 'halo effect' on advertising revenues
Footballco now gets more than 50 million page views each month just on affiliate content, mostly on Goal, according to Lamon, although that is still a "small fraction" of the hundreds of millions of page views they bring in monthly.
Lamon said these additional page views, helped by strong SEO, were having a "halo effect" on advertising revenues. "These pages now that are earning great affiliate revenues for us are also some of our better earning ad pages as well."
Some of the affiliate pages achieve clickthrough rates of 70% and above, Lamon said, while their average is 40%. They see about one million affiliate clicks per month across all pages with links on them.
Footballco's biggest affiliate categories, in order, are: OTT (internet TV/streaming) subscriptions, tickets, and physical goods ranging from player autobiographies, FIFA video games and boots to the best TVs to watch the football on.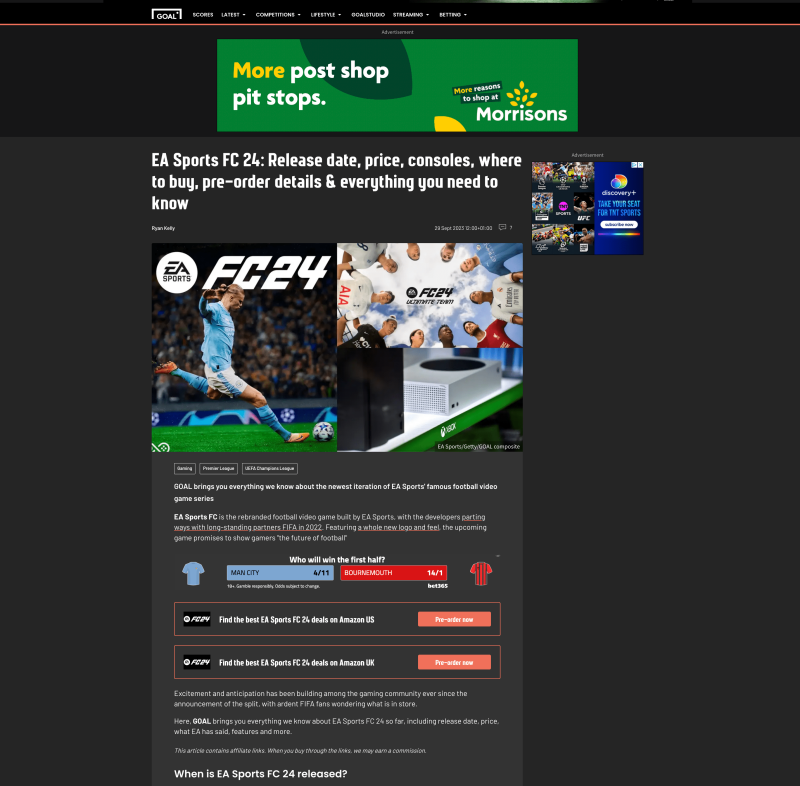 "When we first identified broadcast and OTT as the first big category we designed a range of UX and UI enhancements across Goal that launched in the middle of this year and since then, our performance in that category has really skyrocketed," Lamon said.
Footballco has helped sell more than 75,000 subscriptions this year to date, while in the ticket space it facilitated the sale of a Champions League final ticket for $12,000 of which they took a certain percentage.
In July football superstar Lionel Messi signed with Inter Miami in the US, leading to a rush on fans trying to find out how to watch his games.
"Within the OTT and broadcast category one of our biggest client success stories is Apple because of the Messi moment and we're not the only ones who saw great growth from that," Lamon said. "That was a tectonic event in the world of soccer this year.
"And I think what this entire diversified line of business is about for Footballco ultimately is giving fans what they want, understanding fans and their needs, and then surfacing the right things to them at the right times, which is what we're really good at doing across our platforms with our major audiences."
Articles with affiliate links on Footballco brands feature a disclaimer letting users know, but Lamon said the company does less subjective product reviews and more fact-based pieces telling people, for example, where to watch a match or where to buy tickets.
"When we do do reviews, it's straightforward and to the point and we find that that's what users are looking for," Lamon said. "We help them just navigate the huge web of the internet and options available and they feel a little more trusted because we've done the hard work for them."
Unlike some publishers, Amazon Prime Day has not been a big factor in driving affiliate revenues for Footballco so far. Future plc drove £2.7m in sales on Prime Day last year, for example.
But Lamon said there is a "point of difference" between Footballco and other publishers because "Amazon Prime Day is not a big event in the football calendar, in the sporting calendar, and where we tend to do well is when it's those big events".
Japan has been Footballco's biggest single country so far overall and has had its biggest event overall – the Inoue vs Fulton boxing fight in Tokyo in July, which drove more than $100,000 in earnings from a single affiliate page. Lamon noted that Footballco does not just provide for football fans, but rather people that are interested in any major sporting event.
Behind Japan, the US overtook the UK this year to be Footballco's second biggest country in this space. Germany, Spain and the Netherlands are also significant markets.
The target now is to grow affiliate revenues to a percentage split of the total that is "as high as possible".
"We've grown 300% this year, which has met expectations," Lamon said. "We're looking to grow significantly next year, and I wouldn't put it out of the question for us to grow 300% again."
Email pged@pressgazette.co.uk to point out mistakes, provide story tips or send in a letter for publication on our "Letters Page" blog