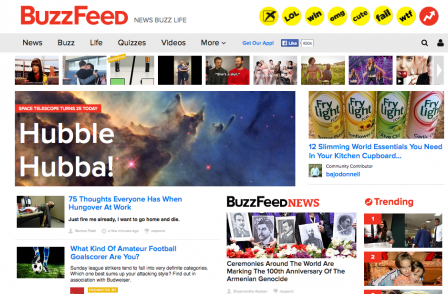 An as-yet unpublished investigation by Buzzfeed has harmed the business of a news agency which sees itself as the 'main competitor' for the website in the UK.
UPDATE: Buzzfeed has now published its story about CEN.
Buzzfeed has written to a number of UK news organisations that buy stories from Central European News (CEN) and raised questions over accuracy. 
CEN denies the allegations made by a Buzzfeed journalist. But Press Gazette understands the Buzzfeed emails have already led to CEN losing a significant amount of business.
CEN has operated for 20 years and employs some 35 journalists in bureaux around Europe. It sees itself as a major competitor for Buzzfeed because it sells hundreds of similar "viral" style news stories to UK national newspaper websites. 
According to CEN, Google News figures show that one story it syndicated last week about an offensive joke which appeared in a German magazine about Madeleine McCann appeared on 17,000 different news websites.
Buzzfeed claims to have a global audience of 200m and employs some 40 journalists in the UK.
Press Gazette has seen a lengthy email sent by a Buzzfeed journalist to one of the UK's biggest news organisations. Other major clients of CEN are understood to have received similar communications.
The Buzzfeed email says it is set to publish a story saying that articles syndicated by CEN "have subsequently been proven false either in part or in their entirety, or contain quotes of questionable provenance".
The stories questioned by Buzzfeed in its emails to CEN clients include:
– A man who was saved from a bear attack in Russia by his Justin Bieber ringtone
– A thief in Paraguay who broke into peoples' homes by pretending to be a baby
– An underwear thief in Singapore who was forced to walk around a block of flats in Singapore with bras and underpants hanging from his neck.
The Buzzfeed email questions the veracity of quotes used in the stories. In the Paraguay story it notes that the quotes used do not appear in earlier Spanish-language media reports.
Press Gazette has seen a legal letter sent to Buzzfeed, and various news organisations, by CEN rejecting the claims.
The letter says: "CEN is Buzzfeed's main competitor for viral news content in the UK market. Our client is not therefore prepared to engage with Buzzfeed about the detail of any of your questions as to do so would involve giving information about its sources and practices to a competitor…
"Our client denies absolutely that it makes up false stories or fabricates quotes. It relies on trusted contributors to source content. None of the stories upon which you rely in your questions provide evidence, to support your claims.
"Our clients are not aware of any complaint having been made either by the subjects of the articles or by its customers about any of the stories to which you refer.
"In relation to your statement that you find it 'incredible' that CEN gets quotes from sources that no-one else does, the fact that you have been unable to find quotes online does not provide any basis for any suspicion that our client fabricates quotes."
Press Gazette asked CEN for clarification on this point. It provided further details of its methods and insisted that its quotes were based on original reporting.
In the letter, CEN reiterates that it does not accept Buzzfeed's claims but adds "as Buzzfeed will itself be aware, on occasion, mistakes are made about information that is received in good faith but proves later to be unreliable, in which case our clients will promptly correct their story".
The letter also complains that early approaches from a Buzzfeed journalist were "disingenuous". It says that a reporter initially said "that you wanted to write an article about the great way the agency was expanding and 'to explore the challenges of reporting in the digital age in depth'".
In an email on 15 April to CEN a Buzzfeed journalist apparently spoke about CEN's "laudable investigative journalism".
Press Gazette asked CEN for a comment on the Buzzfeed allegations.
CEN owner Michael Leidig said: "I can confirm that at the start of April we had a call from a Buzzfeed breaking news reporter congratulating us on having a fast expanding and successful news agency, and telling us he would like to do a news feature on our firm.
 
"I told him that I wasn't in the habit of talking to rivals about the way we did our business, and that there was no interest. He then called me again to attempt to arrange an interview, and sent me an email. Each time his request was rejected.
 
"Two weeks later the tone of the questioning changed, and we were sent two emails revealing that he had carried an investigation into our news output including digital analysis of our pictures. I discovered that they had applied to become a customer of ours and in that time had received over 8,000 of stories.
"The emails identified just 17 stories where they alleged there was a problem. When we chose not to comment on the matter, they contacted our key clients and repeated the allegations as questions, leading us to the suspicion that this was an attempt to damage our reputation as rivals. Sadly this left us with no choice but to seek legal advice.
 
"An internal review here quickly revealed little substance to their claims. When properly analysed, all they had found was that on two occasions we had re-used archive pictures.
"Their repeated assertion that, simply because one of our quotes did not appear in local media, it must have been made up, suggests they don't have any idea of the real potential to generate good news in the modern landscape.  We regard it as an obligation to check where possible local media stories, and we do make calls to police, hospitals, and have alternative sources. We are not paid by our clients just to translate. We are paid to do journalism.
 
"When I looked at the work of the Buzzfeed reporter who was carrying out the investigation I found two stories that he covered and had posted more than 24 hours after we had already sold them to Buzzfeed's UK rivals."
Buzzfeed faced questions over its own methods earlier this month after editor-in-chief Ben Smith admitted taking down two comment pieces which were critical of advertisers.
He reinstated them after media coverage, admitting "I blew it", but denied the posts were removed because of commercial pressure. He said was because they were personal opinion.
Press Gazette asked Buzzfeed for a comment at 2.30pm. At time of publication (4pm) it had yet to respond. 
Email pged@pressgazette.co.uk to point out mistakes, provide story tips or send in a letter for publication on our "Letters Page" blog